A History of Aviation (Green Fronts)
Lambert & Butler, 1932, UK
---
Series Title: A History of Aviation (Green Fronts)
World Tobacco Issues Index No.: L8-52-A
Issued by: Lambert & Butler
Country of origin: United Kingdom
Year issued: 1932
Type of card: Tobacco
Number of Cards: 25
Numbering: 1 to 25 on reverse side
Card Dimensions: 67 × 36 mm
Checklist: Checklist
Overview
---
The A History of Aviation is a series of 25 aeroplane cigarette trade cards issued by Lambert & Butler during 1932. The set is referred to as the green front set due to the green tint on the fronts the cards. The landscaped images on the card fronts feature a chronology of aviation attempts, milestones, and significant aeroplanes from the 1843 Cayley Aerial Carriage up to the 1931 Vickers Supermarine Roll-Royce S.6.B. The card fronts have a white border with a thin black border-line surrounding the image. The card titles are centered beneath the image area within the white border. A Lambert & Butler's Cigarettes advertising line is included within the image area.
The backs of the cards are printed in green ink, and are presented in a portrait format. The card backs include the set title A History of Aviation, the series length A Series of 25, the card number, a descriptive text of the subject aircraft, and the manufacturer's information Issued by Lambert & Butler, Branch of the Imperial Tobacco Co. (Of Great Britain & Ireland), Ltd.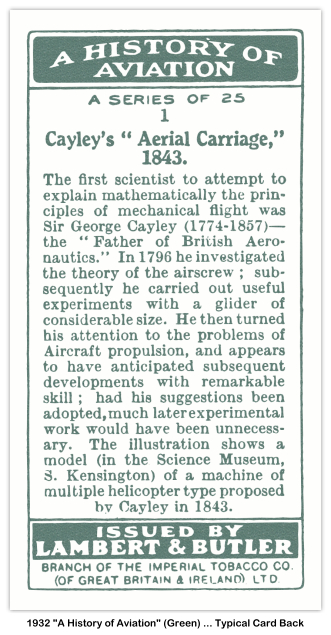 Image Guide
---
The following images shown the fronts and backs of the 1932 A History of Aviation (Green Front) 25-card set by Lambert & Butler. Behind each thumbnail is a 600-dpi image that you my access.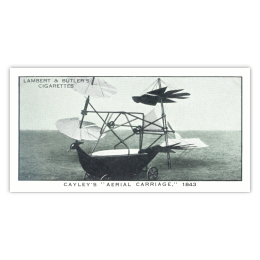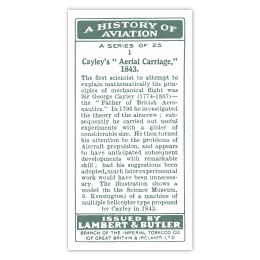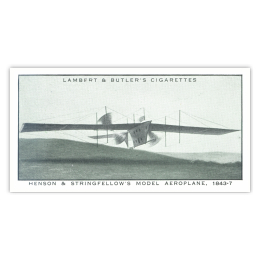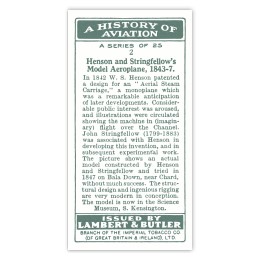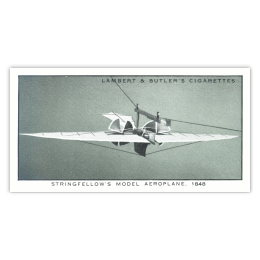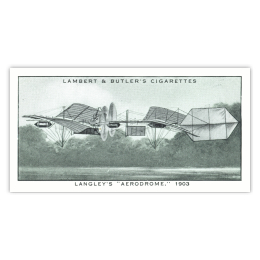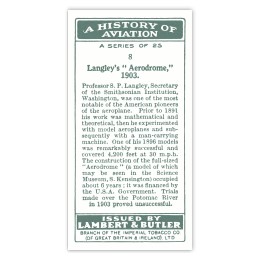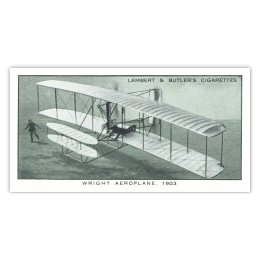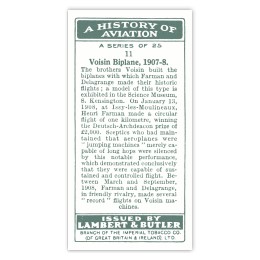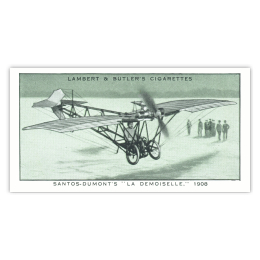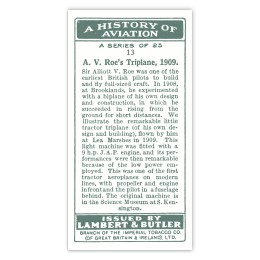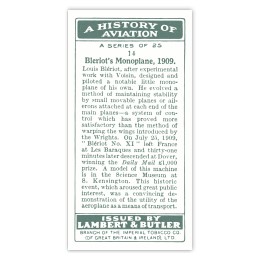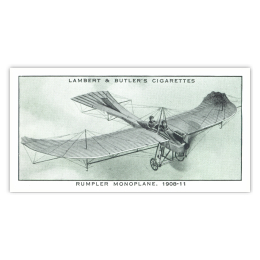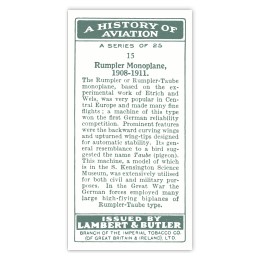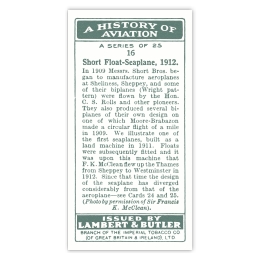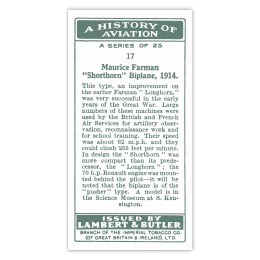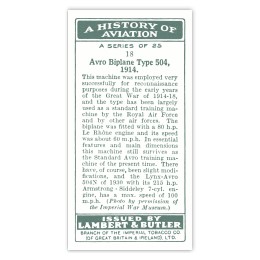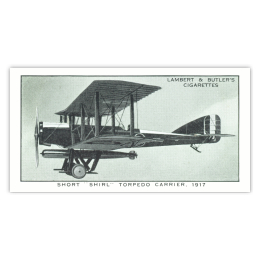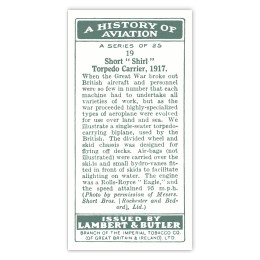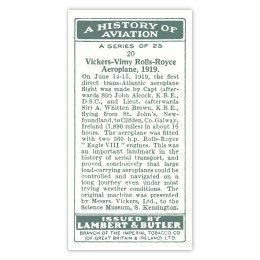 Checklist
---
We have included the following two versions of the checklist: (1) the web version shown below, and (2) an Adobe® Acrobat® PDF 8½ × 11 inch format checklist.
1932 A History of Aviation (Green Fronts)
Issued by Lambert & Butler
Branch of the Imperial Tobacco Co. (Of Great Britain & Ireland) Ltd.
Checklist
№
x
Card Title
1
Cayley' Aerial Carriage. 1843
2
Henson & Stringfellow's Model Aeroplane, 1843-7
3
Stringfellow's Model Aeroplane, 1848
4
Maxim's Experimental Aeroplane, 1894
5
A Lilienthal Glider, 1895
6
A Pilcher Glider, 1896
7
Chanute Type Glider, 1897
8
Langley's Aerodrome, 1903
9
Wright Aeroplane, 1903
10
Santos-Dumont's 14 Bis, 1908
11
Voisin Biplane, 1907-8
12
Santos-Dumont's La Demoiselle, 1908
13
A.V. Roe's Triplane, 1909
14
Bleriot's Monoplane, 1909
15
Rumpler Monoplane, 1909-11
16
Short Float-Seaplane, 1912
17
Maurice Farman Shorthorn Biplane, 1914
18
Avro Biplane Type 504, 1914
19
Short Shirl Torpedo Carrier, 1917
20
Vickers-Vimy Rolls-Royce Aeroplane, 1919
21
De Havilland Moth Light Aeroplane, 1926
22
Fairey IIIF Biplane, 1926-27
23
Junkers Monoplane Bremen, 1928
24
Short Kent Flying-Boat, 1931
25
Vickers Supermarine Rolls-Royce S.6.B., 1931
References
---
Shupek, John A. A History of Aviation (L8-52-A) (Lambert & Butler). The Skytamer Archive (600-dpi Image Scans). Skytamer Images, Whittier, CA, 2010. Digital Image Database.
Murray Cards Ltd., 2008 Catalogue of Cigarette and other Trade Cards, Murray Cards (International) Limited, London, England, 2008, ISBN 0-946942-29-3, pp. 68
---
Copyright © 1998-Present, Skytamer Images, Whittier, California
All rights reserved