1942 "America's Fighting Planes" (F213-5)
Coca-Cola Company, 20-Cards, United States
---
Series Title: America's Fighting Planes
American Card Catalog No.: F213-5
Manufactured by: The Coca-Cola Company
Country: United States
Number of Cards: 20
Card Numbering: unnumbered
Card Dimensions: 3 × 3½ inches
Circa: 1942
Checklist: Download
Overview
---
"Aviation, in the form of the war plane of today, has proved itself one of our major tools in the forming of the final victory. It is an established fact that no military or naval action can be fought and won in the presence of air power without establishing air supremacy. Air power is striking devastating blows at both the enemy's military and industrial installations. But in the end it is the coordinated combination of land, sea, and air power, coupled with the vitally important production efforts of our workers on the home front, which will win. It is a matter of team work, which, fortunately, we Americans have developed to a degree not to be found in any other nation.

Under the inexorable demands of war the development of aircraft has been carried forward at a tempo impossible in times of peace. The trans-oceanic and other airways were then dependent upon traffic demands for their extension and development. But now, in war, these airways have been woven into a vast network, which encompasses the earth. The visions of yesterday have become the prosaic realities of today.

Shown in the following pages are the principal war planes of the United Nations as well as those of the Axis Powers. These are the prototypes of the planes of the future, planes which the world hopes will form the wings of peace rather than the wings of war. But today, they are planes of war - of a war that touches and endangers every one of us. As such, they should be familiar to all of us so that we may know which is friend and which is foe."
The above foreword was obtained from the 1943 booklet "Know Your War Planes." Published by the Coca-Cola Company, the booklet emphasizes the importance of World War II Americans learning how to identify "friendly" and "hostile" aircraft. The attractive color artwork for the aircraft featured in both the booklet and the cards were painted by William Heaslip.
It appears that Coca-Cola did not publish a collector's album for the F213-5 series of "America's Fighting Planes" of 20 military aircraft cards. However, this booklet does include the 20 paintings featured on the cards plus six bonus aircraft pictures. In addition to the color artwork, the booklet includes ninety-six authentic silhouettes of warplanes of the world including American, British, Russian, German, Italian and Japanese aircraft. Both the booklet and the F213-5 card series are relatively scarce. However, they both occasionally pop up on eBay.
The "America's Fighting Planes" collector cards were issued on paper stock rather than the heavier card stock associated with collector cards. The front side of the card featured a William Heaslip painting of a United States military aircraft. The reverse side featured the Coca-Cola logo and a short descriptive tile for the card. The card set was shipped to the collector via US mail in a tan shipping envelope.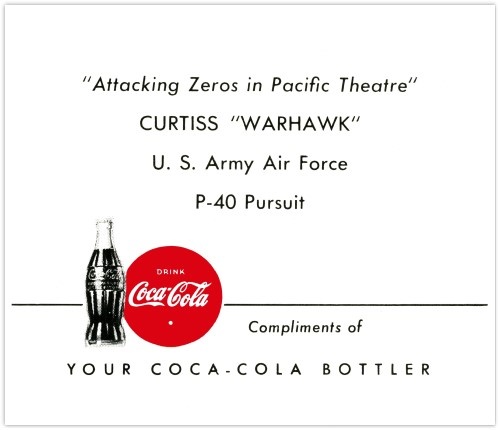 Image-Guide
---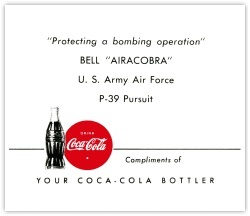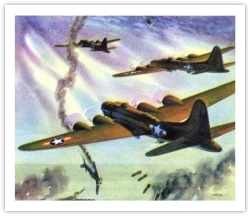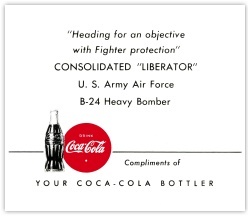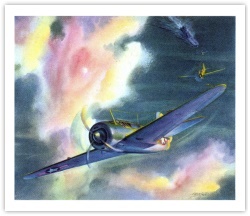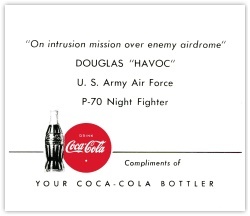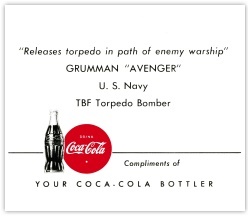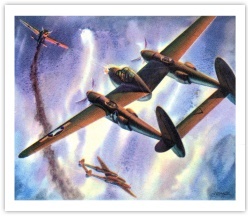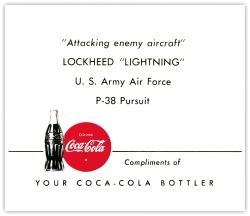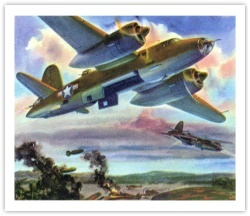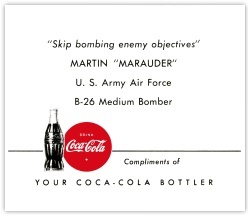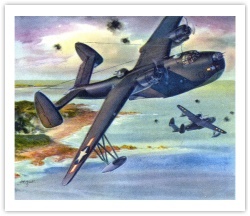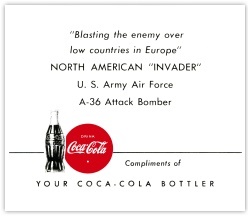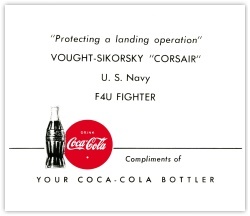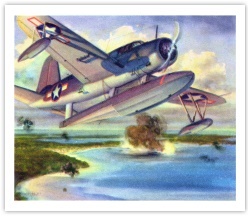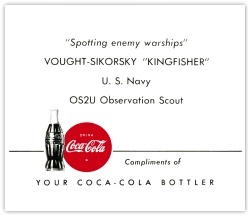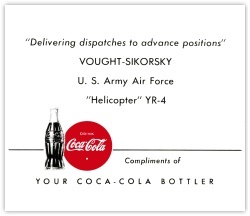 1942 "America's Fighting Planes" (F213-5) Checklist
---
We have provide two versions of the 1942 "America's Fighting Planes" (F213-5) 20-card set issued by the Coca-Cola Company. An 8½ × 11 inch PDF version, and the web version shown below. Click on the PDF icon below to access the PDF version.
1942 "America's Fighting Planes" (F213-5)
The Coca-Cola Company, 20 WWII Airplane Cards
CHECKLIST
№
x
Card Title
1
Bell P-39 Airacobra
2
Boeing B-17 Fortress
3
Consolidated B-24 Liberator/b>
4
Consolidated PBY Catalina
5
Curtiss P-40 Warhawk
6
Curtiss SB2C Helldiver
7
Douglas P-70 Havoc
8
Grumman F4F Wildcat
9
Grumman F6F Hellcat
10
Grumman TBF Avenger
11
Lockheed C-69 Constellation
12
Lockheed P-38 Lightning
13
Martin B-26 Marauder
14
Martin TBM Mariner
15
North American A-36 Invader
16
North American B-25 Mitchell
17
Republic P-47 Thunderbolt
18
Vought-Sikorsky F4U Corsair
19
Vought-Sikorsky OS2U Kingfisher
20
Vought-Sikorsky YR-4 Helicopter
n/a
Coca-Cola Shipping Envelope
n/a
Companion Booklet "Know Your War Planes"
References
---
Watson, James C., M.D. "America's Fighting Planes." Non-Sports Bible (NSB). Vol. I. Chelsea, MI: Sheridan, 2007. 60. Print.
Shupek, John A. "America's Fighting Planes (F213-5) The Coca-Cola Company." The Skytamer Archive (600-dpi Image Scans). Skytamer Images, Whittier, CA, 2014. Digital Image Database.
---
Copyright © 1998-2018 (Our 20th Year) Skytamer Images, Whittier, California
ALL RIGHTS RESERVED