1960s "Planes"
Judaica Israel Old Chewing Gum, Israel
---
Series Title: Planes
American Card Catalog No.: n/a
Issued by: Judaica Israel Old Chewing Gum
Country: Israel
Number of Cards: 60
Card Numbering: 1 to 60
Card Dimensions: 88 × 62 mm (measured)
Circa: 1960s
Overview
---
We believe that this "Planes" set was issued during the 1960s by Tamar Food Industries, Ltd., and packaged with Judaica Israel Old Chewing Gum. This particular series of "Planes" cards is the Israeli version of Topps R707-2 "Planes of the World, Series 2 (Red Back card 61-120)" 60 card set. All the cards that we have seen to date use the identical artwork from the Topps R707-2, Series 2 set. The main difference between the two sets is that the Israeli set is written in Hebrew, whereas the Topps set is written in English. The card numbering is sequential from 1 to 60. The card numbers in the Israeli set do not seem to have any correlation to the Topps R707-2 set. The fronts of the cards are unnumbered and contain the aircraft artwork and a title block captioned in Hebrew. The card Backs contain the set title (English), card number (English), card title (English), performance data (Hebrew), and a general description of the aircraft written in Hebrew. The measured dimensions of cards are 88 × 62 mm. The front and Back of a typical card is shown below.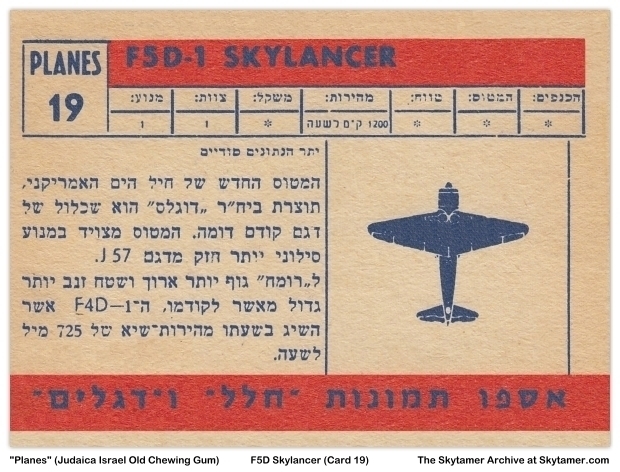 Image Guide
---
The following image guide contains the fronts and Backs of cards that we have seen to date. The card images shown below have been reconstructed and computer enhanced for presentation purposes. The images have been designed to be used as "filler cards" for collectors. When printed, the images yield a "full-size" image of the individual card front or Back. As you can see, we're just starting on this collection and are in need of images of 45 more cards. Your help would be appreciated.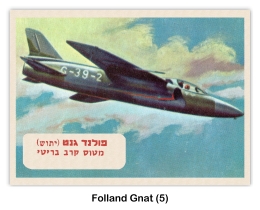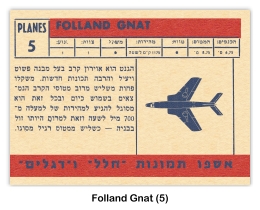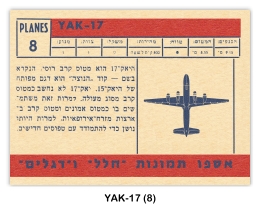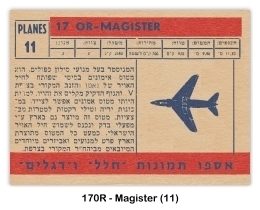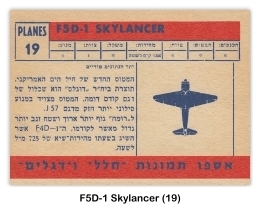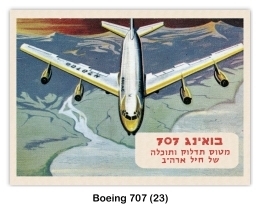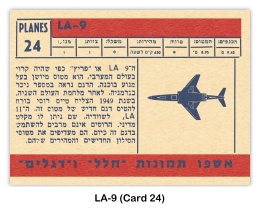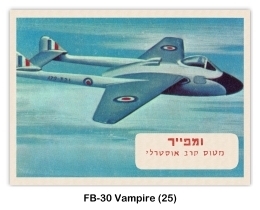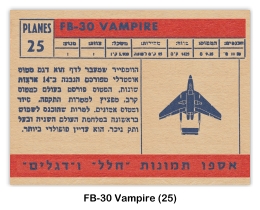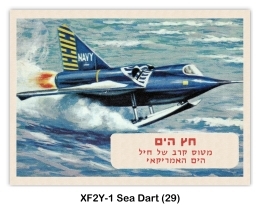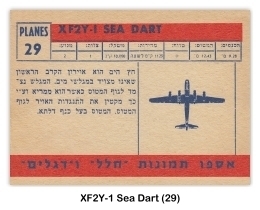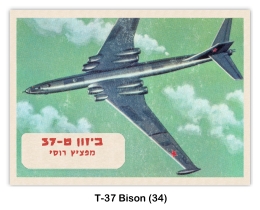 Original Scans
---
When doing card reconstructions, enhancements, or replicas, the starting point is always appreciated by collectors. We have therefore included the original scans that were used to generate the computer enhanced images shown above. Click on the individual card images below for the full-size versions of the original images.







Correlation with Topps R707-2 "Planes of the World" Set
---
Earlier, we discussed the connection between the Israeli "Planes" set and the American Topps R707-2 "Planes of the World" card set. The following images show some of the differences between the two sets.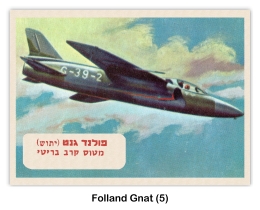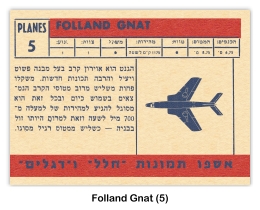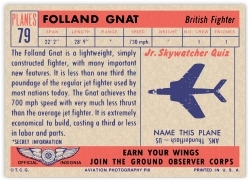 ---
---
---
---
---
---
---
---
---
---
---
---
Partial Checklist
---
At this point we have a "partial" checklist (57 of 60 cards). We need your help to identify card numbers 10, 36 and 55 to complete the checklist. If you can help us, please use the "Contact Us" button on the navigation sidebar.
"Planes"
(Judaica Israel Old Chewing Gum)
Partial Checklist
Known Cards
Card No.
Checkbox
R707-2
Card Title
1
97
B-26C Invader
2
106
Stroukoff YC-123E
3
89
F86-D Sabre (sic F-86D)
4
115
Jet Mentor
5
79
Folland Gnat
6
85
Coleopter
7
78
MK-6 Sabre
8
111
Yak-17
9
92
F-94C Starfire
10
?
Need card title & 600-dpi scans
11
83
17 OR-Magister (sic 170R Magister)
12
61
Cessna YH-41
13
103
Convair R4Y-1
14
66
Boeing QB-17 Drone
15
72
Rotor Craft
16
109
Cessna T-37A
17
69
DC-7C Seven Seas
18
119
T-35 Bosun
19
88
F5D-1 Skylancer
20
91
F8U-1 Crusader
21
87
Convair F-102A
22
90
F-101A Voodoo
23
68
Boeing 707
24
113
LA-9
25
64
FB-30 Vampire
26
104
R3Y-2 Tradewind
27
76
Avro 707B
28
120
MiG-9
29
86
XF2Y-1 Sea Dart
30
107
P4 M-1 Mercator (sic P4M-1)
31
93
AD-5 Skyraider
32
114
IL-28 Beagle
33
108
Cessna OE-2
34
112
T-37 Bison
35
62
Leduc O-21
36
?
Need card title & 600-dpi scans
37
70
Sikorsky H-34-A (sic H-34A)
38
74
Lockheed X-7
39
67
Aerocar
40
100
AJ-1 Savage
41
75
Martin Matador
42
96
P2V-7 Neptune
43
102
KC-135A Stratotanker
44
65
Bell X-2
45
110
Temco TT-1
46
116
Yak-12
47
94
Yak 9P (sic Yak-9P)
48
63
Douglas C-133A
49
80
Mk-7 Swift
50
95
Grumman S2F-1
51
99
B-50 Superfortress
52
98
B-45C Tornado
53
117
Vickers Valiant
54
118
TU-31 Barge
55
?
Need card title & 600-dpi scans
56
73
Hughes Falcon
57
81
DH-106 Comet
58
71
Flying Platform
59
105
C-124 Globemaster II (sic C-124C)
60
84
Dassault Mirage
Special Thanks
---
A very special thanks also to Bob Dros[2] of Bel-Air Models of Amsterdam, Netherlands for supplying us with high-resolution scans of the Israeli "Planes" cards noted above. BEL-AIR MODELS is the manufacturer of solid Perspex aircraft models. Each model is hand carved from a solid block, polished and painted with the airbrush to a very fine degree. Windows are kept clear for the see through effect. The models are of museum quality, and in scale 1:72. (unless indicated otherwise). The types are chosen from the range of airliners of the Golden Age of aviation, roughly the period from 1920-1955, and most of them stem from the two decades before the second world war. A range of military airplanes is also part of the Bel-Air Models catalog. So far more than 120 types have been released, and found their way all over the world. Use the link below to see their catalogue showing the models that are released thus far.
We would also like to thank Nati Granat from Israel, for send us some scans of the fronts and Backs of some of his cards that he sold on eBay. These scans helped us to expand the checklist for this set up to 57 of 60 cards.
Help!
---
As you can see, we are in need of the titles of only three cards to complete the checklist. However, we are also in need of front and Back 600-dpi resolution scans of most of the cards. Basically, if the card is not shown above in the image guide above, we need scans of the card. If you can help us out, please use the "Contact Us" link on the left. We will acknowledge your contribution at the end of this page. If you have a Business, Business Card, Website, eBay store, etc. that you would like us to acknowledge, we'll include it.
Contributors
---
John Shupek — John is retired Aeronautical/Aerospace Engineer that lives in Southern California. John's 36 year aerospace career/adventure started in the mid-1960s when he worked for Pratt & Whitney at their "FRDC" … Florida Research and Development Center, West Palm Beach, Florida. John was part of the P&W jet engine design team for the CIA/USAF's Lockheed A-12/SR-71A "Oxcart/Blackbird" engines (J58/JT11D-20). He also worked on the RL-10 rocket engine and the JTF-17A which was P&W's entry into the United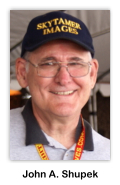 States' SST competition between Boeing and Lockheed. Several years later, John moved Back to California and worked at the AiResearch Mfg. Company at LAX and Torrance. He originally worked on the thermal design of the HRE (Hypersonic Ramjet Engine) which was a supersonic combustion Mach 7 ramjet engine that was to be tested on the North American X-15. John did about three more years of jet engine design work before he disappeared for 13 years into the classified DOE "GCEP" (Gas Centrifuge Enrichment Plant) Atomic Energy program for the enrichment of U235. After the GCEP program was cancelled by the DOE in 1985, John was hired by Northrop Aircraft to do the thermal design for Northrop's entry into the ATF (Advanced Tactical Fighter) competition, the Northrop YF-23A "Black Widow II" stealth supercruise fighter. He also worked on the Northrop Grumman B-2A "Spirit" stealth bomber. After several years on a classified stealth missile program, John worked the remainder of his Aerospace career as one of Northrop Grumman's Program Directors on the United States Navy's F/A-18E/F "Super Hornet" jet fighter program.
During John's career at Northrop Grumman he served for five years as Northrop's "Vintage Aircraft Club" Commissioner and the Curator and Webmaster for the Western Museum of Flight in Hawthorne, California. Several years later, John was the volunteer webmaster (for about 3 years) for the Yanks Air Museum, Chino, California. He also served as President and webmaster for two different NPO's after his retirement. The Whittier Historical Society & Museum and Whittier Meals on Wheels.
John's love of aviation history and aviation photography lead to the establishment of this Skytamer.com website in 1998. The Skytamer.com site has continued to expand and will always grow and will never be completed. It's sort of analogous to a snowball rolling down a hill without any trees to stop it. In approximately 2002, John remembered that he had collected Topps "Wings" (ACC# R707-4) airplane trading cards while in High School. Somehow the cards had disappeared over the years. So at this point, he started to re-collect airplane trading cards via eBay and become an airplane card "Image Collector" rather than a "Card Collector" per se. After John scans an airplane card for the website, he has no further use for it and he puts it Back into circulation via eBay. John's mission statement for the Skytamer.com is basically to restore and preserve high-quality card images/artwork associated with the various airplane card sets from the early 1900s to the present. These cards are wonderful historical "snapshots" into aviation history showing which aviation events and aircraft were important at that point in time. For the Skytamer.com website, basically if it is a trading card collection that features things that fly, but doesn't have feathers, it is eligible for consideration on the Skytamer.com website. John always welcomes inputs and high resolution scans (600-dpi) that can be used on this website. John can be reached via the "Contact Us" navigation button on the left.
Bob Dros — Bob was born on a Dutch island that had a small airfield and a gunnery range for naval aircraft. Bob experienced his first signs of aviation addiction at age of 7, when he was seeing and hearing "Spitfires" that flew overhead from the nearby airstrip as target tugs. Bob's childhood memories include seeing and hearing the low flying Dutch naval "Avengers", "Harpoons", "Neptunes" and "Sea Furies" target practicing just five miles from his island village. Bob started off his airplane
trading card collection by collecting the wonderful five series of Croydon aircraft cigarette cards, and the Van Dijk's Gouda's Roem albums "History of Aviation" and "World Aviation" and
Dutch aircraft gum cards. Much later, Bob started to include other Dutch sets, and airplane card sets from nearby Germany, England, and France. During 2000, Bob started collecting as many airplane sets as he could in order to create an "Encyclopedia of the World's Aviation Trade Cards" which is scheduled for publication in 2015.
Bob's interests also include music. His first group in 1962 was "The Typhoons". Starting in 1974, Bob played drums in one of Holland's best known blues bands "Barrelhouse". During 1978 "Barrelhouse" invited the American blues guitarist Albert Collins to Holland and toured and recorded with him. "Barrelhouse" also worked with B.B. King on his European tours. During 2014, "Barrelhouse" did a 40th Anniversary Tour in Europe.
Bob studied psychology from 1968-1975, got his degree and worked for two years, but his love of music pulled him Back into the music world.
During 1986, Bob started his own business … Bel Air Models. At first, Bel-Air Models specialized in miniature musical instruments, like electric guitars, drums and classical instruments. However, Bob's lifelong love affair with aviation later changed the focus of Bel-Air Models completely to model aircraft types. Bel-Air Models specializes in odd types of model aircraft, which are not available on the regular model aircraft market, such as the wonderful airliner designs from the Inter-War years. Bel-Air Models mostly takes commissions from specialist collectors and constructs the models by hand from solid Perspex or Plexiglas. So far, Bel-Air Models has done more than 150 aircraft types, many of them twice, three times and even 25 times, dependent on their popularity.
In Bob's spare time, he writes short articles about model history for a periodic of a group of enthusiast flying model airplane owners.
Nati Granat — Nati Granat, a resident of ....
References
---
Shupek, John A., Card images from the Skytamer Archive
Dros, Bob. High resolution card scans, emails: "Airplane Cards", 6/21/2013
Granat, Nati. Low resolution eBay lot scans, email: "Images Israeli Hebrew version of the Topps R707-2 Planes of the World", 1/2/2016
---
Copyright © 1998-2018 (Our 20th Year) Skytamer Images, Whittier, California
ALL RIGHTS RESERVED