"Planes of Other Nations" (DO6-8)
W.C. Douglass Ltd., Sydney, Australia, 50-cards
---
Series Title: Planes of Other Nations
The Australian and New Zealand Trade Index: DO6-8 [1]
Issued by: W.C. Douglass Ltd.
Country: Australia
Number of Cards: 50
Back Colors: Brown or white
Card Numbering: Sequentially numbered from 1 to 50 on both sides
Card Dimensions: 73.7 × 45.0 mm (2.98 × 1.77 in.
Circa: 1938-1942
Checklist: Download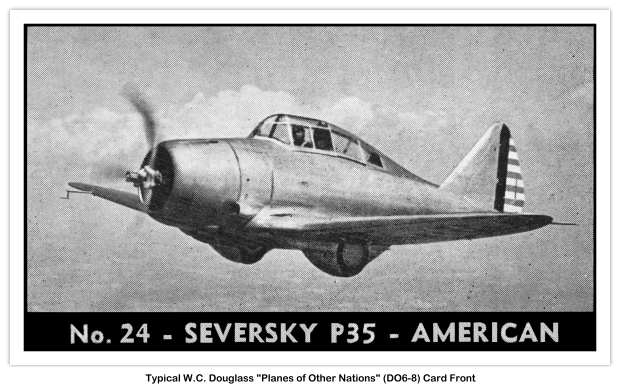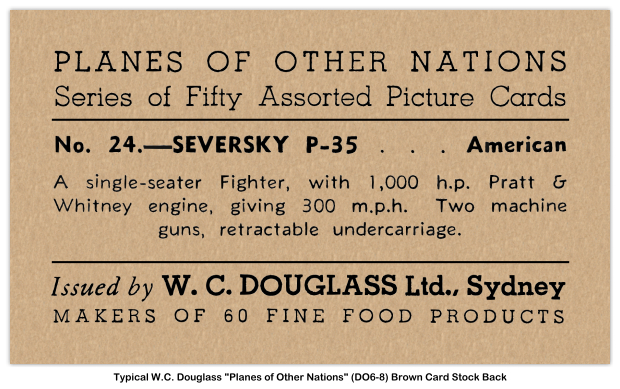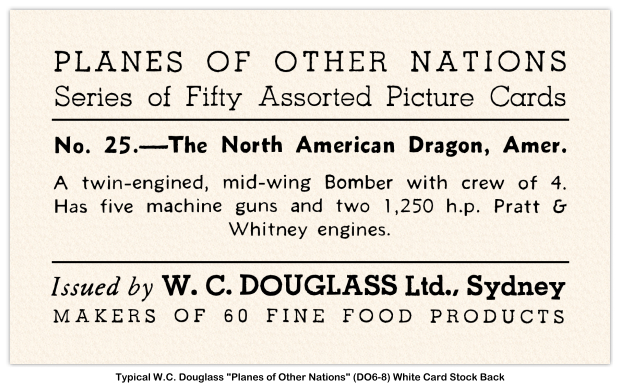 Overview of W.C. Douglas Ltd, Sydney, Australia [2]
---
The W.C. Douglass Ltd. company specialized in numerous food products. Located in Sydney, Australia, the firm was founded in 1906 by Mr. W.C. Douglass and continued operations into the 1950s. W.C. Douglass Ltd., appears to be the Australian version of the United States "H.J. Heinz" Company. W.C. Douglass Ltd., was a very well known and loved food processing company whose "Fountain Brand" products continue on today.
The following overview of the Fountain Brand was obtained from their website.
About Fountain Sauces

The taste of Australia for Generations

Many Australians have fond memories of smothering their meat pies with thick and rich Fountain Tomato Sauce, or sharing a summer family barbecue with Fountain Barbecue and Steak Sauces. It's no secret that Australians love and trust Fountain, a brand with rich history and heritage that spans over a century.

Australia's much-loved sauce was born in 1906 when W.C. Douglas company, a Sydney-based grocery wholesaler, started making Fountain Tomato Sauce in its Goodlet Street factories. Tomatoes were grown and harvested in Mudgee, then trucked to Goodlet Street where the product was pulped.

The growing popularity of Fountain Tomato Sauce was later fueled by a radio campaign in the 1950s and 1960s featuring Ken Howards, Australia's premier race-caller at the time, which played during the horse-racing bulletins every Saturday afternoon.

Also in the 1960s, Fountain Steak, Spicy Red, Soy, Mustard and Mint Sauces were all launched in the now iconic 'poodle' bottle - a design still recognised by shoppers all over Australia today.

Further innovations over the past 30 years have seen Fountain bring even more new and interesting products and flavours to Australian families. In addition to the classic glass bottles, Fountain's current range has expanded to include convenient squeezy packs, Asian sauces, tomato paste and marinades.

Over half of all Australian households have bought a Fountain product in the past year - testament that Fountain not only stands the test of time, but also remains relevant as the range continually refreshes to meet the changing needs of modern Australian families.

We've come a long way since our Goodlet Street factory days, but our dedication to quality and pride in our product remains unchanged. Today at Fountain, we believe in making valued mealtimes with family and friends even more enjoyable with our rich and tasty sauces.
W.C. Douglass Ltd. Trade Cards [1]
---
From the 1920s through the 1950s, W.C. Douglass Ltd., issued several series of trading cards to promote their food products. A list of the various trade card series is shown below:
"Cricket Season 1928-1929", 1928, 16-cards, DO6-1
"Motor Cars", ca.1927, 30-cards, DO6-2
"Famous British Planes & Pilots", ca.1940, 48-cards, DO6-6A
"British Aeroplanes & Pilots", ca.1940, 48-cards, DO6-6B
"Fighting Ships Other Nations", ca.1940, 50-cards, DO6-7
"Planes of Other Nations", ca.1940, 50-cards, DO6-8
"Ships of the Royal Navy", ca.1940, 50-cards, DO6-9A
"Latest British Warships ", 50-cards, DO6-9B
"Australian Butterflies", ca.1950, 45-cards, DO6-11
"Australian Furred Animals" ca.1950, 45-cards, DO6-12
"Fountain of Merit Season", ca.1950, 108-cards, DO-6-13
"Planes of Other Nations" (DO6-8) Image-Guide [3]
---
The following DO6-8 "Planes of Other Nations" 50-card set by W.C. Douglass Ltd., Sydney, Australia, Image-Guide shows enhanced computer images of the fronts and Backs of all 50 cards in the set. Since the set was issued on two different card Back paper stocks, brown and white, we have alternated the colors of the Backs of the cards in the below image guide. Behind each image is a 600-dpi enhanced card image that you may access. Links to the 600-dpi scans of the original cards are shown in tabular form directly beneath this image guide. Over the last 70+ years, the original cards have "yellowed", so the enhanced images shown below represent our attempt to show the cards as they were originally issued as black and white glossy photo cards.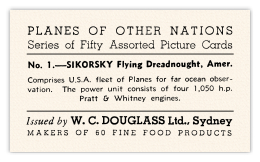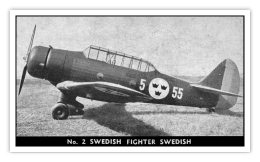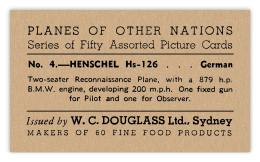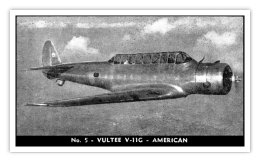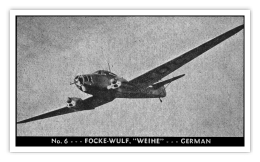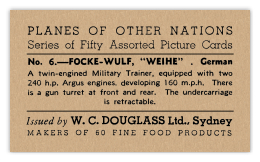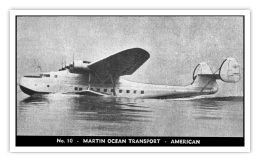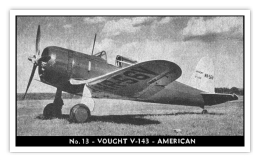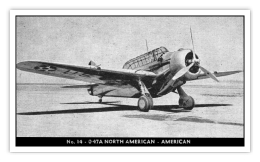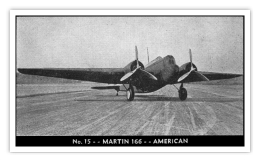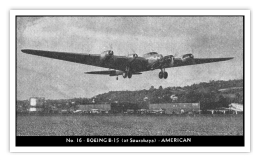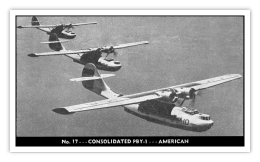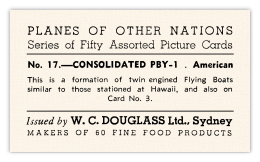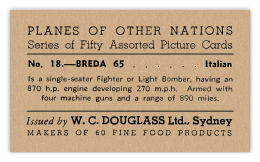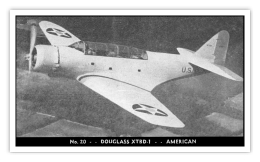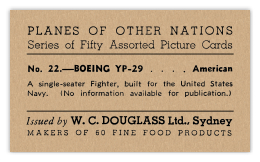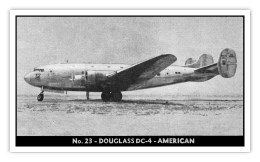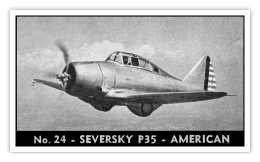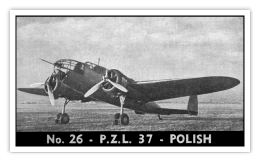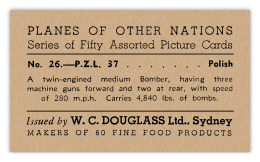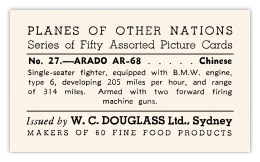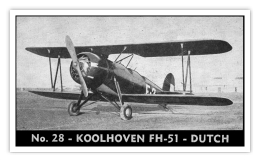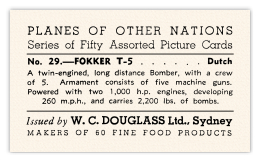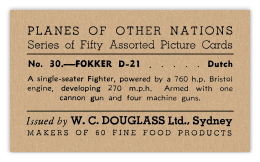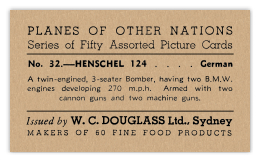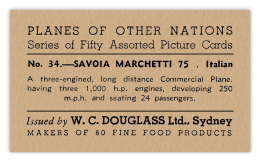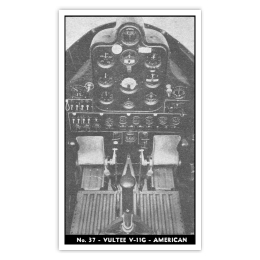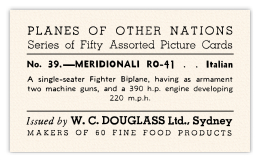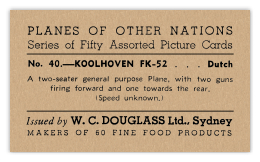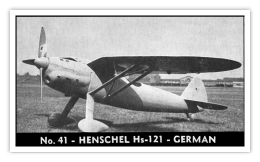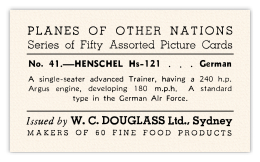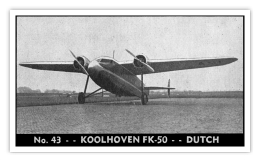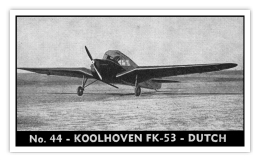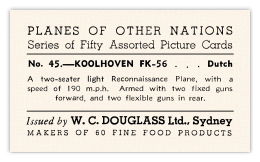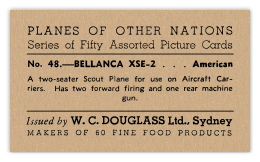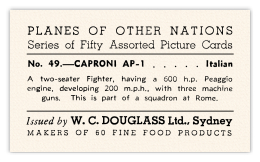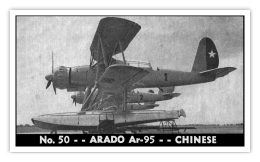 "Planes of Other Nations" Advertisement Envelope [1,3]
---
As part of their promotion for this new series of "Planes of Other Nations", W. C. Douglas Ltd. gave away free sample advertisement envelopes containing four cards from the DO6-8 series. At this point, we're not sure whether or not the cards were sequential or random, so we included the first four cards in the set to help mimic the composition of the promotion.
"Planes of Other Nations" (DO6-8) Checklist [3]
---
"Planes of Other Nations" (DO6-8)
W.C. Douglass Ltd., Australia
CHECKLIST
Card №
x
Card Title
1
Sikorsky "Flying Dreadnought" American
2
Swedish Fighter Swedish
3
Consolidated PBY-1 - American
4
Henschel Hs-126 - German
5
Vultee V-11G - American
6
Focke-Wulf, "Weihe" - - - German
7
Fokker G1 - Dutch
8
Henschel - German
9
Bellanca "Flash" 28–90B - American
10
Martin Ocean Transport - American
11
Australian Wirraway (No. 33)
12
Sikorsky S-43 - American
13
Vought V-143 - American
14
O-47A North American - American
15
Martin 166 - - American
16
Boeing B-15 (at Sourabaya) - American
17
Consolidated PBY-1 - - - American
18
Breda 65 - Italian
19
Douglass (sic) BD-1 - American/i>
20
Douglass (sic) XTBD-1 - - American
21
Douglass (sic) DF - American
22
Boeing YP-29 - American
23
Douglass (sic) DC-4 - American
24
Seversky P35 - American
25
The Nth American "Dragon" - American (Nth = North American)
26
P.Z.L. 37 - Polish
27
Arado AR-68 - Chinese
28
Koolhoven FH-51 - Dutch
29
Fokker T-5 - Dutch
30
Fokker D-21 Dutch
31
Fiat CR-32 - Italian
32
Henschel 124 - - German
33
Henschel 123 - - German
34
Savio Marchetti S-75 - Italy
35
P.Z.L. 24G - Polish
36
Savoia Marchetti S-79B - Italian
37
Vultee V-11C - American
38
Ryan - American
39
Meridionali RO-41 - - - Italian
40
Koolhoven FK-52 - Dutch
41
Henschel Hs-121 - German
42
Farman - French
43
Koolhoven FK-50 - - Dutch
44
Koolhoven FK-53 - Dutch
45
Koolhoven FK-56 - Dutch
46
Koolhoven FK-50B Dutch
47
Focke-Wulf "Condor" - German
48
Bellanca XSE-2 - American
49
Caproni AP-1 - Italian
50
Arado Ar-95 - - Chinese
n/a
Advertisement Envelope (issued with four cards)
Contributors
---
John Shupek — John is retired Aeronautical/Aerospace Engineer that lives in Southern California. John's 36 year aerospace career/adventure started in the mid-1960s when he worked for Pratt & Whitney at their "FRDC" … Florida Research and Development Center, West Palm Beach, Florida. John was part of the P&W jet engine design team for the CIA/USAF's Lockheed A-12/SR-71A "Oxcart/Blackbird" engines (J58/JT11D-20). He also worked on the RL-10 rocket engine and the JTF-17A which was P&W's entry into the United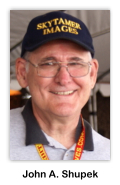 States' SST competition between Boeing and Lockheed. Several years later, John moved Back to California and worked at the AiResearch Mfg. Company at LAX and Torrance. He originally worked on the thermal design of the HRE (Hypersonic Ramjet Engine) which was a supersonic combustion Mach 7 ramjet engine that was to be tested on the North American X-15. John did about three more years of jet engine design work before he disappeared for 13 years into the classified DOE "GCEP" (Gas Centrifuge Enrichment Plant) Atomic Energy program for the enrichment of U235. After the GCEP program was canceled by the DOE in 1985, John was hired by Northrop Aircraft to do the thermal design for Northrop's entry into the ATF (Advanced Tactical Fighter) competition, the Northrop YF-23A "Black Widow II" stealth supercruise fighter. He also worked on the Northrop Grumman B-2A "Spirit" stealth bomber. After several years on a classified stealth missile program, John worked the remainder of his Aerospace career as one of Northrop Grumman's Program Directors on the United States Navy's F/A-18E/F "Super Hornet" jet fighter program.
During John's career at Northrop Grumman he served for five years as Northrop's "Vintage Aircraft Club" Commissioner and the Curator and Webmaster for the Western Museum of Flight in Hawthorne, California. Several years later, John was the volunteer webmaster (for about 3 years) for the Yanks Air Museum, Chino, California. He also served as President and webmaster for two different NPO's after his retirement. The Whittier Historical Society & Museum and Whittier Meals on Wheels.
John's love of aviation history and aviation photography lead to the establishment of this Skytamer.com website in 1998. The Skytamer.com site has continued to expand and will always grow and will never be completed. It's sort of analogous to a snowball rolling down a hill without any trees to stop it. In approximately 2002, John remembered that he had collected Topps "Wings" (ACC# R707-4) airplane trading cards while in High School. Somehow the cards had disappeared over the years. So at this point, he started to re-collect airplane trading cards via eBay and become an airplane card "Image Collector" rather than a "Card Collector" per se. After John scans an airplane card for the website, he has no further use for it and he puts it Back into circulation via eBay. John's mission statement for the Skytamer.com is basically to restore and preserve high-quality card images/artwork associated with the various airplane card sets from the early 1900s to the present. These cards are wonderful historical "snapshots" into aviation history showing which aviation events and aircraft were important at that point in time. For the Skytamer.com website, basically if it is a trading card collection that features things that fly, but doesn't have feathers, it is eligible for consideration on the Skytamer.com website. John always welcomes inputs and high resolution scans (600-dpi) that can be used on this website. John can be reached via the "Contact Us" navigation button on the left.
References
---
Wharton-Tigar, E.G., et. al. "The Australian & New Zealand Index, Cartophilic Reference Book — No. 30", London, England. W.C. Douglass, Ltd., Sydney, N.S.W., The Cartophilic Society of Great Britain Limited, 1983. p.78. Print.
Fountain Brand. website
Shupek, John. 600-dpi card scans from the Skytamer Images "Skytamer Archive"
---
Copyright © 1998-2019 (Our 21st Year) Skytamer Images, Whittier, California
ALL RIGHTS RESERVED