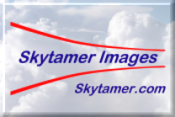 North American T-6G "Texan"
Single-engine two-seat low-wing advanced trainer monoplane
---
Archive Photos 1,8
---
North American T-6G Texan (NA-168, rebuilt AF 42-44586, c/n 88-14780, ex AT-6D-NT) on display (10/10/2002) at the Planes of Fame Air Museum, Chino, California (Photo by John Shupek copyright © 2002 Skytamer Images)
North American T-6G Texan (NA-168, AF 49-3326A, c/n 168-430, N100XK/TA-326 on display (4/14/2004) at the Tillamook Naval Air Museum, Tillamook, Oregon (Photo by John Shupek copyright © 2004 Skytamer Images)
North American T-6G Texan (NA-168, ex AF 49-3402, c/n 168-526, N85JR/008/2-P-7) on display (6/5/1999) at the Palm Springs Air Museum, Palm Springs International Airport, Palm Springs, California (Photo by John Shupek copyright © 1999 Skytamer Images)
North American AT-6G Texan "Oily Boid" (NA-168, AF 49-3509, c/n 168-653, N7057/101, as SNJ-6 BuNo 112493) on display (9/23/2003) at the Kalamazoo Aviation Heritage Museum, Portage, Michigan (Photo by John Shupek copyright © 2003 Skytamer Images)
1942 North American AT-6G "Texan" (AT-6C-NT, AF 42-3984) on display (12/28/2008) at the Luke AFB Air Park, Luke AFB, Glendale, Arizona (Photo by AFIA)
Overview ²
---
North American T-6 Texan/SNJ/Harvard
Role: Trainer aircraft
Manufacturer: North American Aviation
First flight: 1 April 1935
Primary users: United States Army Air Forces; United States Navy; Royal Air Force; South African Air Force
Number built: 15,495
Developed from: North American NA-16
Variants: North American A-27
The North American Aviation T-6 Texan was a single-engine advanced trainer aircraft used to train pilots of the United States Army Air Forces, United States Navy, Royal Air Force and other air forces of the British Commonwealth during World War II and into the 1950's. Designed by North American Aviation, the T-6 is known by a variety of designations depending on the model and operating air force. The USAAC and USAAF designated it as the AT-6, the United States Navy the SNJ, and British Commonwealth air forces, the Harvard, the name it is best known by outside of the US. After 1962, US forces designated it the T-6. It remains a popular warbird aircraft used for airshow demonstrations and static displays.
One North American AT-6D (AF 42-84241) was converted with the 575-hp Ranger V770-9 12-cylinder inverted air-cooled engine as the XAT-6E. While is proved to be the fastest of all AT-6 versions in testing at 244 mph, no production was planned. During the 1990's, The Western Museum of Flight, Hawthorne, California converted a North American AT-6D "Texan" to the North American XAT-6E "Texan-Ranger" configuration with the Ranger V770-9 engine. The above photos were taken on 9/1/2001 during the "Roll-Out" ceremony at the Western Museum of Flight, and at the 2008 Cable Air show.
Development ²
---
The Texan originated from the North American NA-16 prototype (first flown on April 1, 1935) which, modified as the NA-26, was submitted as an entry for a USAAC "Basic Combat" aircraft competition in March, 1937. The first model went in to production and 180 were supplied to the USAAC as the BC-1 and 400 to the RAF as the Harvard I. The US Navy received 16 modified aircraft, designated the SNJ-1, and a further 61 as the SNJ-2 with a different engine.
The BC-1 was the production version of the NA-26 prototype, with retractable tailwheel landing gear and the provision for armament, a two-way radio, and the 550 hp (410 kW) R-1340-47 engine as standard equipment. Production versions included the BC-1 (Model NA-36) with only minor modifications (177 built), of which 30 were modified as BC-1I instrument trainers; the BC-1A (NA-55) with airframe revisions (92 built); and a single BC-1B with a modified wing center-section.
Three BC-2 aircraft were built before the shift to the "advanced trainer" designation, AT-6, which was equivalent to the BC-1A. The differences between the AT-6 and the BC-1 were new outer wing panels with a swept forward trailing edge, squared-off wingtips and a triangular rudder, producing the definitive Texan appearance. After a change to the rear of the canopy, the AT-6 was designated the Harvard II for RAF/RCAF orders and 1,173 were supplied by purchase or Lend Lease, mostly operating in Canada as part of the British Commonwealth Air Training Plan.
Next came the AT-6A which was based on the NA-77 design and was powered by the Pratt & Whitney R-1340-49 Wasp radial engine. The USAAF received 1,549 and the US Navy 270 (as the SNJ-3). The AT-6B was built for gunnery training and could mount a 30-cal machine gun on the forward fuselage. It used the R-1340-AN-1 engine, which was to become the standard for the remaining T-6 production. Canada's Noorduyn Aviation built an R-1340-AN-1-powered version of the AT-6A, which was supplied to the USAAF as the AT-16 (1,500 aircraft) and the RAF/RCAF as the Harvard IIB (2,485 aircraft), some of which also served with the Fleet Air Arm and Royal Canadian Navy.
In late 1937 Mitsubushi purchased two NA-16's as technology demonstrators and possibly a licence to build more. However, the aircraft developed by Watanabe/Kyushu as the K10W1 (Allied code name "Oak") bore no more than a superficial resemblance to the North American design. It featured a full monocoque fuselage as opposed to the steel tube fuselage of the T-6 and NA-16 family of aircraft, as well as being of smaller dimensions overall and had no design details in common with the T-6. It was used in very small numbers by the Imperial Japanese Navy from 1942 onwards. After the war the Japanese Air Self Defense Force operated Texans.
The NA-88 design resulted in 2,970 AT-6C Texans and 2,400 as the SNJ-4. The RAF received 726 of the AT-6C as the Harvard IIA. Modifications to the electrical system produced the AT-6D (3,713 produced) and SNJ-5 (1,357 produced). The AT-6D, redesignated the Harvard III, was supplied to the RAF (351 aircraft) and Fleet Air Arm (564 aircraft). The AT-6G (SNJ-5) involved major advancements including a full-time hydraulic system and a steerable tailwheel and persisted into the 1950's as the USAF advanced trainer.
Subsequently the NA-121 design with a completely clear rearmost section on the canopy, gave rise to 25 AT-6F Texans for the USAAF and 931 as the SNJ-6 for the US Navy. The ultimate version, the Harvard 4, was produced by Canada Car and Foundry during the 1950's, and supplied to the RCAF, USAF and Bundeswehr.
A total of 15,495 T-6's of all variants were built.
Combat Use ²
---
During the Korean War and, to a lesser extent, the Vietnam War, T-6's were pressed into service as forward air control aircraft. These aircraft were designated T-6 "Mosquitos".
No. 1340 Flight RAF used the Harvard in Kenya against the Mau Mau in the 1950's, where they operated with 20-lb bombs and machine guns against the gangs. Some operations took place at altitudes around 20,000 ft above mean sea level. A Harvard was the longest-serving RAF aeroplane, with an example, taken on strength in 1945, still serving in the 1990's (as a chase plane for helicopter test flights, role for which the Shorts Tucano's high stall speed was ill-suited).
The T-6G was also used in a light attack or counter insurgency role by France during the Algerian war in special Escadrilles d'Aviation Légère d'Appui (EALA), armed with machine guns, bombs and rockets. At its peak, there were 38 EALA's active. The largest unit was the Groupe d'Aviation Légère d'Appui 72, which consisted of up to 21 EALA's.
From 1961 to 1975, Portugal, also, used hundreds of T-6G in the counter insurgency role during the Portuguese Colonial War. During this war, almost all the Portuguese Air Force bases and air fields in Angola, Mozambique and Portuguese Guinea had a detachment of T-6G's.
In 1957-58, the Spanish Air Force used T-6's as counterinsurgency aircraft in the Ifni War, armed with machine guns, iron bombs and rockets, achieving an excellent reputation due to its reliability, safety record and resistance to damage.
The Pakistan Air Force used T-6G's in the 1971 war as a night ground support aircraft hitting enemy soft transport vehicles. In the early hours of 5 December, during a convoy interdiction mission in the same area, Squadron Leader Israr Quresh's T-6G Harvard was hit by enemy ground fire and a shell fractured the pilot's right arm. Profusely bleeding, the pilot flew the aircraft Back with his left hand and landed safely. The World War II vintage prop-engine trainers were pressed into service and performed satisfactorily in the assigned role of enemy convoys at night.
Mainly as a result of the United Nations arms embargo against South Africa's Apartheid policies, T-6's remained in service with the South African Air Force as a basic trainer until 1995. They were replaced by Pilatus PC-7 Mk.II turboprop trainers.
In Popular Culture ²
---
After WWII, the National Air Races established a unique racing class for the AT-6/Texan/Harvard aircraft; This class continues today at the Reno National Air Races each year.
Since the Second World War, the T-6 has been a regular participant at air shows, and was used in many movies. For example, in Tora! Tora! Tora! and The Final Countdown, converted single-seat T-6's painted in Japanese markings represent Mitsubishi Zeroes, whereas in A Bridge too Far it represented the razorBack Republic P-47 Thunderbolt. The T-6 also appeared in the Pat Benatar video for Shadows of the Night. The New Zealand Warbirds "Roaring 40's" aerobatic team use ex-Royal New Zealand Air Force Harvard's.
Recent Research Testbed ²
---
The Harvard 4 has also been recently used in Canada as a testbed aircraft for evaluating cockpit attitude displays. Its aerobatic capability permits the instructor pilot to maneuver the ship into unusual attitudes, then turn the craft over to an evaluator pilot in the "blind" rear cockpit to recover, based on one of several digitally-generated attitude displays.
Variants ³
---
North American BC Series

BC-1 — Basic Combat trainer version initial production version with 600-hp R-1340-47 engine, 177 built.
BC-1A — Same as BC-1 but with semi-monocoque rear fuselage, squared-off wingtips and vertical tail surfaces, 93 built.
BC-1B — One BC-1A fitted with an AT-6A wing center section.
BC-1I — BC-1s converted to instrument trainers, 30 modified.

North American AT-6 Texan Series:

AT-6 Texan — Same as BC-1A with minor changes, powered by a 600-hp R-1340-47 and armed with forward-firing 0.3-in machine gun, nine original started as BC-1A's and 85 built.
AT-6A Texan — Same as AT-6 but with 600-hp R-1340-49 and removable wing center section fuel tanks, 1847 built with 298 transferred to the United States Navy as the SNJ-3. Survivors re-designated T-6A in 1948.
AT-6B Texan — Same as AT-6A but with 600-hp R-1340-AN-1 and dorsal gun fitted as standard, 400 built.
AT-6C Texan — Same as AT-6B but with material changes to low-alloy steel and plywood, 2970 built including transfers to the United Kingdom as the Harvard III.
AT-6D Texan — Same as AT-6B but with a 24V DC electrical system, 4388 built including transfers to the United States Navy as the SNJ-5 and to the United Kingdom as the Harvard IIA. Redesignated T-6D in 1948.
XAT-6E Texan — One AT-6D re-engine with a 575-hp V-770-9 engine for trials.
AT-6F Texan — Same as AT-6D but with a strengthened airframe and minor modifications, 956 built including transfers to the United States as the SNJ-6, Redesignated T-6F in 1948.

Noorduyn AT-16 Harvard Series:

Noorduyn AT-16 Harvard — Noorduyn built AT-6A's for lend-lease as Harvard's, 1800 built.

T-6 Texan Series

T-6A Texan — AT-6A's re-designated in 1948.
T-6C Texan — AT-6C's re-designated in 1948 including 68 re-builds with new serial numbers.
T-6D Texan — AT-6D re-designated in 1948 including 35 re-builds with new serial numbers.
T-6F Texan — AT-6F re-designated in 1948.
T-6G Texan — Earlier model AT-6/T-6's re-built between 1949-1953. They have improved cockpit layout, increased fuel capacity, modified landing gear with steerable tailwheel, updated radios and a 600-hp R-1340-AN-1 engine. 2,068 modified.
LT-6G Texan — T-6G's converted for battlefield surveillance and forward air controller duties, 97 modified.
T-6H Texan — Number of T-6F's converted T-6G standard.
T-6J Texan — Designated used for Canadian-built Harvard Mk.IV's supplied to Belgian, France, Italy, Portugal and West Germany, 285 aircraft.

SNJ Texan Series

SNJ-1 — United States Navy designation same as BC-1 with metal-covered rear-fuselage, 16 built.
SNJ-2 — Same as SNJ-1 but with a R-1340-56 engine and detailed changes, 61 built.
SNJ-3 — Same as AT-6A, 270 built and 296 transferred from USAAC.
SNJ-3C — SNJ-3 converted as deck landing trainers with arrester gear, twelve modified.
SNJ-4 — Same as AT-6C, 1240 built.
SNJ-4C — SNJ-4s converted as deck landing trainers with arrester gear.
SNJ-5 — AT-6D's transferred from the USAAC, 1573 aircraft.
SNJ-5C — SNJ-5s converted as deck landing trainers with arrester gear.
SNJ-6 — AT-6F's transferred from the USAAF, 411 aircraft.
SNJ-7 — Early models modified to T-6G standards in 1952.
SNJ-7B — An armed variant of the SNJ-7.
SNJ-8 — Order for 240 cancelled.

Harvard Series

Harvard I — Similar to BC-1 but without rear gun and with a 600-hp R-1340-S3H1 engine, 400 aircraft.
Harvard II — Similar to BC-1A, 526 built, again without provision for rear gunner.
Harvard IIA (RAF & Commonwealth) — AT-6C, many with wooden rear fuselages when first delivered.
Harvard IIA (RCAF) — "Armed" Harvard II - Any RCAF Harvard II & IIB fitted with guns (in the wing), rockets or bombs.
Harvard IIB — Noorduyn built Mk.II's, some to US orders as AT-16's for lend-lease. Transfers Back from the USAAF (1800) and 757 built.
Harvard T.T. IIB — Target Tug - 42 aircraft built for the RAF by Noorduyn. Number probably included in II totals.
Harvard IIF — Bombing/gunnery trainer - One-off modified from Mk.II with bomb aimers blister and AT-6 cockpit.
Harvard III — AT-6D, 537 aircraft for RAF.
Harvard 4 — Development of Harvard II paralleling the T-6G, and built by Canadian Car & Foundry, 270 for the RCAF and 285 for USAF. Some publications refer to these as T-6J however the aircraft record cards do not use this designation.

A-27

North American A-27 — Tandem two-seat attack version of the AT-6 with a 785-hp R-1820-75 engine and five O.3-in machine guns (two in nose, one on each wing and one dorsal). Designation used for ten aircraft for Thailand impressed into United States Army Air Corps use.
North American Aviation Company Designations ³
---
NAA Charge No.
NAA Model or Designation
Customer
Engine Installed
Number
Notes
NA-16
NA-16
USAAC
Wright R-975-E3 Whirlwind (420-hp)
1
Prototype NX-2080, was open cockpit, received greenhouse canopy for trials
NA-18
NA-18
USAAC (trials)
Wright R-975-E3 Whirlwind (420-hp)
1 (modified)
Ex-NA-16, won against Seversky BT-8 and Curtiss-Wright CW-19R, to Argentina in 1937
NA-19
NA-19, BT-9
USAAC
Wright R-975-7 Whirlwind (400-hp)
42
Minor changes from NA-18, new canopy
NA-19A
NA-19A, BT-9A
USAAC
Wright R-975-7 Whirlwind (400-hp)
40
Armed BT-9 with one cowl gun and one rear flexible gun, and suitably modified canopy.
NA-20
NA-16-2H
Trials, to Honduras (FAH)
Wright R-975 Whirlwind (Unknown sub-type)
1
NC16025 originally intended as demonstrator for China
NA-22
NA-22
USAAC (rejected)
Wright R-760ET (J-6-7) (225-hp)
1
Dangerously underpowered
NA-23
NA-23, BT-9B
USAAC
Wright R-975-7 Whirlwind (400-hp)
117
Unarmed. 1 modified as sole BT-9D as BT-14 prototype with new outer wings and other alterations.
NA-26
BC-1
Trials, to Canada (RCAF)
P&W R-1340-S3H1 Wasp (550-hp)
1
Basic Combat Demonstrator NX18990 - no relation to later BC-1, first retractable gear variant, later modified with Yale parts.
NA-27
NA-16-2H
To Fokker and Royal Netherlands AF
P&W R-1340-S2H1 Wasp (500-hp)
1
European demonstrator armed NA-26 with fixed gear.
NA-28
NJ-1
USN
P&W R-1340-6 Wasp (550-hp)
40
USN specification up engine BT-9 as advanced trainer, some re-engine with later R-1340 versions.
NA-29
BT-9C
USAAC
Wright R-975-7 Whirlwind (400-hp)
67
as per BT-9A with minor changes. First aircraft completed as Y1BT-10.
NA-30
BT-10
USAAC (Cancelled)
P&W R-1340-41 Wasp (600-hp)
0
cancelled production version of Y1BT-10
NA-31
NA-16-4M, Sk-14, Sk-14A
Sweden (Flygvapnet)
Wright R-975-E3 Whirlwind (420-hp)
Piaggio P VIIc (525-hp)
137
BT-9C but different engine variant. Licence production (NAA built 1, ASJA 76, SAAB 60), Trialled undercarriage for Saab 21.
NA-32
NA-16-1A
Australia (RAAF)
P&W R-1340 Wasp
1
Fixed gear pattern aircraft similar to NJ-1 or Y1BT-10, not followed up.
NA-33
NA-16-2K, Wirraway
Australia (RAAF)
P&W R-1340-S1H1G (600-hp)
756
Retractable gear pattern aircraft for Australia, 1 built by NAA and 755 by Commonwealth Aircraft Corporation)
NA-34
NA-16-4P
Argentina (FAA)
Wright R-975-E3 Whirlwind (420-hp)
29
First major export order (not licence), had 2 cowl guns, a flexible rear gun and a radio mast
NA-36
BC-1
USAAC
P&W R-1340-47 Wasp (500-hp)
177
Retractable undercarriage and first aircraft with square bottom rudder. Large DF loop between undercarriage, blister covering fuel transfer gear along centerline aft of wheel wells.
NA-37
NA-16-4R, KXA1
Japan (IJN) (Evaluation)
P&W R-985-9CG Wasp Junior (500-hp)
1
Technology demonstrator, unarmed, fixed landing gear and three bladed prop.
NA-38
NA-16-4M
Sweden (Flygvapnet)
Wright R-975-E3 Whirlwind (420-hp)
1
same as NA-31
NA-41
NA-16-4
China (ROCAF)
Wright R-975 Whirlwind
35
Similar to BT-9C with short fabric covered fuselage, combat aircraft with two fixed forward guns and one flexible rear gun.
NA-42
NA-16-2A
Honduras (FAH)
P&W R-1340 Wasp (520-hp)
2
NA-43
NA-16-1G
Brazil (Army) (Cancelled)
Wright R-975 Whirlwind
0
Similar to BT-9C
NA-44
NA-44
to Canada (RCAF)
Wright SG-1820-F52 Cyclone (750-hp)
1
Prototype two-seat export combat aircraft similar to BC-1A
NA-45
NA-16-1GV
Venezuela (FAV)
P&W R-1340 Wasp
3
Possibly originally built to Brazilian contract
NA-46
NA-16-4
Brazil (Navy)
Wright R-975-53 Whirlwind(400-hp)
12
Similar to BT-9C with wingtip slats, small DF loop under fuselage.
NA-47
NA-16-4RW, KXA-2
Japan (IJN) (Evaluation)
Wright R-975-E3 Whirlwind (420-hp)
1
Technology demonstrator
NA-48
NA-16-3C
China (ROCAF)
P&W R-1340 Wasp
15
Similar to NA-45
NA-49
NA-16-1E, Harvard I
United Kingdom (RAF)
P&W R-1340-S3H1 Wasp (600-hp)
400
Straight wing trailing edge, square rudder, short fabric covered fuselage, fixed rear canopy, no blister under wing center section
NA-50
NA-50
Peru (FAP)
Wright R-1820-G3 Cyclone
7
Single seat fighter, NA-16-5
NA-52
SNJ-1
USN
P&W R-1340-6 Wasp(500-hp)
16
Short metal fuselage, square rudder, late wings, fixed rear on canopy
NA-54
BC-2
USAAC
P&W R-1340-45 Wasp (600-hp)
3
Based on NA-36 with some improvements from NA-44, 3 bladed prop and two blister under wing center section.
NA-55-1
BC-1A
USAAC
P&W R-1340-47/-49 Wasp (600-hp)
83
Bought for reserve and Air National Guard units.
NA-56
NA-16-4
China (ROCAF)
P&W R-1340 Wasp
50
Similar to NA-55 (long metal fuselage, fixed gear and engine differences)
NA-57
NA-57, NAA 57 P-2
France (Armée de l'Air)
Wright R-975-E3 Whirlwind (420-hp)
230
Improved NA-23, many captured and used by Germany, some retained by Vichy France
NA-58
BT-14, BT-14A
USAAC
P&W R-985-25 Wasp Junior
251
Similar to Harvard II except for fixed undercarriage and smaller engine. 27 re-engine with 400-hp (298-kW) P&W R-985-11 as BT-14A
NA-59
AT-6-NA
USAAC
P&W R-1340-47 Wasp (600-hp)
94
First examples converted from NA-55 while still on production line, some examples had small DF loop installed
NA-61
NA-16-1E, Harvard I
Canada (RCAF)
P&W R-1340-S3H1 Wasp (600-hp)
30
Later fitted with extended exhaust for cabin heater
NA-64
NA-64, NAA 64-P2/Yale I
France (Armée de l'Air)
Wright R-975-E3 Whirlwind (420-hp)
230
119 to Canada (RCAF) as Yale I, briefly used by France, many captured by Germany
NA-65
SNJ-2
USN
P&W R-1340-36 Wasp
36
Blister covering fuel transfer gear along centerline aft of wheel wells
NA-66
Harvard II
United Kingdom (RAF)
P&W R-1340 Wasp
600
as per NA-59 but fixed rear canopy and no rear gun, also to RNZAF and RCAF, Southern Rhodesia
NA-68
NA-50A, P-64
Thailand (RTAF)
Wright R-1820-77 Cyclone (870-hp)
6
Short outer wing panel angled much further forward than earlier types. Diverted with start of Pacific war to USAAF as P-64
NA-69
NA-44, A-27
Thailand (RTAF)
Wright R-1820-75 Cyclone (745-hp)
10
Fully armed as attack aircraft. Diverted with start of Pacific war to USAAF as A-27
NA-71
NA-16-3
Venezuela (FAV)
P&W R-1340-S3H1 Wasp (550-hp)
3
Two nose guns and rear gun, no wing guns.
NA-72
NA-44
Brazil (Army)
P&W R-1340-AN1/S1H1 Wasp (600-hp)
30
Attack bomber, fitted with small DF loop under fuselage.
NA-74
NA-44
Chile (FACh)
P&W R-1340 Wasp
12
Attack bomber, fitted with small DF loop under fuselage.
NA-75
Harvard II
Canada (RCAF)
P&W R-1340 Wasp
100
Follow on order to NA-66
NA-76
Harvard II
United Kingdom (RAF)
P&W R-1340 Wasp
450
Originally ordered by France, taken over by RAF, many to RCAF
NA-77
AT-6A, SNJ-3
USAAC, USN
P&W R-1340 Wasp
637
same as NA-66
NA-78
AT-6A, SNJ-3/3C
USAAC, USN
P&W R-1340 Wasp
568
As NA-77, first aircraft built in Texas, and to use name "Texan"
NA-79
SNJ-2
USN
P&W R-1340-56 Wasp
25
NA-81
Harvard II
United Kingdom (RAF)
P&W R-1340 Wasp
125
same as previous RAF Harvard II order.
NA-84
AT-6B
USAAC
P&W R-1340-AN-1 Wasp (600-hp)
400
NA-85
SNJ-3
USN
P&W R-1340 Wasp
0
Cancelled duplicate of NA-78 for record purposes.
NA-88
AT-6C, AT-6D, XAT-6E, SNJ-4, SNJ-5
USAAC/USAAF, USN
P&W R-1340 Wasp/Ranger V-770
9,331
(last 800 as NA-121) AT-6D used 24 volt electrics, vs previous 12 volt systems. XAT-6E used Ranger V-770.
NA-119
AT-6D
Brazil (FAB)
P&W R-1340 Wasp
81
20 examples built in Brazil under licence
NA-121
AT-6D, AT-6F
USAAF, USN
P&W R-1340 Wasp
4,378
800 AT-6D's, 211 SNJ-5, 956 AT-6F and 411 SNJ-6. AT-6F and SNJ-6 have clear fixed rear canopy section
NA-128
AT-6D
USAAF, USN
P&W R-1340 Wasp
0
Canceled orders to have been built in Texas.
NA-168
T-6G, LT-6G
USAF/US ANG
P&W R-1340 Wasp
109
Re-manufactured and updated from earlier versions. Mostly internal but canopy simplified slightly.
NA-182
T-6G, LT-6G
USAF/US ANG
P&W R-1340 Wasp
824
as per NA-168, Re-manufactured/updated.
NA-186
Harvard IV
Canada (RCAF)/US MDAP
P&W R-1340 Wasp
555
Design Data for Canadian Car and Foundry possibly to build Harvard IV or T-6G, sole new post war production.
NA-188
T-6G, LT-6G
USAF/US ANG
P&W R-1340 Wasp
107
Re-manufactured and converted from earlier versions.
NA-195
T-6G, LT-6G
USAF/US ANG
P&W R-1340 Wasp
11
Re-manufactured and converted from earlier versions.
NA-197
T-6G
USAF/US ANG
P&W R-1340 Wasp
110
Re-manufactured and converted from T-6D.
NA-198
SNJ-8
USN
P&W R-1340 Wasp
0
Cancelled Contract for SNJ-8 (similar to T-6G)
Operators ²
---
Argentina: Argentine Air Force
Austria: Austrian Air Force
Belgium: Belgian Air Force
Biafra: Biafran Air Force
Bolivia: Bolivian Air Force
Brazil: Brazilian Air Force
Canada: Royal Canadian Air Force, Royal Canadian Navy
Republic of China (Taiwan): Republic of China Air Force
Chile: Chilean Air Force
Colombia: Colombian Air Force
Republic of the Congo: Congolese Air Force
Cuba: Cuban Air and Air Defense Force
Denmark: Royal Danish Air Force
Dominican Republic: Dominican Air Force
El Salvador: Air Force of El Salvador
France: French Air Force
Gabon: Gabon Air Force
Germany: Luftwaffe
Greece: Hellenic Air Force
Hong Kong: Royal Hong Kong Auxiliary Air Force
Honduras: Honduran Air Force
India: Royal Indian Air Force, Indian Air Force
Iran: Iranian Air Force
Israel: Israeli Air Force
Italy: Aeronautica Militare
Japan: Japan Air Self-Defense Force
Katanga:
South Korea: Republic of Korea Air Force
Laos:Royal Laotian Air Force
Mexico: Mexican Air Force
Morocco: Royal Moroccan Air Force
Netherlands: Royal Netherlands Air Force
Mozambique: Mozambique Air and Air Defense Forces
New Zealand: Royal New Zealand Air Force
Norway: Royal Norwegian Air Force
Pakistan: Pakistan Air Force
Paraguay: Paraguayan Air Force, Paraguayan Naval Aviation
Philippines: Philippine Air Force
Portugal: Portuguese Air Force, Portuguese Navy
South Africa: South African Air Force
Southern Rhodesia: Southern Rhodesian Air Force
South Vietnam: Vietnam Air Force
Spain: Spanish Air Force
Soviet Union: Soviet Air Forces
Sweden: Swedish Air Force
Switzerland: Swiss Air Force
Thailand: Royal Thai Air Force
Tunisia: Tunisian Air Force
Turkey: Turkish Air Force: 196 planes of various types
United Kingdom: Royal Air Force, Royal Navy
United States: United States Army Air Corps/Army Air Forces, United States Air Force, United States Navy, United States Marine Corps, United States Coast Guard
Uruguay: Uruguayan Air Force
Venezuela: Venezuelan Air Force
Yugoslavia: SFR Yugoslav Air Force
Zaire:
Specifications T-6G (NA-168) 4,5,6,7
---
Background 4

After evaluation of several new postwar designs for primary training aircraft, the USAF decided, as an economy measure, to retain the "Texan" in modified form as a standard trainer.

In its new form, the North American T-6G "Texan" retained the basic structural and flying characteristics of the "Texan," but had modifications in equipment to meet the latest training requirements. The pilot's cockpit was simplified to bring it into line with that of the North American T-28 "Trojan" and the rear cockpit was equipped with complete instrument training equipment.

Additional fuel tanks were fitted in the roots of the outer wing panels to extend the range to over 1,000 miles (1,600 km).

Seven hundred wartime-built airframes were to be overhauled, reconditioned and re-equipped to the above standards, 330 of them by North American aviation, Inc. and the remainder by other manufacturers.

Type: 5

Two-seat Advanced Training monoplane.

Wings: 5

Low-wing cantilever monoplane.
Two spar rectangular center-section and two single-spar tapered outer sections with detachable wing-tips.
All-metal structure with aluminum-alloy spars and ribs and a smooth Alclad skin.
Aerodynamically and statically-balanced ailerons have metal frames and fabric covering.
Split-type trailing-edge flaps between ailerons.

Fuselage: 5

Welded chrome-molybdenum steel-tube structure from fireproof bulkhead to rear cockpit, remainder of aluminum-alloy semi-monocoque construction.
Side panels of the forward section are of aluminum-alloy and are removable.

Tail Unit: 5

Cantilever monoplane type.
Aluminum-alloy framework, fixed surfaces covered with Alclad sheet and movable surfaces with fabric.
Elevators and rudder have trim-tabs controllable both cockpits.

Landing Gear: 5

Retractable cantilever type, with wheels folding inwards.
Retraction by engine-driven hydraulic pump.
Hydraulic wheel-brakes.
Full-swiveling steerable tail-wheel.

Power Plant: 5,6

One 600-hp (447.42 kW) Pratt & Whitney "Wasp" R-1340-AN1 radial air-cooled engine. 6
Hamilton Standard two-blade constant-speed airscrew. 5
Fuel tanks, 111 US gallons capacity (420.2 liters) in center-section. 5
Oil tank, (10.2 U.S. gallons (38.6 liters) in engine compartment. 5

Accommodation: 5

Tandem cockpits with individually-operated sliding enclosures.
Complete dual flight and engine controls in each cockpit.
Adjustable seat in front cockpit, rotating and adjustable gunner's seat and Back cockpit.

Armament: 7

Optional underwing attachments for light bombs and rockets.

Avionics: 4

Radio and electronic equipment of the latest design included:

VHF command set,
Range receiver,
Marker beacon receiver,
Inter-phone system,
Radio compass, and
ILS.

Dimensions: 5,7

Span: 42 ft 0¼ in (12.9 m) 5
Length: 29 ft 6 in (8.99 m) 7
Height: 11 ft 8½ in (3.5 m) 5
Wing area: 253.7 ft² (23.6 m²) 5

Weights and Loadings: 5,6,7

Weight empty: 4,425 lb (2007.15 kg) 6
Disposable load: 1,142 lb (518.00 kg) 5
Normal loaded weight: 5,330 lb (2417.65 kg) 6
Maximum T/O weight: 5,617 lb (2,547.83 kg) 7
Wing loading at max T/O weight: 22.14 lb/ft² (107.96 kg/m²) 7
Power loading at max T/O weight: 9.36 lb/hp (4.25 kg/hp) 7

Performance: 6,7

Maximum level speed: 212 mph (341.18 km/h) 7
Cruising speed: 180 mph (289.68 km/h) 6
Climb rate: 1,175 ft/min (358.14 m/min) 6
Landing speed: 65 mph (104.61 km/h) 6
Service ceiling: 21,500 ft (6,553.2 m) 6
Normal range: 870 miles (1,400.13 km) 7
References
---
Photos: John Shupek, Copyright © 1999, 2002-2004 Skytamer Images. ALL RIGHTS RESERVED
Wikepedia, the free encyclopedia, T-6 Texan
Wikepedia, the free encyclopedia, T-6 Variants
Bridgman, Leonard, "The North American Texan," Jane's All The World's Aircraft 1947, London: Sampson Low, Marston & Company, Ltd., 1947, pp 271c - 272c
Bridgman, Leonard. "The North American Texan," Jane's All the World's Aircraft 1945-46, London: Sampson Low, Marston & Company, Ltd, 1946, pp 294c-295c.
Avery, Norm, North American Aircraft 1934-1998, Volume 1, Santa Ana, CA: Narkiewicz//Thompson, 1998, ISBN 0-913322-05-9, pp 29
Taylor, Michael J.H. "North American AT-6 Texan/Harvard and NA-16 series," Jane's Encyclopedia of Aviation, New York: Portland House, 1989, ISBN 0-517-69186-8, pp 704-705
Photos: A Friend In Arizona (AFIA), 12/28/2008
---
| Home | Archive Subscriber Support | Guestbook | Contact Us | Legal Notice | Aviation Links |
Copyright © 2012 Skytamer Images, Whittier, California
ALL RIGHTS RESERVED