Marana — Pinal Airpark
Arizona Aviation Museum Guide
---
Overview - Pinal Airpark ¹
---
Pinal Air Park
Marana, Arizona 85653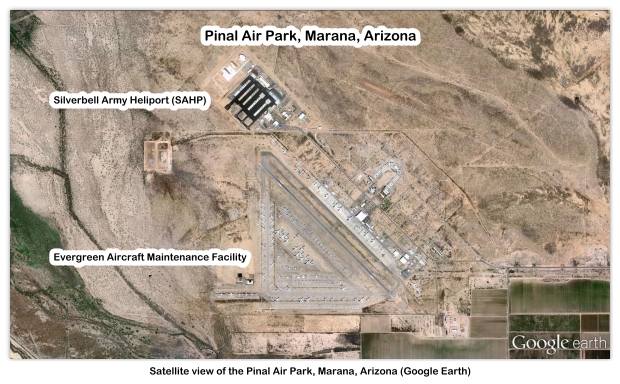 Pinal Airpark
Marana Army Airfield
IATA: MZJ - ICAO: KMZJ - FAA LID: MZJ
Airport type: Public
Owner: Pinal County
Serves: Marana, Arizona
Elevation AMSL: 1,893 ft (577 m)
Coordinates: 32°30'35"N 111°19'31"W
Aircraft operations (2004): 10,628
Pinal Airpark (IATA: MZJ, ICAO: KMZJ, FAA LID: MZJ) is a county-owned, public-use airport located seven nautical miles (13 km) northwest of the central business district of Marana, in Pinal County, Arizona, United States. Pinal Airpark covers an area of 2,080 acres (840 ha) at an elevation of 1,893 feet (577 m) above mean sea level. It has one runway designated 12/30 with an asphalt surface measuring 6,849 by 150 feet (2,088 × 46 m). For the 12-month period ending January 31, 2004, the airport had 10,628 aircraft operations, an average of 29 per day: 69% general aviation and 31% military.
Its main purpose is to act as a "boneyard" for civilian commercial aircraft. Old airplanes are stored there with the hope that the dry desert climate will prevent any form of corrosion in case the aircraft is pressed into service in the future. Even so, many aircraft which are brought there wind up being scrapped. Nearby the 309th Aerospace Maintenance and Regeneration Group at Davis-Monthan Air Force Base provides the same service to the U.S. military.
The majority of the aircraft at Pinal Airpark formerly belonged to Northwest Airlines, though many other airlines are represented as well.
Pinal Airpark is the home of Marana Aerospace Solutions (formerly Evergreen Aircraft Maintenance Facility) and the Silverbell Army Heliport (SAHP).
History ¹
---
Built in 1942 by the Sundt & Del Webb Construction Companies and opened in March 1943, the facility was known as Marana Army Air Field. During World War II, the airfield was under the command of the 389th Army Air Force Base Unit, AAF West Coast Training Center and used as a training base, as part of the 50,000 Pilot Training Program.
Marana conducted basic flight training & the training of transport pilots in instrument flying & navigation, being the home of the 3024th (Pilot School, Basic). Chinese pilots were also trained there. Five satellite airfields were established for Marana during World War II:
Picacho Aux #1
Rillito Aux #2 (currently reused as Marana Northwest Regional Airport)
Coronado Aux #3
Avra Aux #4
and Sahuaro Aux #5 (currently El Tiro Gliderport)
The infrastructure installed at Marana during World War II was extensive. This included water, sewer, and gas systems that were still used until some problems developed in the 1990s. There was also a massive storm drain system. The airfield also had a railroad spur line & railroad station.
Marana was closed after World War II and in 1948, Pinal County accepted a deed to the property, subsequent to the Air Force's disposal of most of the buildings, waterlines, gas lines, and electrical lines. From 1948-51, Pinal County leased the property to multiple tenants, and from 1951-56, Marana was reused as a contractor-operated USAF flying school, operated by Darr Aeronautical Technical Company.
Marana became the headquarters of all Central Intelligence Agency air operations during the Vietnam War years, when it was the primary facility of Intermountain Airlines, a wholly owned CIA "front" company which was used to supply covert operations in Southeast Asia & elsewhere. Intermountain was infamous for its thinly veiled CIA special ops which included development & use of the Fulton Skyhook, but its cover was its non-scheduled freight & maintenance operations. Marana was the principal continental United States maintenance base for Southeast Asia CIA operations including Air America and Continental Air Services.
Two of the more notable aircraft assigned to Marana during its CIA years was a Boeing B-17G Flying Fortress (AF 44-85531). AF 44-85531 was registered September 1957 to Western Enterprises, Inc. of Taiwan (founded by the CIA in 1951). In late 1957 missions were staged from Kurmitola Air Field in East Pakistan (now Bangladesh) to parachute agents into Tibet. The aircraft was disassembled for parts at Clark Air Base, Philippines between March and October 1958, and it is believed that this plane was eventually scrapped. The serial number AF 44-85531 appeared again as registered on another Boeing B-17G Flying Fortress, September 1, 1960 registered to Atlantic General Enterprise, Washington DC (another CIA front) as N809Z. These registration numbers were then changed to the true numbers of AF 44-83785. Based again at Marana, this aircraft later flew black operations over Vietnam and was used to retrieve two American agents from an abandoned Soviet scientific base in the Arctic using the Fulton Skyhook in Operation Coldfeet.
Current Usage ¹
---
Pinal Airpark is the home of Marana Aerospace Solutions (formerly Evergreen Air Center) and the Silverbell Army Heliport (SAHP).
The Western Army National Guard Aviation Training Site (WAATS) and other numerous National Guard units are located inside SAHP. The WAATS and is used principally for all ARNG Lockheed AH-64 Apache Attack Helicopter training by the 'Gunfighter University.' It is also extensively used by the British Army for 'Conversion To Role' training for Lockheed AH-64 Apache combat operations in Afghanistan.
Pinal Airpark also hosts the U.S. Special Operations Command's Parachute Training and Testing Facility.
Marana Aerospace Solutions ²
---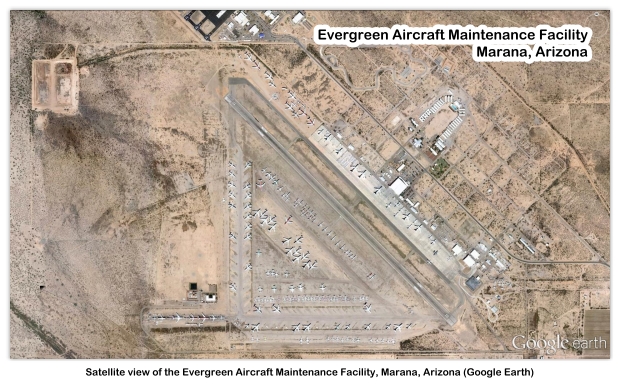 Located at Pinal Air Park Airport (KMZJ) in south central Arizona, Marana Aerospace Solutions (formerly Evergreen Air Center) is situated within the climate-friendly Sonoran desert, making it an ideal location for aircraft storage and maintenance. Marana Aerospace Solutions is an FAA Approved FAR Part 145 Repair Station with an FAA Class IV Airframe Rating (#ERKR675D). In addition to their FAA certification, Marana Aerospace Solutions is ISO 9001-2008 registered, and holds maintenance certifications from Aruba, Bermuda, and EASA. They offer a broad range of maintenance, component, paint and other services for Boeing, Airbus, McDonnell Douglas, Bombardier, Raytheon and Embraer aircraft.
Some of the world's biggest commercial airlines, aircraft leasing companies, and leading government agencies rely on Marana Aerospace Solutions as a strategic partner in managing their aircraft maintenance needs. Their proven experience, coupled with their customized care tailored to their specific needs, provides them with greater flexibility, while our innovative, integrated full-life solutions ensure uncompromising quality and on-time delivery.
Marana Aerospace Solutions is internationally recognized as the world's largest commercial aircraft MRO and storage facility, consisting of three maintenance hangars and a large maintenance flight line. Marana Aerospace Solutions' 6,850-foot runway is suitable for takeoff and landing of all aircraft types, including large commercial and military aircraft. Their maintenance center has 460 acres of ramp and storage area that can accommodate over 400 aircraft, as well as over 35,000 ft² of repair shops for avionics, accessories, composite structures, interior configuration, and NDT testing and inspection. Marana Aerospace Solutions is not open to the general public. The following photos were taken by AFIA en route to WAATS.
AFIA MAS Photos 5
---
Marana Aerospace Solutions (formerly Evergreen Air Center) photographed on (5/19/2011) by AFIA en route to WAATS, Silver Bell Army Heliport, Marana, Arizona (Photo by AFIA)
Western Army National Guard Aviation Training Site (WAATS) 3
---
Silverbell Army Heliport
Pinal Air Park, Marana, Arizona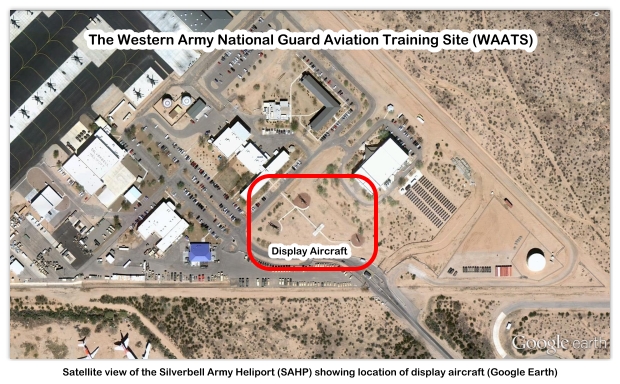 The Western Army National Guard Aviation Training Site, (WAATS) is located at the Silverbell Army Heliport Marana, Arizona, in the heart of the beautiful Sonoran desert. The heliport is about 30 miles Northwest of historic Tucson and about 86 miles South of Arizona's capital city Phoenix. Co-located at the heliport is the 1st/285th Apache Helicopter Attack Battalion, a unit of the Arizona Army National Guard.
The pre-mobilization mission of the Western Army National Guard Aviation Training Site is to conduct National Guard Bureau directed aviation training for the Attack and Aero-Scout mission as approved and directed by the US Army Training & Doctrine Command. The post mobilization mission is to augment the TRADOC as an activity under the command and control of US Army Aviation Center.
The WAATS is the premier training site for attack and aero-scout helicopter training for the Army National Guard. The training site also serves both active duty and National Guard aviators with simulation support, utilizing the AH-1 Flight Weapons Simulator or the AH-64 Combat Mission Simulator. Helicopter emergency procedures training is being conducted at the Picacho Stage field, which has a control tower, crash fire rescue and four emergency procedure-training lanes. In addition, Picacho Stage field is able to bivouac an entire Apache battalion. The training environment of the WAATS is second to none. Weather and flying conditions allow for 360 training days per year. The sparsely populated low level and tactical training area has 3600 square miles, 2/3 of which has been approved for tactical landing zones. In addition, the training area has 8 commercial instrumented airports. Aerial gunnery training is conducted on the Barry M. Goldwater Gunnery range utilizing the 2.5 million-acre joint use ranges. Staging from Gila Bend Auxiliary Field, the armed helicopters proceed to East Tac Target Range to complete their gunnery mission.
In the early 1970's an Army National Guard Aviation program management structure was designed to meet the increase aviation training and maintenance requirements of the aviation units of the Army National Guard. It became apparent that the training within the Army National Guard Aviation program structure would require some change. To meet the needs of the Army National Guard, the Army National Guard Aviation Training Site became a reality. The Eastern Army National Guard Aviation Training Site was activated in 1982 followed by the Western Army National Guard Aviation Training Site in October 1986. In August of 1992 at the National Guard Bureau, after an in progress review of enlisted training needs. It was determined that the Army National Guard Aviation Training Sites would start training enlisted soldiers. Conducting Military Occupational Specialty or MOS qualifications as well as the aviation portion of the basic and advanced Non Commissioned Officers courses, BNCOC & ANCOC for career management field for 67.
The Western Army National Guard Aviation Training Site is a quality-focused organization, which has recognized the urgency to improve and adapt to the changing environment. Faced with depleting resources and an increase to do more with less. Today's training site is under going dynamic structural changes as well as searching for innovative ideas of how to train war fighters of today and into the 21st Century. The leadership is totally committed to open communication-inspiring trust and teamwork at all levels. The future holds promises for the new technology utilizing distance learning and computer based training.
The war fighter, whether aviator, mechanic, crewchief, technical inspector or flight operation specialist and his capabilities are our focus. The skills and abilities imparted on him will win the battles of the future. The WAATS consistently meets or exceeds the student's expectations by listening to feedback and making necessary changes to accomplish the mission. Their motto is "Training for Excellence." Accessible by interstate, highway, rail and air, the Western Army National Guard Aviation Training Site is an ideal economic location to accomplish unit sustainment training. As well as joint Army and Air Force mission training. The Western Army National Guard Aviation Training Site stands ready to accept the challenges of the future and is postured to accept any new training missions to meet Army readiness requirements.
Recently A Friend In Arizona (AFIA) visited the Silverbell Army Heliport on (5/19/2011). AFIA sent us the following series of walk-around photos of the helicopters on display.
AFIA Photos - WAATS 5
---
Dedication to Dennis Paul Jans, Chief Warrant Officer II (photos by AFIA)
Bell AH-1G-BF Cobra (Army 67-15471, c/n 20135) on display (5/19/2011) at the Silver Bell Army Heliport, WAATS, Marana, Arizona (Photos by AFIA)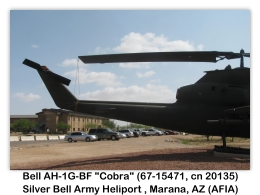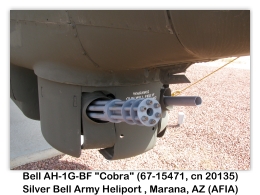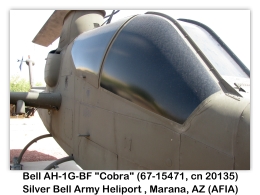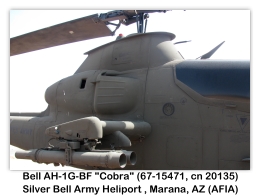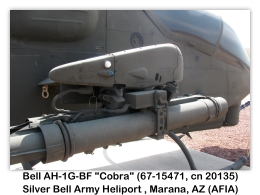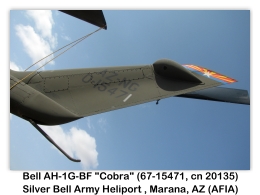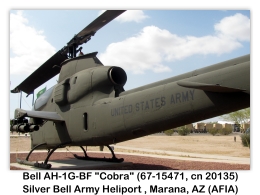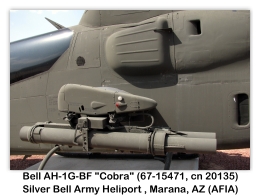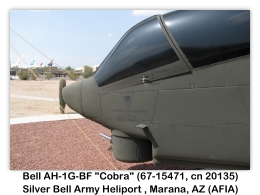 Bell AH-1G-BF Cobra (Army 66-15255, c/n 20011) on display (5/16/2011) at the Silver Bell Army Heliport, WAATS, Marana, Arizona (Photos by AFIA)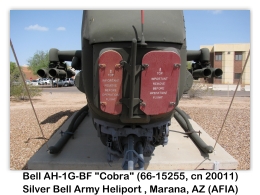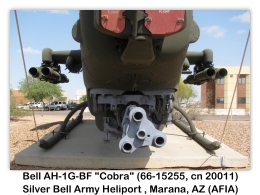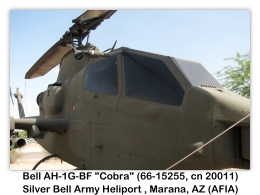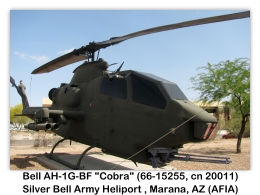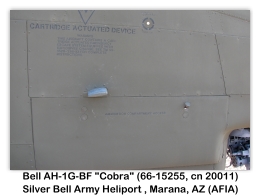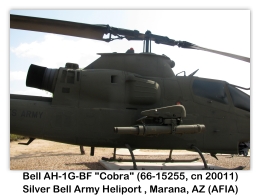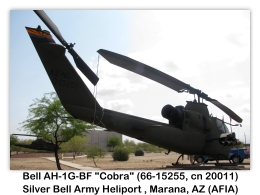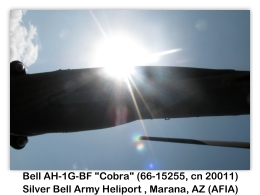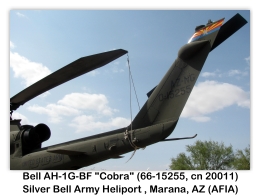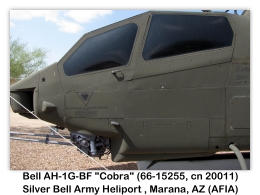 Special Thanks
---
A very special thanks to AFIA (A Friend in Arizona) for providing us with the above walk-around series of photos.
References
---
Wikipedia, Pinal Airpark, Marana, Arizona
Marana Aerospace Solutions, MAS website
Silver Bell Army Heliport, GlobalSecurity.org website
Google Earth Satellite Images
Photos: A Friend in Arizona (AFIA), 5/19/2011
---
Copyright © 2014 Skytamer Images, Whittier, California
All rights reserved