Checklist: Download
Background
---
Sea Raiders has been a long time favored with card collectors since the 1930s. "Sea Raiders" was issued by Goudey Gum via its affiliate company World Wide Gum in 1933. The Back of the card bears the statement "This is one of a series of 192 Sea Raiders Cards," however the series was terminated at only 48 cards. The fronts of the cards feature colorful artwork depicting pirate scenes. The series title "Sea Raider Chewing Gum" appears in a blue panel on the bottom front of the card.
There are four card Back variants in the series: (1) Cards 1-24 with English text with a Boston address; (2) Cards 1-24 with English text and a Montréal address; (3) Cards with English text and a Montréal address; and (4) the so-called "Canadian" Back, which comes with both English and French text. The cards measure 2-3/8" x 2-7/8". The American Card Catalog reference numbers for the series is R124 and V359 (Canada).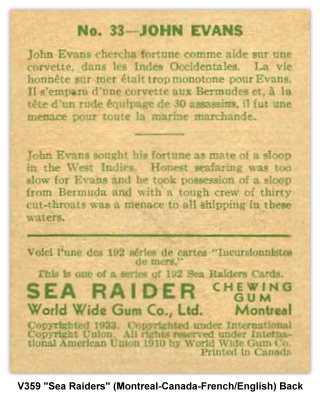 R124 "Sea Raiders" Image-Guide
---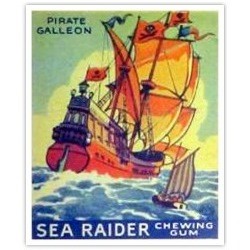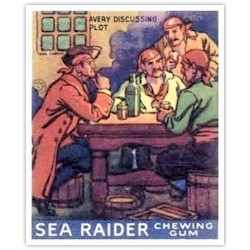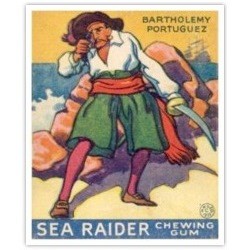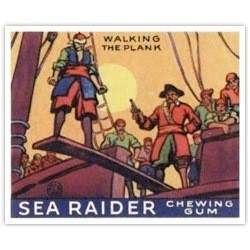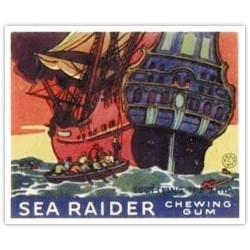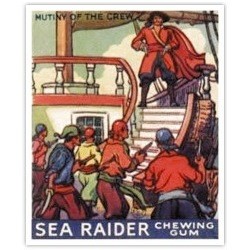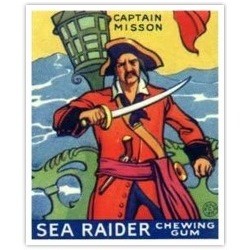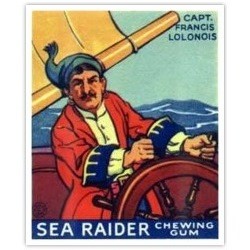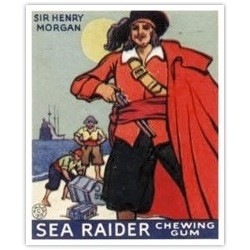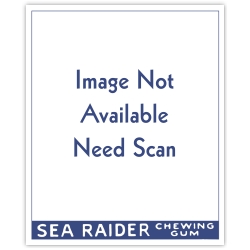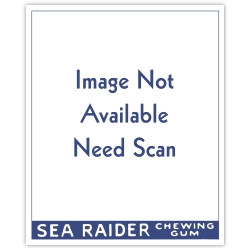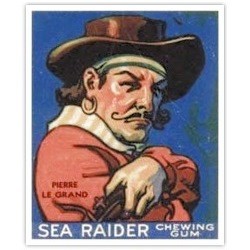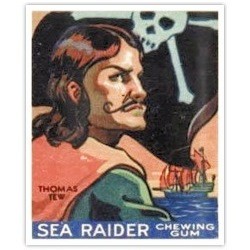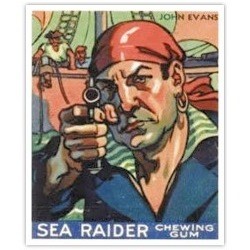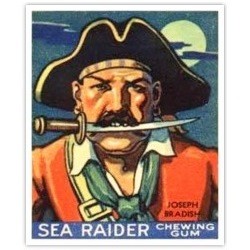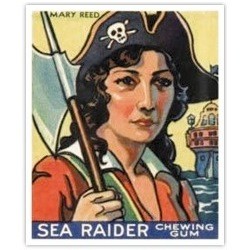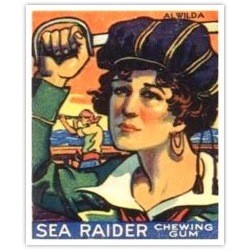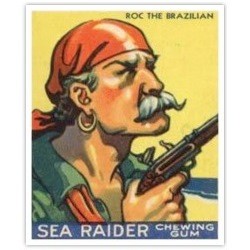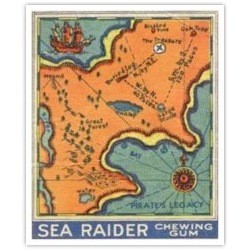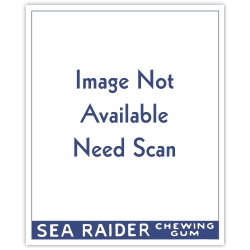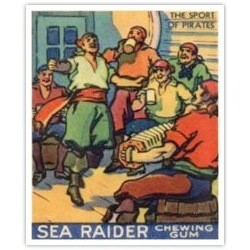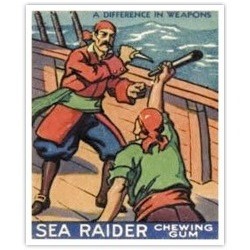 Wrapper & Retailer's Display Box
---
Currently there appears to be only one wrapper associated with the series. If you should run across any other wrapper variants, please let us know. The "Sea Raiders" wrapper features a "blood-thirsty" Buccaneer centered on a yellow Background and surrounded by other pirate scenes. The 1¢ Retailer's Display Box is shown below. At this point we do not know the color scheme of the box. If you should have a box, a color photo of it would be appreciated.
R124 Wrapper

R124 Retailer's 1¢ Display Box
Checklist
---
The R124 "Sea Raiders" Checklist may be downloaded by clicking the PDF icon below.
Help!
---
We need your help to complete the R124 "Sea Raiders" Checklist and Image Guide." If you can help us fill in any of the blanks, please let us know. Scans of the fronts and Backs of the missing cards would be appreciated. Scans of 600 dpi or greater are required for our needs.
WE NEED SCANS OF THE FOLLOWING CARDS
27 - Raveneau De Lussan
28 - John Gow
30 - Diego Grillo
35 - Edward Low
39 - Thomas Howard
46 - "Dead Men Tell No Tales"
Retailer's 1¢ Display Box (color photo needed)
If you are able to help us, we'll show our appreciation with a free subscription to the Skytamer Archive and we will also acknowledge your contribution at the end of this page. If you have a Business, Business Card or a Website that you would like us to acknowledge, we'll include it. Please email us at:
"Click" the above button to email us at
updates@skytamer.com
Special Thanks
---
A very special thanks to Eric Taylor, for helping us with this collection.
---
Copyright © 1998-2018 (Our 20th Year) Skytamer Images, Whittier, California
ALL RIGHTS RESERVED