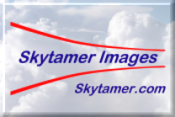 Tucson — Pima Air & Space Museum
Arizona Aviation Museum Guide
---
Pima Air & Space Museum
6000 East Valencia Road
Tucson, Arizona 85706
The Pima Air & Space Museum is one of the largest aviation Museums in the world, and the largest non-government funded aviation Museum in the United States. The Museum maintains a collection of more than 300 aircraft and spacecraft from around the globe, including many rare and one-of-a-kind, and more than 125,000 artifacts. Here you will walk among the giants of our aviation heritage, including military, commercial, and civil aviation. Among them are a B-29 "Superfortress," the Lockheed SR-71 "Blackbird," and a rare World War II German V-1 "buzz bomb."
The Pima Air & Space Museum's collection includes President John F. Kennedy's "Air Force One," and presidential aircraft used by president's Nixon and Johnson. The Museum has five large hangars totaling more than 177,000 feet of exhibit space. In addition, the 390th Bombardment Group (Heavy) Memorial Museum is located on the Museum grounds. Pima Air & Space maintains its own aircraft restoration center, and is also proud to offer exclusive tours of the Aerospace Maintenance and Regeneration Group (AMARG), also known as the "Boneyard," located across the street at Davis-Monthan Air Force Base.
If you are in the Tucson area, or reside on planet Earth, this is a must see Air Museum for all aviation buffs!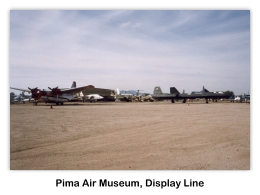 1903 Wright Flyer (replica)
Aerospace Lines B-377SG Super Guppy
Aerospatiale/Sud Caravelle SE-210
Aerosport Quail (homebuilt)
Beech AT-11 Kansan
Beech AT-7 Navigator
Beech C-45J Expeditor
Beech Model D-18S
Beech N35 Bonanza
Beech U-8D (L-23D) Seminole
Bell AH-1S Cobra
Bell HTL-2
Bell P-63E King Cobra
Bell UH-1F Huey
Bellanca Model 14-13-2 Cruisair Senior
Boeing B-17G Flying Fortress
Boeing B-29A Superfortress
Boeing B-52D Stratofortress
Boeing B-52G Stratofortress
Boeing C-97G Stratofreighter
Boeing EB-47E Stratojet
Boeing EC-135J Stratotanker
Boeing KB-50J Superfortress
Boeing KC-97G Stratofreighter
Boeing NB-52A Stratofortress (X-15 Mothership)
Boeing YC-14 (STOL Transport)
Bowers Fly Baby (homebuilt)
Bumblebee (homebuilt)
Bushby MM-2 Midget Mustang II (homebuilt)
Cessna JRC-1 (UC-78) Bobcat
Cessna Model 120
Cessna Model 150L
Cessna Model 310
Cessna O-2A Skymaster
Cessna T-37B Tweet
Columbia XJL-1
Consolidated B-24J Liberator
Convair B-58A Hustler
Convair C-131F (R4Y-1)
Convair F-102A Delta Dagger
Convair F-106A Delta Dart
Convair F-111E Aardvark
Convair T-29B Flying Classroom
Convair TF-102A Delta Dagger
Culver PQ-14 Cadet
Curtiss C-46D Commando
de Havilland DHC-1 Chipmunk
de Havilland L-20A (U-6C) Beaver
Douglas A-1G (AD-5N) Skyraider
Douglas A-26A (B-26K) Invader
Douglas A-26C Invader
Douglas A-4C Skyhawk
Douglas A4D-2 (TA-4B) Skyhawk
Douglas A4D-2N Skyhawk
Douglas AIR-2A (MB-1) Genie (missile)
Douglas B-18B Bolo
Douglas B-23 (UC-67) Dragon
Douglas C-117D (R4D-8) Super Gooneybird (Skytrain)
Douglas C-124C Globemaster
Douglas C-133B Cargomaster
Douglas C-47A Skytrain
Douglas C-54D Skymaster
Douglas DC-7B (Fire Fighter)
Douglas EB-1F Skyraider
Douglas F3D-2 (TF-10B) Skynight
Douglas F4D-1 (F-6A) Skyray
Douglas VC-118A Liftmaster
Douglas WB-66D Destroyer
Douglas YEA3D-1 Skywarrior
Eastern TBM-3 Avenger
Easy Riser (ultralight)
Evans VP-1 Volksplane (homebuilt)
Fairchild C-119C Flying Boxcar
Fairchild C-123B Provider
Fairchild C-123K Provider
Fairchild C-82A Packet
Fairchild PT-19 Cornell
Fairchild/Republic A-10A Thunderbolt II (Warthog)
Flagler Scooter (homebuilt)
Fleet Aircraft, Ltd. of Canada PT-26 Cornell
Fleet Model 2
Focke-Achgelis FA-330
Focke-Wulf FW-44J Stieglitz
General Dynamics BGM-109G Gryphon (SLCM)
Globe KD6G-2 (drone)
Grumman A-6E Intruder
Grumman AF-2S Guardian
Grumman E-1B (WF-2) Tracer
Grumman F11F-1 (F-11A) Tiger
Grumman F-14A Tomcat
Grumman F7F-3 Tigercat
Grumman F9F-4 Panther
Grumman F9F-8 (F-9J) Cougar
Grumman F9F-8P (RF-9J) Cougar
Grumman F9F-8T (TF-9J) Cougar
Grumman HU-16A (SA-16A) Albatross
Grumman J4F-2 Widgeon
Grumman OV-1 Mohawk
Grumman S-2A (S2F-1) Tracker
Gyrodyne QH-50C (DSN-3) Dash (helicopter ASW drone)
Helton Lark-95
Hiller Flying Platform
Hiller YH-12C Raven
Hughes AGM-65 Maverick (missile)
Hughes AIM-54 Phoenix (missile)
Hughes BGM-65 TOW (missile)
Hughes TH-55A Osage
Hyper Light (hang glider)
Kaman HH-43B Huskie
Kaman OH-43D (HOK-1) Huskie
Lear Learjet Model 23
Lockheed 10A Electra
Lockheed C-121A Constellation "Columbine"
Lockheed C-130D Hercules
Lockheed D-21B (drone)
Lockheed EC-121T Warning Star
Lockheed F-104D Starfighter
Lockheed F-94C Starfire
Lockheed L-049 (C-69) Constellation
Lockheed P2V-1 (AP-2H) Neptune
Lockheed P-80B (F-80) Shooting Star
Lockheed SR-71A Blackbird
Lockheed T-1A (T2V-1) Seastar
Lockheed T-33A Shooting Star
Lockheed T-33B (TV-2) Shooting Star
Lockheed VC-140B Jetstar
Lockheed YO-3A QuietStar
Martin AGM-12B Bullpup (missile)
Martin B-57E Canberra
Martin PBM-5A Mariner
Martin RB-57D Canberra
Martin WB-57F Canberra
Martin-Marietta LGM-25C Titan II (ICBM)
Martin-Marietta SM-68 Titan I (ICBM)
McCulloch J-2 Gyroplane
McCulloch MC-4C (HUM-1)
McCulloch-Ryan OQ-129 (MQM-33 / KD2R-5) (drone)
McDonnell ADM-20C Quail (decoy missile)
McDonnell Douglas F-15A Eagle
McDonnell Douglas/British Aerospace AV-8C Harrier
McDonnell F-101B Voodoo
McDonnell F3H-2 (F-3B) Demon
McDonnell RF-101C Voodoo
McDonnell RF-101H Voodoo
McDonnell YF-4J Phantom II
Mikoyan-Gurevich MiG-15 Fagot
Mikoyan-Gurevich MiG-17F
Mitchell Wing B-10 (ultralight)
Naval Aircraft Factory N3N "Borate Bomber"
North American AGM-28A Hound Dog (missile)
North American AT-6G Texan
North American B-25J Mitchell
North American BT-14 (Yale)
North American F-100C Super Sabre
North American F-107A Ultra Sabre
North American F-86H Sabre
North American F-86L (F-86D) Sabre
North American FJ-4B (AF-1E) Fury
North American RA-5C Vigilante
North American Rockwell OV-10D Bronco
North American Rockwell T-39A (T-3J) Sabreliner
North American T-28C Trojan
North American X-15A-2 (Mockup)
Northrop F-89J Scorpion
Northrop MQM-57 (drone)
Northrop T-38A Talon
Northrop YC-125A Raider
Osprey II (homebuilt seaplane)
Pentecost Hoppicopter
Piasecki HUP-3 (UH-25C) Retriever
Piasecki/Vertol H-21C Shawnee (Workhorse)
Piper J-4A Cub Coupe
Piper U-11A (UO-1) Aztec
Pitts S-1 Special
Radioplane-Frankfurt OQ-3 (drone)
Republic F-105D Thunderchief
Republic F-105G Thunderchief
Republic F-84C Thunderjet
Republic F-84F Thunderstreak
Republic P-47 (homebuilt half scale replica)
Republic RF-84F Thunderflash
Rutan Long-Ez (homebuilt)
Rutan Quickie (homebuilt)
Ryan PT-22 Recruit
Scheibe Zugvogel III B
Schweizer TG-3A Training Glider
Sikorsky CH-54A Skycrane
Sikorsky H-19B Chickasaw
Sikorsky H-34C Choctaw
Sikorsky H-37B Mojave
Sikorsky H-5G Dragonfly
Sikorsky HH-3F Pelican
Sikorsky HH-52A Seaguard
Sikorsky HO3S-1 Dragonfly
Sikorsky R-4B
SPAD (ultralight)
Stearman PT-17 "Borate Bomber"
Swallow (ultralight)
Taylorcraft BC-12D
Taylorcraft TG-6
Teledyne Ryan AQM-34L (RPV)
Teledyne Ryan AQM-34Q (RPV)
Teledyne Ryan YQM-98A Compass Cope (high altitude drone)
Temco-Ryan Twin Navion
Vickers Viscount Model 744
Vought F4U-4 Corsair
Vought F8U-1 (F-8A) Crusader
Vought/LTV A-7D Corsair II
Vultee BT-13 Valiant
Waco RNF
Waco UPF-7
Special Thanks
---
A very special thanks to AFIA (A Friend in Arizona) for providing us with photos of the aircraft at this location.
References
---
Pima Air & Space Museum, website
Google Earth, Satellite Image
AFIA (A Friend in Arizona), Aircraft Photos
Shupek, John. Photos via the Skytamer Archive
---
Copyright © 1998-2017 Skytamer Images, Whittier, California
All rights reserved