Phoenix — Sky Harbor International Airport (SPAD XIII)
Arizona Aviation Museum Guide
---
Sky Harbor International Airport ¹
3400 East Sky Harbor Boulevard
Phoenix, AZ 85034
(602) 273-3300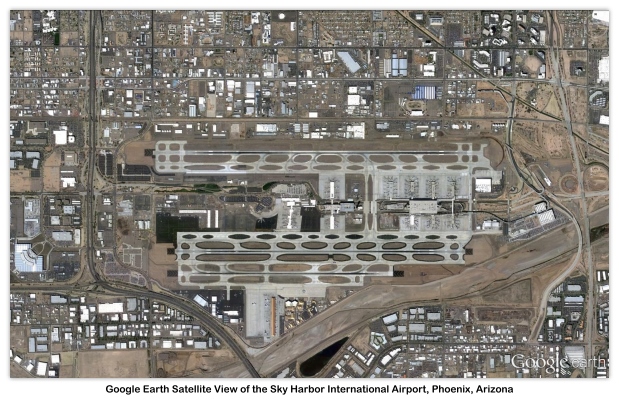 Overview ³
---
Phoenix Sky Harbor International Airport (IATA: PHX, ICAO: KPHX, FAA LID: PHX) is a joint civil-military public airport located 3 miles (4.8 km) southeast of the central business district of the city of Phoenix, in Maricopa County, Arizona, United States. It is Arizona's largest and busiest airport, and the largest commercial airport in the American Southwest.
In 2010, the airport served 38,554,530 passengers, making it the ninth busiest in the United States in terms of passengers and one of the top 15 busiest airports in the world with a 90 million dollar daily economic impact. On a daily basis the airport handles about 1,252 aircraft that arrive and depart, along with 103,630 passengers daily, and more than 675 tons of cargo handled. Federal Aviation Administration (FAA) records show the airport had 18,853,719 commercial passenger boardings (enplanements) in calendar year 2009 and 19,225,050 enplanements in 2010. As of July 2011 there were 12,006,447 enplanements.
The airport is the primary regional hub and gateway for Mexican and Hawaiian departures for Tempe-based US Airways and is the third-largest focus city for Southwest Airlines. US Airways and Southwest are the airport's two largest carriers.
History ³
---
Sky Harbor was the fourth airport built in Phoenix. It was established with one runway in 1928 by Scenic Airways, an airline start-up which collapsed the following year after the Black Thursday stock market crash. Acme Investment Company then owned the airport until 1935. During this time, American Airlines began the first scheduled passenger and air mail service to the airport in 1930. The city of Phoenix purchased the airport from Acme for $100,000 in 1935, and TWA began service to San Francisco in 1938.
After the war the airport began work on a new passenger terminal, as well as a new parallel runway and diagonal cross runway. Terminal 1 (originally called the "West Terminal") which also housed the airport's first control tower, opened in 1952 and was torn down in 1990.
The airport's master plan was redesigned in 1959 to eliminate the cross runway to allow more space for new terminals. American and TWA began jet service to Phoenix in 1960 and 1961 respectively, and Terminal 2 (originally called the "East Terminal") still in use today, opened in 1962. Terminal 3 opened in 1979, when the "East" and "West" names were dropped, since they were no longer the only two terminals.
Following airline deregulation in 1978, former Hughes Airwest executive Ed Beauvais began forming a business plan for a new airline based in Phoenix. He founded America West Airlines in 1981, which began service from Phoenix in 1983 and doubled in size during its first year of operations. By the end of the decade, America West had a nationwide route network from Phoenix and was lobbying for transpacific service as well.
In the meantime, Southwest Airlines inaugurated its Phoenix operation in January 1982, with thirteen daily flights to twelve cities; by 1986 it had 64 daily flights from Phoenix and was running a crew base there. Southwest opened a maintenance facility at PHX in 1992 which was the largest in its network.
In 1990, the airport opened its largest terminal, Terminal 4. The terminal was originally built with four concourses: N2 and N3 on the north side and S3 and S4 on the south side. In 1994, the N4 International Concourse was opened, adding 10 new gates and a sterile walkway connecting it to the S4 concourse. In 1997, construction began on the 14-gate N1 concourse, for America West Airlines. It was completed in June 1998 at a cost of $50 million, completing the expansion of the north side of the terminal. On the south side of the terminal, construction began in 2002 on the eight-gate S2 concourse for Southwest Airlines. This project was completed in 2004 and features a different architectural design from the other six concourses. The eighth and final concourse for Terminal 4 will be built when needed. Terminal 4 is currently named after former Arizona Senator and 1964 Presidential candidate Barry M. Goldwater. After Goldwater's death in 1998, the mayor of Phoenix proposed renaming the entire airport in Goldwater's memory, but was quickly deluged with public support for maintaining the familiar "Sky Harbor" name.
America West filed for Chapter 11 bankruptcy protection in 1991 and sold its larger aircraft and Japanese route authority, but continued growing its domestic operations from Terminal 4 in cooperation with Continental Airlines. Although AWA enjoyed further growth at Phoenix during the 1990s, the aftermath of the September 11, 2001 attacks strained its financial position. AWA ended its relationship with Continental and ultimately merged with US Airways in 2005. US Airways moved its headquarters to the former AWA campus in Tempe, and retained many AWA managers to run the merged company.
In 2007, the Transportation Security Administration introduced the first of its backscatter X-ray machines at PHX.
Because of Phoenix's consistent wind patterns, Sky Harbor is one of the largest airports in the world to have all runways running parallel (in the east-west direction).
Sky Harbor's private airplane area also serves as one of eight service centers for the Medevac airline Air Evac.
Control Tower ³
---
The airport's current 326-foot (99-meter) tall air traffic control tower began operations on January 14, 2007. The tower stands just east of the Terminal 3 parking garage, and also houses the Phoenix TRACON. This is Sky Harbor's fourth control tower and is among the tallest control towers in North America.
Terminals ³
---
The airport has over 120 aircraft gates in three Terminals (2, 3, 4). The airport administration states that the designation Terminal 1 has been "retired", and that it did not wish to renumber the other terminals since passengers were already familiar with the numbers in place. Free wireless internet access is available in all terminals.
Terminal 2 — Terminal 2 has 9 gates (numbered unconsecutively 1-13 and two additional lettered gates C & D) and three parking slots. It was designed by the Phoenix architectural firm, Weaver & Drover and opened in 1962. This terminal includes a mural by French-American artist Paul Coze. In November 2006, a Military and Veterans Hospitality Room, sponsored by the Phoenix Military and Veterans Commission, was opened in Terminal 2.
Terminal 3 — Terminal 3 opened in 1979 and has 17 gates, separated into two concourses by a central building outside of security. The south concourse houses gates 2–9 and the north concourse houses gates 15-26. Its only lounge - Delta's Crown Room Club - was closed on April 30, 2008.
"SPAD XIII Flies High in Terminal 3" [4,5]

When traveling through the Sky Harbor International Airport in Phoenix, be sure to visit Terminal 3. Terminal 3 has a French SPAD XIII (Société Pour L'Aviation et ses Dérivés) French WWI hanging from the ceiling. This restored SPAD XIII aircraft was installed and dedicated in Terminal 3 in 2007. The SPAD XIII on display contains 80 percent original parts from three SPAD aircraft and 20 percent replicated parts and has a wooden airframe and fabric covered wings.

The plane was designed in 1917 to off-set the twin gun planes that the Germans flew during World War I combat, and by early 1918 it was the standard combat plane in France. In comparison to previous SPAD designs, the SPAD XIII had a greater wing span and allowed for synchronized armament of two machine guns. And, because the United States entered World War I without combat-ready fighters, they obtained the SPAD XIII aircraft from the Allies.

This particular aircraft was restored by GossHawk Unlimited, Casa Grande, Arizona, who specialize in the restoration of vintage and warbird aircraft. The aircraft was restored with the original markings of the 27th Squadron of the First Pursuit Group in which Frank Luke Jr., local WWI hero known as the "Arizona Balloon Buster," was a member. In fact, the restored aircraft is replicated with the exact colors taken from the 27th Squadron's aircraft using color swatches, the French lettering style used on the numbers and a very rare water-cooled, powerful original Hispano-Suiza engine with top speeds of 138 mph and a maximum range/endurance of two hours.
Terminal 4 (Barry M. Goldwater Terminal) — Terminal 4 has more than 90 gates, divided into seven satellite concourses connected behind security. Three northern concourses (Gates A1-A14, A17-A30, B1-B14) serve US Airways and US Airways Express exclusively. The northeastern concourse "B" houses the international gates (B23-B28). The three southern concourses (Gates C1-C10, C11-C20, D1-D8) serve Southwest Airlines exclusively. Terminal 4 handles about 80% of the traffic at the airport.
AFIA Photos 5
---
Recently A Friend In Arizona (AFIA) visited the Sky Harbor International Airport on 1/3/2012. While there, AFIA was able to get some nice "walk-around" photos of the SPAD XIII hanging in Terminal 3.
French WWI SPAD XIII (Société Pour L'Aviation et ses Dérivés) on display (1/3/2012) in Terminal 3 of the Sky Harbor International Airport, Phoenix, Arizona (Photo by AFIA)
Special Thanks
---
A very special thanks to AFIA (A Friend in Arizona) for providing us with the above series of walk-around photos of Terminal 3 SPAD XIII.
References
---
Sky Harbor International Airport, website
Google Earth, Satellite Image
Wikipedia, Phoenix Sky Harbor International Airport
SPAD XIII Flies High in Terminal 3, website
Photos: A Friend in Arizona (AFIA), 01/03/2012
---
Copyright © 2014 Skytamer Images, Whittier, California
All rights reserved