1977 Doncella "The Golden Age of Flying"
24-Cards, Doncella Cigars, United Kingdom
---
Series Title: The Golden Age of Flying
ACC No.: n/a
Manufactured by: Doncella Cigars
Country: United Kingdom
Number of Cards: 24
Card Dimensions: 106 × 52 mm
Circa: 1977
Album: A "Wall Chart" was offered instead of an album.
Overview
---
To the aviation historian, airplane trading cards represent an interesting "portal" to the past. They illustrate what the key aviation events of that particular era were. This attractive set of 24 airplane trading cards concentrates on British aircraft from the pre-World War I era up through World War II. These "Doncella - The Golden Age of Flying" airplane cards were packaged in 1977 with Doncella Cigars. The cards measure 106 × 52 mm, and are numbered from 1 to 24 on the reverse side. The reverse side also includes a nicely condensed description of the aircraft. There was no album for the set, however a "Golden Age of Flying" wall chart was offered.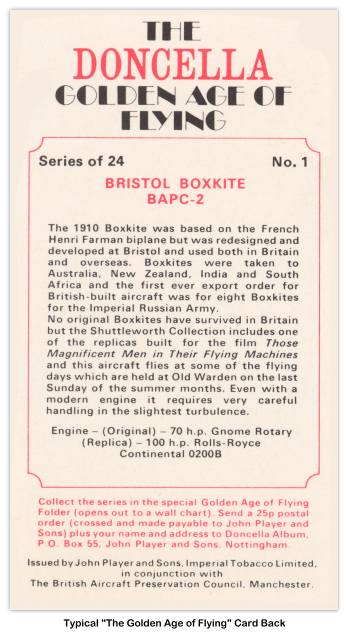 Image-Guide
---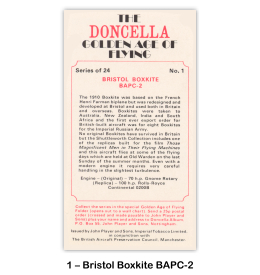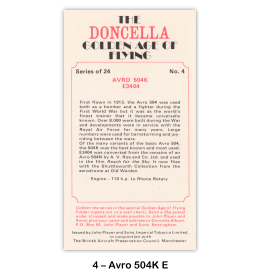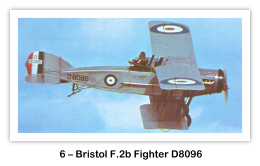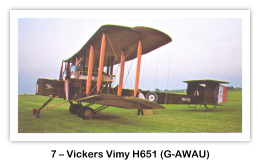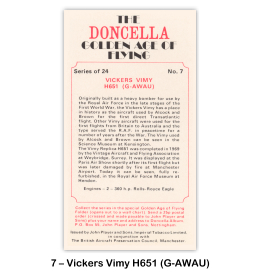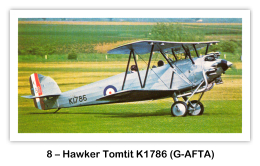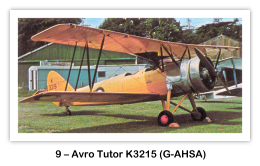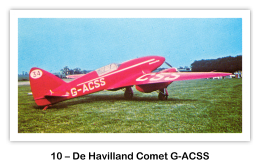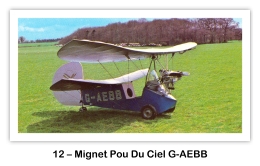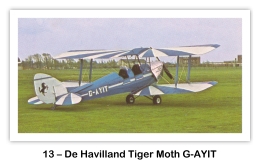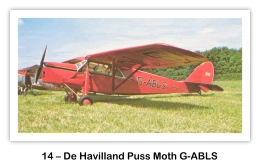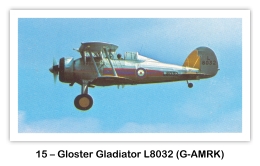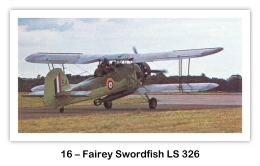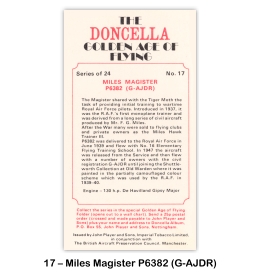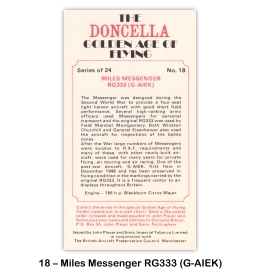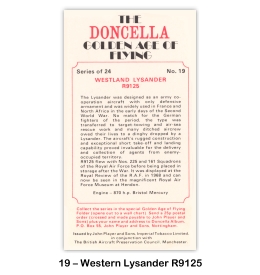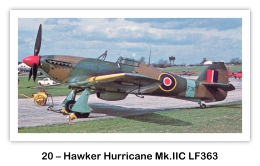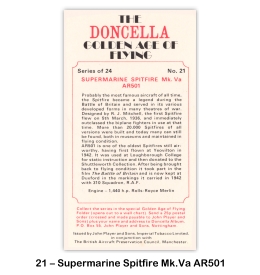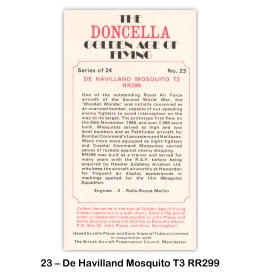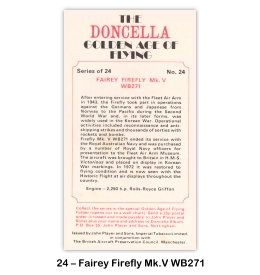 Display Wall Chart
---
There was no formal album for this series. Instead a "Golden Age of Flying Folder" that opened out to a wall chart was offered via the post. The buyer was to send a 25p postal order (crossed and made payable to John player and Sons) plus name and address to John Player and Sons, P.O. Box 55, John Player and Sons, Nottingham. To date, we have not seen this "Golden Age of Flying Folder"" and would appreciate a high-resolution scan (or scans) of the display folder. We also need to know the dimensions of the display folder.
Packaging or Wrapper
---
Currently we have no information about how this series was packaged and presented to the customer. Any insight would certainly be appreciated.
Checklist
---
"The Golden Age of Flying"
Doncella Cigars, United Kingdom
N/A
X
Card Title
1
Bristol Boxkite BAPC-2
2
Blackburn Monoplane BAPC-5
3
Sopwith Pup N5180 (G-EBKY)
4
Avro 504K E3404
5
Royal Aircraft Factory SE.5A F904 (G-EBIA)
6
Bristol F.2b Fighter D8096
7
Vickers Vimy H651 (G-AWAU)
8
Hawker Tomtit K1786 (G-AFTA)
9
Avro Tutor K3215 (G-AHSA)
10
De Havilland Comet G-ACSS
11
Bristol Boxkite BAPC-2
12
Mignet Pou Du Ciel G-AEBB
13
De Havilland Tiger Moth G-AYIT
14
De Havilland Puss Moth G-ABLS
15
Gloster Gladiator L8032 (G-AMRK)
16
Fairey Swordfish LS 326
17
Miles Magister P6382 (G-AJDR)
18
Miles Messenger RG333 (G-AIEK)
19
Westland Lysander R9125
20
Hawker Hurricane Mk.IIC LF363
21
Supermarine Spitfire Mk.Va AR501
22
Avro Lancaster B1 PA474
23
De Havilland Mosquito T3 RR299
24
Fairey Firefly Mk.V WB271
n/a
"Completion Offer" Card
n/a
"The Golden Age of Flying" Wall Chart
References
---
Shupek, John A., Card images via the Skytamer Archive
---
Copyright © 1998-2018 (Our 20th Year) Skytamer Images, Whittier, California
ALL RIGHTS RESERVED