1958 "Missiles and Satellites" (V339-7)
Parkhurst Products, 50-cards, Canada
---
Parkhurst Products (Overview) [1,2]
---
Series Title: Missiles and Satellites
Cartophilic Reference Number: V339-7
Issued by: Parkhurst Products, Ltd.
Issued with: Zip Gum "Missiles and Satellites / Fusées Nucléaire"
Country: Canada
Number of Cards: 50
Card Numbering: 1 to 50 on reverse side
Type of Card: Gum card
Card Dimensions: 92.3 × 61.8 mm
Circa: 1958
Checklist: Checklist
Parkhurst Products of Toronto, Canada was a confectionery company that produced "Parkies" and "Zip" picture cards in the 1950s and 1960s. The company, led by a Mr. George Kennedy, primarily produced hand-size picture cards for ice hockey, but also produced them for baseball, Canadian football, wrestling and other subjects such as this "Missiles and Satellites / Fusées Nucléaire" series of 50-cards.
Over a 13-year period from 1951-52 to 1963-64, Parkhurst Products made 12 popular hockey sets, primarily targeted towards kids. A typical pack of "Parkies" or "Zip" hockey cards cost just five cents and included both a stick of gum and a stack of cards (usually four or five cards to a pack).
Bubble gum cards were popular in Canada and the United States in the 1930s, but they were all but forgotten in the 1940s because of war-time rations. Thanks to the 10-year gap between the 1940-41 "O-Pee-Chee" series and 1951-52 "Parkies" series, the new 1951-52 "Parkies" series featured the first popular cards for many of the game's heroes. The two biggest rookies (or rookie cards as they are known today) were legends Maurice Richard and Gordie Howe (both of whom had actually made their debuts in the 1940s).
For its first four seasons, the "Parkies" hockey series featured players from all six National Hockey League teams. The 1951-52 series was small (44.5 × 63.5 mm) and the 1952-53 series only slightly bigger (49.2 × 74.6 mm). Starting in 1953-54, the "Parkies" series was a comfortable size of 63.5 × 92.1 mm (originally marketed as "Giant" in comparison to the previous seasons).
In those early years, Parkhurst Products also made a small-size series of minor-league baseball cards in 1952, a small-size series of Canadian football cards in 1952, and two hand-size series of wrestling cards in 1954-55 and 1955-56. It also produced a small-size "Photo-Magic" series of Canadian football cards in 1956.
In 1955-56, the "Parkies" hockey series featured only the two Canadian teams: the Montreal Canadiens and Toronto Maple Leafs. The 1955-56 series included both modern players are retired Oldtime Greats from both teams. In 1956-57, no 'proper' "Parkies" hockey series was produced (although "Photo Magic" cards have surfaced in recent years).
Starting in 1957-58, "Parkies" went head to head with "O-Pee-Chee" hockey cards (produced in conjunction with Topps Chewing Gum). The "Parkies" hockey series still featured just the two Canadian teams, while the O-Pee-Chee/Topps series featured the NHL's four American teams. "Parkies" established a new, slightly trimmer card size of 61.9 × 92.1 mm; O-Pee-Chee used the newly established Topps standard size of 63.5 × 88.9 mm (2.5 × 3.5 inches).
Starting in 1960-61, Parkies added the Detroit Red Wings to its hockey series, most notably adding reigning MVP Gordie Howe to its hockey series for the first time in six years. The O-Pee-Chee/Topps series was now left with just three American teams (although for two years it included either cards or stamps of retired All-Time Greats).
In 1963-64, Parkhurst Products made its last hockey series. While it is said Mr. Kennedy loved making hockey cards for the kids, it is believed that his success in other enterprises urged him to drop his bubble gum and picture card business. After "Parkies" left the hockey card market, the ensuing 1964-65 O-Pee-Chee/Topps series featured players from all six NHL teams.
According to the " Non-Sports Bible" by Dr. Chris Watson, in addition to the Parkhurst series of sports cards, Parkhurst Products also produced the following 23 series of non-sports cards.
1960 Indianapolis Speedway Winners (V338-2)
1957 Adventures of Radisson (V339-1)
1952 Audubon Society Birds (V339-2)
1951 Color Comic Cards (V339-3)
1955 Fido Bubble Gum (V339-4)
1956 Frontier Days (V339-5)
1953 Guns and Pistols (V339-6)
1958 Missiles and Satellites (V339-7)
1955 Movie & TV Stars (V339-8)
1955 Operation Sea Dog (V339-9)
1956 Photo-Magic Gum, (V339-10)
1959 Puzzle Cards (V339-11)
1954 Race Against Time (V339-12)
1953 Believe It or Not (V339-13)
1956 Sport Car Cards (V339-14)
1957 Animals (V339-15)
1959 Old Time Cars (V339-16)
1959 Texas John Slaughter (V339-17)
1962 Fish (V339-19)
1959 Canadian Bird Series (V339-20)
1960 Zorro (V339-21)
1959 Photo Vision (V339-22)
1964 Treasure Island (V339-23)
1958 "Missiles and Satellites" (V339-7) Overview
---
During 1958, Parkhurst Products, Ltd. issued a 50-card set of "Missiles and Satellites" Gum Card trading cards that were issued with Zip Gum "Missiles and Satellites / Fusées Nucléaire". The cards measure 3.63 × 2.43 inches (92.29 × 61.81 mm), and are assigned the American Cards Catalog reference number V339-7.

Parkhurst's "Missiles and Satellites" is in all actuality two sets of 25 cards sequential numbered from 1 to 50 on the back of the cards. The first set of 25 cards depicts artist drawings of a 1958 narrative of a futuristic look at space travel. The story line for the first 25 cards goes this way (tongue-in-cheek):
Our (U.S.A.) German Rocket Scientists are bested by the USSR's German Rocket Scientists on 10/4/1957 (Tuesday night, Skytamer was at a high school basketball game when the announcement was made) when the USSR places a 23 inch diameter satellite with four antenna (Sputnik 1) into low Earth orbit. Approximately one month later on 11/3/1957 the USSR follows up by placing a dog "Laika" into low Earth orbit. Our main German Rocket Scientist (Werner von Braun who preferred "Ham") is embarrassed and outlines his plans for interplanetary travel … first to the moon … build a space station … and then on to Venus and Saturn and back … the "Space Race" is on!"
The second subset of cards (26-50) is rather straightforward. This 25-card subset features color photographs of 22 USAF and USN missiles and rockets, plus 3 experimental aircraft.
The fronts of the 1958 "Missiles and Satellites" cards feature color artwork and photographs of 1958 futuristic space travel, plus color photographs of rockets, missiles, and experimental aircraft in the United States inventory. The card images are centered within a thin margin, and do not contain any captions.
Since these cards are Canadian origin, the descriptive text on the backs of the cards are presented in both English and in French. The descriptive text is divided into the following vertical segments:
Card number of first title line in the upper left-hand corner.
Card title in English.
Descriptive text in English.
(Cards 26-50) Copyright tag line in English
Card title in French.
Descriptive text in French.
(Cards 26-50) copyright tag line in French
It should be noted that the cards themselves are anonymous without any manufacturer or copyright date information. The only way to identify these cards was the wrapper which noted the origin of the cards.
The following reference card shows the fronts and backs of a typical 1958 "Missiles and Satellites" (V339-7) card. Click on the card images to reveal full-size computer enhanced 600-dpi images of the card.
1958 Parkhurst Products, Ltd. "Missiles and Satellites" (V339-7) Image-Guide [3,4]
---
The following 1958 "Missiles and Satellites" (V339-7) 50-card set by Parkhurst Products, Ltd., Canada, Image-Guide shows computer enhanced images of the fronts and backs of the 50 cards in the V339-7 set. Behind each thumbnail image is a 600-dpi computer enhanced card image that you may access. In addition, directly beneath the Image Guide, in tabular form, are links to the original scans used for this series.
Wrapper
---
The wrapper for Parkurst's (V339-7) "Missiles and Satellites" shows a futuristic spacecraft streaking past Earth over Canada and the upper United States towards deep space. The title of the wrapper is ZIP "Missiles and Satellites / Fusées Nucléaire" and does not contain any pricing information. It does however clearly show that the set was issued by Parkhurst Products Limited, Toronto, Canada, and also notes the ingredients included in the gum. It also includes a "PRINTED IN CANADA" caption. As noted in the Overview, Parkhurst's sets usually contained 4 to 5 cards along with a stick of gum. We're not sure exactly how many cards were contained in this wrapper.
1958 "Missiles and Satellites" (V339-7) Checklist
---
We have provided two versions of the 1958 "Missiles and Satellites" (V339-7) 50-card set issued by Parkhurst Products, Ltd., Canada. An 8½ × 11 inch PDF version, and the web version shown below. Click on the PDF graphic below to access the PDF version.
1958 "Missiles and Satellites" (V339-7)
Parkhurst Products, Ltd., 50-Cards, Canada
CHECKLIST
№
x
Card Title English/French
1
First Satellite Launching / Lancement du Premier Satellite
2
Putting Satellite into Orbit / Placement du Satellite sur son Orbite
3
Laika — First Space Traveler / Laika — Premier Voyageur de L'Espace
4
Earth and Sky Observatories / Observatoire de la Terre et du Ciel
5
Frogmen Recover Nose-Cone / Des Hommes-Grenouilles Récupèrent le nez D'Une Fusée
6
U.S. Moon Rocket / Fusée Lunaire Américaine
7
Battle of Gravity / La Lutte Contre la Gravité
8
Spaceman in Special Suits / Costumes Spéciaux des Hommes de L'Espace
9
Weightless Man with Pistols / L'Homme Volant Avec des Pistolets
10
Building a Spaceship / Construction d'un Vaisseau Aérien
11
Giant to Other Worlds / Un Géant des Autres Mondes
12
Tankette Laboratory on Moon / Chenillettes-Laboratoires sur la Lune
13
Returned from the Moon / Retour de la Lune
14
Cosmic Television / Télévision Cosmique
15
Comparative Flights in Space / Comparaison des Envolée dans L'Espace
16
Sun Powered Moon Rocket / Fusée Lunaire à Propulsion Solaire
17
With Speed of Light to Saturn / Vers Saturne à la Vitesse de la Lumière
18
Artificial Gravity on Satellite / Gravitation Artificielle sur le Satellite
19
Spaceman Struck by Meteor / Un Météore Frappe un Voyageur de L'Espace
20
U.S. Daisy Cartridge / La Cartouche-Éclair Americaine "Daisy"
21
Perpetual Light on Sea, Land, Air / Le Jour Perpétuel sur la Terre
22
Devastating Sunshine / Le Soleil Dévastateur
23
Landing on Venus / Atterrissage sur Vénus
24
Mineral Excavations on Planets / Exploitations des Minéraux des Planètes
25
Manned Satellite in Action / Un Satellite Dirigée par des Hommes
26
Viking (U.S. Navy) / Viking (De la Marine des É.-U.)
27
Regulus I (U.S. Navy) / Regulus I (De la Marine des É.-U.)
28
Vanguard / Vanguard
29
Firebee (Air Force, Navy & Army) / Firebee (Aviation, Marine et Armée)
30
Matador (U.S. Air Force) / Matador (De l'Aviation des É.-U.)
31
Regulus II (U.S. Navy) / Regulus II (De la Marine des É.-U.)
32
Sidewinder (U.S. Navy) / Sidewinder (De la Marine des É.-U.)
33
Terrier (U.S. Navy) / Terrier (De la Marine des É.-U.)
34
XQ-4 Target Drone (U.S. Air Force) / Cible Volante XQ4 (De l'Aviation des É.-U.)
35
Falcon Series (U.S. Air Force) / Séries Falcon (De l'Aviation des É.-U.)
36
Hawk (U.S. Army) / Hawk (De l'Armée des É.-U.)
37
Hermes A-1 (U.S. Army) / Hermes A-1 (De l'Armée des É.-U.)
38
Redstone (U.S. Army) / Redstone (De l'Armée des É.-U.)
39
Nike Ajax (U.S. Army) / Nike Ajax (de l'Armée des É.-U.)
40
Nike Hercules (U.S. Army) / Nike Hercules (De l'Armée des É.-U.)
41
Honest John (U.S. Army) / Honest John (De l'Armée des É.-U.)
42
X-10 (U.S. Air Force) / X-10 (De l'Aviation des É.-U.)
43
Rascal (U.S. Air Force) / Rascal (De l'Aviation des É.-U.)
44
Terrapin / Terrapin
45
V-2 (U.S. Army) / V-2 (De l'Aviation des É.-U.)
46
Snark SM-62 (U.S. Air Force) / Snark SM-62 (De l'Aviation des É.-U.)
47
Lockheed F-90 Penetration Fighter / Avion d'Attaque Lockheed F-90
48
Convair XF-92 Delta Wing / Convair XF-92 a Ailes Delta
49
Northrop X-4 / Northrop X-4
50
Northrop YRB-49 / Northrop YRB-49
n/a
ZIP "Missiles and Satellites / Fusées Nucléaire" Gum Wrapper
Special Thanks
---
On 10/31/2014 we received an email from Fred Cousineau asking for help to identify a particular card set. After identifying the V339-7 "Missiles and Satellites" set for Fred, we realized that we (Skytamer Images) only had seven original cards in our collection. Fred had received a set of cards from his brother-in-law, Roger Geiger. Roger lives in Wylie, Texas and had collected a set of cards while living in Agincourt, Ontario when he was younger. Roger gave Fred the cards in September 2014 on a family visit. They had been stored in his attic for at least 25 years. We contacted Fred, and Fred sent us 600 dpi scans of the fronts and backs of all 50 cards in the set. So again, a very special thanks to Fred and Roger for helping us to complete this collection.
Contributors
---
Fred Cousineau — Fred was born in small town of Victoria Harbour, Ontario, Canada, located on Georgian Bay, part of Lake Huron. His first love is hockey and as a result he always collected, played with and traded hockey cards as a kid. Unfortunately, not many of those early cards survived to the present. Fred lived in a house with seven siblings, and it was therefore difficult to hide things … such as hockey cards, etc.
Fred played some local junior hockey in Penetanguishene, Ontario and then Varsity hockey at the University of Guelph in the late 1960's. After Guelph, Fred attended the University of Toronto, obtained a teaching degree and taught elementary and high school for 31 years. During the late 1980's, he began to once again take an interest in collecting hockey cards and other memorabilia related to hockey. Fred had always been a Red Wings fan and therefore amassed a large collection of Detroit Red Wing cards dating back to the 1950's.
Fred's passion become a hobby (his wife might say an obsession) and now that he no longer teaches, he has an eBay store where he sells some of the 100,000+ cards he has have accumulated.
In addition to his sports cards collection, Fred also collects non-sports card sets which include Parkhurst's "Missiles and Satellites" (V339-7) and other non-sports cards related to TV and "Folk Heroes" such as Geronimo, Daniel Boone, Davey Crockett and Jesse James.
Fred is constantly being given binders and sets of cards by his friends who don't know what else to do with them and want to get rid of them. Be sure to visit his eBay store.
John Shupek — John is retired Aeronautical/Aerospace Engineer that lives in Southern California. John's 36 year aerospace career/adventure started in the mid-1960s when he worked for Pratt & Whitney at their "FRDC" … Florida Research and Development Center, West Palm Beach, Florida. John was part of the P&W jet engine design team for the CIA/USAF's Lockheed A-12/SR-71A "Oxcart/Blackbird" engines (J58/JT11D-20). He also worked on the RL-10 rocket engine and the JTF-17A which was P&W's entry into the United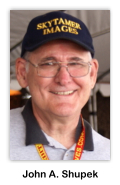 States' SST competition between Boeing and Lockheed. Several years later, John moved back to California and worked at the AiResearch Mfg. Company at LAX and Torrance. He originally worked on the thermal design of the HRE (Hypersonic Ramjet Engine) which was a supersonic combustion Mach 7 ramjet engine that was to be tested on the North American X-15. John did about three more years of jet engine design work before he disappeared for 13 years into the classified DOE "GCEP" (Gas Centrifuge Enrichment Plant) Atomic Energy program for the enrichment of U235. After the GCEP program was cancelled by the DOE in 1985, John was hired by Northrop Aircraft to do the thermal design for Northrop's entry into the ATF (Advanced Tactical Fighter) competition, the Northrop YF-23A "Black Widow II" stealth supercruise fighter. He also worked on the Northrop Grumman B-2A "Spirit" stealth bomber. After several years on a classified stealth missile program, John worked the remainder of his Aerospace career as one of Northrop Grumman's Program Directors on the United States Navy's F/A-18E/F "Super Hornet" jet fighter program.
During John's career at Northrop Grumman he served for five years as Northrop's "Vintage Aircraft Club" Commissioner and the Curator and Webmaster for the Western Museum of Flight in Hawthorne, California. Several years later, John was the volunteer webmaster (for about 3 years) for the Yanks Air Museum, Chino, California. He also served as President and webmaster for two different NPO's after his retirement. The Whittier Historical Society & Museum and Whittier Meals on Wheels.
John's love of aviation history and aviation photography lead to the establishment of this Skytamer.com website in 1998. The Skytamer.com site has continued to expand and will always grow and will never be completed. It's sort of analogous to a snowball rolling down a hill without any trees to stop it. In approximately 2002, John remembered that he had collected Topps "Wings" (ACC# R707-4) airplane trading cards while in High School. Somehow the cards had disappeared over the years. So at this point, he started to re-collect airplane trading cards via eBay and become an airplane card "Image Collector" rather than a "Card Collector" per se. After John scans an airplane card for the website, he has no further use for it and he puts it back into circulation via eBay. John's mission statement for the Skytamer.com is basically to restore and preserve high-quality card images/artwork associated with the various airplane card sets from the early 1900s to the present. These cards are wonderful historical "snapshots" into aviation history showing which aviation events and aircraft were important at that point in time. For the Skytamer.com website, basically if it is a trading card collection that features things that fly, but doesn't have feathers, it's eligible for the consideration on the Skytamer.com website. John always welcome inputs and high resolution scans (600-dpi) that can be used on this website. John can be reached via the "Contact Us" navigation button on the left.
References
---
Wikipedia, Parkhurst Products
Watson, James C., M.D. "Missiles and Satellites." Non-Sports Bible (NSB). Vol. I. Chelsea, MI: Sheridan, 2007. 529. Print.
Cousineau, Fred. "Re: Missiles and Satellites (V339-7)." Multiple message(s) to Skytamer Images. 10-31/2014 thru 11/18/2014. E-mail.
Shupek, John A. "Missiles and Satellites (V339-7), Parkhurst Products, Ltd.." The Skytamer Archive (600-dpi Image Scans). Skytamer Images, Whittier, CA, 2014. Digital Image Database.
---
Copyright © 1998-2020 (Our 22nd Year) Skytamer Images, Whittier, California
ALL RIGHTS RESERVED