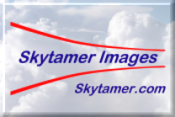 North American BT-14 Yale
Single-engine Two-seat Low-wing Tail-dragger Basic Trainer Monoplane, U.S.A.
---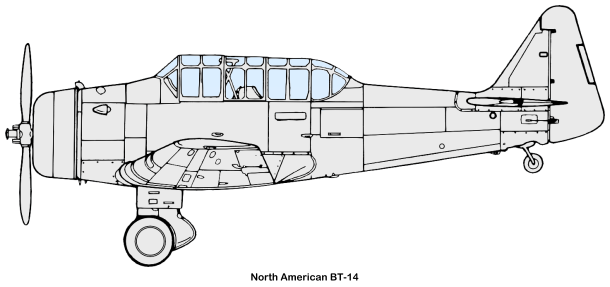 Archive Photos [1]
---
[North American BT-14 Yale (ex RCAF Yale 3417 as a BT-14 #737) on display (5/4/1995) at the National Museum of the United States Air Force, Wright Patterson AFB, Dayton, Ohio (Photo by John Shupek copyright © 2001 Skytamer Images)]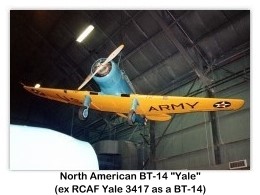 Overview [2]
---
North American BT-9 / BT-14
Role: Trainer
Manufacturer: North American Aviation
First flight: April 1936
Primary user: United States Army Air Corps
Number built: +260
Unit cost: $20,000
Developed from: North American NA-16
The North American Aviation BT-9 was a low-wing single piston engine monoplane primary trainer aircraft that served with the United States Army Air Corps (USAAC) and other allied countries during World War II. It was a contemporary of the Kaydet biplane trainer and was used by pilots in Basic Flying Training following their completion of Primary in the Kaydet. In United States Navy (USN) service it was designated the NJ-1.
Design and Development [2]
---
The BT-9, designated NA-19 by the manufacturer, evolved from the North American NA-16, which first flew in April 1935. The BT-9 design first took to the skies in April 1936.
Fabric covered the movable surfaces on the tail and wings, as well as the sides of the fuselage from just behind the firewall to the tail. The remainder of the aircraft was metal-covered and featured fixed (non-retractable) landing gear. The Army Air Corps purchased a total of 199 BT-9's, BT-9A's and BT-9B's. Many foreign countries also used variants of this aircraft under North American's NA-16 designation.
The BT-14 (NA-58) and the similar NA-64 Yale represented a major aerodynamic improvement over the NA-16 series, with a longer all metal fuselage replacing the fabric covered fuselage of the earlier NA-16's. The BT-14 featured a Pratt & Whitney R-985 engine versus the Wright R-975 used on the BT-9 and NA-64. As well as metal skin replacing the fabric on the fuselage, the fin was changed from having a corrugated surface on the BT-9's to being a smooth stressed skin structure and was moved aft slightly, lengthening the rear fuselage while the engine was moved forward to maintain the CG. The rudder was also changed from the rounded shape used previously to one with a roughly triangle shape with the broadest part being at the bottom, and the canopy was redesigned. The new fuselage would provide the basis for the entire AT-6 family, when fitted with the larger Pratt & Whitney R-1340 engine, a new wing with retractable undercarriage and minor changes for a gunners position.
The BT-9 and NA-64 suffered from stall/spin problems and a variety of fixes were tried. The USAAC temporarily settled on using slats on the later versions of the BT-9 however these did not work well, and later developments would have the outer wing panels swept forward slightly so that they no longer had the straight trailing edges of the BT-9 and NA-64. The later swept forward wings were fitted to the BT-14.
Operational History [2]
---
The NA-64 retained the fixed undercarriage layout and was built for the French Armée de l'Air and Aéronavale in 1939–1940. Just under half were delivered before France surrendered to the Nazis and the remaining aircraft were purchased by the British Purchasing Commission for the Royal Canadian Air Force (RCAF). The RCAF named the type the Yale, and were used initially as intermediate pilot trainers and later as airborne wireless radio trainers. All were sold as scrap post-war but approximately 40 survive today, with about 15 in airworthy condition.
The NA-26, an improved model with retractable landing gear which became the prototype for AT-6 Texan advanced trainer, was developed from the NA-16 design. The Australian CAC Wirraway was also developed from the NA-16.
Variants [2]
---
North American NA-16: Prototype aircraft, one built.
North American NA-18: Pre-production aircraft, one built.
North American BT-9: Two-seat primary trainer for the USAAC, 42 built.
North American BT-9A: Armed with two 0.30 in (7.62 mm) machine guns, 40 built.
North American BT-9B: Improved version, 117 built.
North American BT-9C: Similar to the BT-9B, but with some equipment changes, 97 built.
North American BT-9D: One prototype only, which lead to the development of the BT-14.
North American NJ-1: Two-seat primary trainer aircraft for the USN, powered by a 600 hp (447 kW) Pratt & Whitney R-1340 radial piston engine, 40 delivered.
North American NA-57: France, 230 delivered. Export version of BT-9. First 30 served with French Navy. Most were captured and used by the German Luftwaffe.
ASJA/SAAB Sk 14, Sk 14A, Sk 14N: Sweden, 136 built. License built version of NA-16-4M. The three only Sk 14N was converted with tricycle landing gear as a trainer for SAAB 21 pilots.
North American BT-14: Advanced version with lengthened metal fuselage and T-6 outer wing panels, powered by a 450 hp (336 kW) Pratt & Whitney R-985-25 radial piston engine, USAAC, 251 delivered.
North American BT-14A: 27 BT-14's were converted to take the 400 hp (298 kW) Pratt & Whitney R-985-11 radial piston engine.
North American NA-64 Yale: As per BT-14 but with a 420 hp Wright R-975-E3 radial engine and earlier straight wings. Operated by France, Germany, Canada and the United Kingdom, Of 230 ordered, 111 were in France before the invasion and were then used by the Germans. Remaining 119 delivered to RCAF as the Yale.
Operators [2]
---
Canada: Royal Canadian Air Force
France: French Air Force (Armée de l'Air); French Naval Aviation (Aéronavale); Vichy French Air Force
Germany: Luftwaffe used captured NA.57 and NA.64 for flight training and to familiarize aircrew with U.S. aircraft
United Kingdom: Royal Navy (on loan from RCAF in 1941)
United States: United States Army Air Corps (until June 1941); United States Army Air Forces (after June 1941); United States Navy
Sweden: Swedish Air Force
Survivors/Aircraft on Display [2]
---
There are many surviving NA-64 Yales today because of Ernie Simmons, a farmer from near Tillsonburg, Ontario. Simmons bought over 30 Yales in 1946 and kept them on his farm until he died in 1970. These aircraft were subsequently auctioned in 1970, and have been restored by museums and warbird enthusiasts. Most of the Yales currently in existence came from the Simmons collection.
BT-9
Museo del Aire de Honduras at Toncontín - BT-9C exported to Honduras as NA-16-2A.
BT-14
No original aircraft, but several Yales have been painted or partially modified as BT-14's.
Commemorative Air Force - ex RCAF Yale 3450 to be restored as a BT-14.
National Museum of the United States Air Force - ex RCAF Yale 3417 displayed as a BT-14.
Sk 14
Swedish Air Force Museum - replica using parts from a Yale, Wirraway, and a real Sk 14.
NA-64 Yale
Canadian Harvard Aircraft Association - ex RCAF 3399 - airworthy
Canadian Warplane Heritage Museum - ex RCAF 3350 and 3400 (airworthy) and 3411 (on static display)
Commonwealth Air Training Plan Museum - ex RCAF 3396 - under restoration
Bomber Command Museum of Canada - ex RCAF 3404 - under restoration to airworthy
Pima Air & Space Museum - ex RCAF 3397 - on display
Reynolds-Alberta Museum - ex RCAF 3458 - on display
Western Canada Aviation Museum - ex RCAF 3430 - on display
Legend Of Aces Aviation - ex RCAF 3383 - under restoration to airworthy wireless trainer
Legend Of Aces Aviation - ex RCAF 3456 - under restoration to airworthy
Plus a couple dozen privately owned in Canada, the US, and Europe
North American BT-14 Yale Specifications [3]
---
Type
Two-seat primary training monoplane.
Wings
Low-wing cantilever monoplane.
Wing sections vary from NACA 2215 to 4412.
In five sections, consisting of center-section, two outer-sections and wing-tips.
Center-section of parallel cord and thickness, outer-sections have Back-swept leading-edge and straight trailing-edge and taper in thickness.
Single-spar structure with spaced ribs and covered with a stressed aluminum-alloy skin.
Dynamically-balanced ailerons with aluminum-alloy frames and fabric covering.
Split trailing-edge flaps between ailerons and under fuselage.
Fuselage
Welded chrome-molybdenum steel-tube framework with fittings integrally welded.
Fuselage constructed in four sections, engine-mounting, control section, tail section and monocoque bottom aft of wing.
All sections bolt together.
Side covering in form of a fabric-covered aluminum-alloy frames bolted to fuselage.
Cowling all metal and quickly removable.
Tail Unit
Cantilever tail-plane and fin of metal, with sheet covering.
Rudder and elevators light-alloy frames, with fabric covering.
Right and left sides of tail-plane and elevators are interchangeable.
Metal surfaces are removable by externally-accessible bolts for internal inspection.
Non-reversible trimming-tabs on elevators.
Fixed tab, adjustable on ground only, on rudder.
Undercarriage
Divided type.
Consists of two cantilever oleo struts, with the upper ends built into the ends of the center-section by sleeves held by four bolts.
Right and left units interchangeable.
Each unit enclosed in duralumin fairing, which does not enclose streamline wheel, so that it is accessible for brake adjustment or removal.
Hydraulically-operated wheel brakes.
Oleo-sprung steerable tail-wheel.
Power Plant
One Wright "Whirlwind" R-975-E3 radial air-cooled engine, developing 420 hp at 14,000 ft (426 m), on welded chrome-molybdenum steel-tube mounting.
NACA cowling.
Two fuel tanks, of welded aluminum-alloy, in center-section, one on each side of fuselage.
Normal fuel capacity 104 US gallons (393.7 liters).
Oil tank of 9.5 US gallons (35.96 liters) in engine compartment and detachable with it.
Accommodation
Tandem cockpits, with sliding enclosures.
Dual controls, with rear control quickly removable.
Dimensions
Wing span: 41 ft 0 in (13.1 m)
Length: 28 ft 5 in (8.7 m)
Height: 8 ft 10½ in (2.7 m)
Wing area 246 ft² (23 m²)
Weights and Loadings
Empty weight: 3,247 lb (1,473 kg)
Crew: 380 lb (172.5 kg)
Fuel and oil: 695 lb (315 kg)
Weight loaded: 4,375 lb (20,65 kg)
Wing loading: 17.7 lb/ft² foot (86.7 kg/m²)
Power loading: 10.4 lb/hp (4.7 kg/hp)
Performance
Speed at 1,500 ft (457.5 m): 170 mph (274 km/h)
Cruising speed at 1,500 ft (457.5 m): 146 mph (235 km/h)
Landing speed: 65 mph (105 km/h)
Maximum rate of climb: 1,100 ft/min (336 m/min)
Service ceiling: 17,400 ft (5,310 m)
Cruising range: 730 miles (1,180 km)
References
---
Shupek, John. The Skytamer Archive, photos from the Shupek Photo Collection, copyright © 1998-2019 Skytamer Images (Skytamer.com)
Wikipedia, North American BT-9
Bridgman, Leonard (ed.), "The North American NA-16-1A", Jane's All The World's Aircraft 1941, London: Sampson Low, Marston & Company, Ltd., 1942, pp 200c-201c
Avery, Norm, North American Aircraft 1934-1998, Volume 1, Santa Ana, CA: Narkiewicz//Thompson, 1998, ISBN 0-913322-05-9, pp 28, 46
---
Copyright © 1998-2019 (Our 21st Year) Skytamer Images, Whittier, California
ALL RIGHTS RESERVED