"Aircraft Recognition Cards B-Type 1" (F270-1B1)
By: John Shupek and Pete D'Luhosch
---
Series Title: Aircraft Recognition Cards B-Type 1 (Set #4)
American Card Catalog Reference Number: F270-1B1 (unofficial)
Issued by: Carnation Corn Flakes (Albers)
Issued with: Carnation Corn Flakes
Country: U.S.A.
Key Features
Corners: Small rounded corners with a radius of 0.095 inch.
Branding: Two Lines of branding on reverse "This card from a package of/CARNATION CORN FLAKES"
3-View Drawing: The 3-view drawings on the reverse are the same size as previous sets.
Number of Cards: 43
Key Card: Republic F-84F Thunderjet - REAR VIEW (sic. Thunderstreak)
Card Numbering: unnumbered (cards listed alphabetically)
Type of Card: Food insert
Card Dimensions: 3.50 &times 2.25 inches (88.90 × 57.15 mm)
Circa: 1952
Checklist: Download Checklist
Carnation Five Sets Overview
---
During the past several years, there has been controversy about the actual composition of the "Aircraft Recognition Cards" (F270-1) series by Carnation Corn Flakes (Albers). The interest in this set peaked several years ago, when veteran non-sports airplane card collector Albert Kramer discovered the rare "Douglas D558-2 Skyrocket (red)" card. At the time of its discovery, the "Douglas D-558-2 Skyrocket (red)" card was thought to be a proof or test card that was never put into circulation.
However, research during the first five months of 2016 conducted by Pete D'Luhosch of PJD Enterprises, and John Shupek of Skytamer Images, has documented the existence of five distinct Carnation (F270-1) sets of "Airplane Flash Cards/Aircraft Recognition Cards" cards, with five distinct checklists and 211 individual cards, including the unique "Douglas D558-2 Skyrocket (red)" and the "North American T-28 Advanced Trainer (straight tail)" cards. Each of the five individual sets is easily distinguishable by the configuration of the card corners, the number of branding lines on the card's reverse, and the size of the 3-view image on the back side of the card. The key recognition points for each of the five sets is shown on the F270-1 Overview page.
The following reference card shows the fronts and backs of a typical 1952 "Aircraft Recognition Cards B-Type 1" (F270-1B1) card. Click on the card images to reveal full-size computer enhanced 600-dpi images of the card.
Set #4 — "Aircraft Recognition Cards - Type B1" (F270-1B1)
---
The F270-1B "Aircraft Recognition Cards" set was originally thought to contain 44 cards, which included both versions of the North America T-28 Advanced Trainer card ("folded tail" and "straight tail"). It became apparent that the two T-28 cards actually belonged to separate sets: Set #4 (F270-1B1) contained the "folded tail" T-28 card, while Set #5 (F270-1B2) included the "straight tail" T-28 card.
Set #4 (F270-1B1) is a "small corner radius" 43-card set, which shares the same checklist as Set #3, with the addition of the Northrop F-89 Scorpion card. Sets #4 and #5 are the only two sets that contain the Northrop F-89 Scorpion card. The key features of this set are shown below.
The set is comprised of 43 unnumbered airplane cards.
The cards are PLC type cards with small radius corners of 0.095 inch.
Two lines of branding — "This card from a package of/Carnation Corn Flakes" appear on the reverse side of the cards.
This set includes only one T-28 card, the "folded tail" version.
The Northrop F-89 Scorpion card has been added bringing the total number of cards in Set #4 to 43-cards.
The fronts of the 43 unnumbered "Aircraft Recognition Cards" (F270-1A2) all feature American-built aircraft. Forty two of the 43 cards are presented in a landscape (horizontal) format and show the aircraft in flight. One of the cards, the Convair XF-92 Delta Wing is presented in a portrait (vertical) format and shows the aircraft on the ground. The Northrop F-89 Scorpion card has been added bring the total number of cards in Set #4 to 43-cards.
The backs of the cards are presented in a portrait format and feature (starting at the top): (1) the card title; (2) a brief description of the aircraft; (3) a 3-view OML (outer mold line) drawing of the aircraft; and (4) a two branding lines of "This card from a package of/CARNATION CORN FLAKES" at the bottom of the card. The overall dimensions of the cards are 3.50 &times 2.25 inches (88.90 × 57.15 mm), and are unofficially assigned the American Cards Catalog reference number F270-1A2. The fronts and backs of a typical card, in this case the North American F-86 Sabre, are shown at the top of the page. Click on these images to expand them to a full 600-dpi computer enhanced images.
Set #4 Image-Guide [1,2]
---
The following 1952 "Aircraft Recognition Cards B-Type 1" (F270-1B1) 43-card set by Carnation Corn Flakes (Albers), U.S.A., Image-Guide shows computer enhanced images of the fronts and backs of the 43 cards in the F270-1B1 set. Behind each thumbnail image is a 600-dpi computer enhanced card image that you may access. In addition, directly beneath the Image Guide, in tabular form, are links to the original scans used for this series.
Set #4 Checklist
---
We have provided two versions of the 1952 "Aircraft Recognition Cards B-Type 1" (Set #4) 43-card set issued by Carnation Corn Flakes (Albers), U.S.A.. An 8½ × 11 inch PDF version, and the web version shown below. Click on the PDF graphic below to access the PDF version.
Set #4 "Aircraft Recognition Cards B-Type 1" (F270-1B1)
Carnation Corn Flakes (Albers), 43-Cards, U.S.A.
CHECKLIST
Unnd.
x
Card Title
(1)
BELL 47-D HELICOPTER
(2)
BELL X-1
(3)
BOEING B-29 SUPERFORTRESS
(4)
BOEING B-47
(5)
BOEING B-50 SUPERFORTRESS
(6)
BOEING C-97A STRATOFREIGHTER
(7)
BOEING STRATOCRUISER
(8)
CHANCE VOUGHT F7U-1 CUTLASS
(9)
CONVAIR B-36 BOMBER
(10)
CONVAIR-LINER
(11)
CONVAIR TURBOLINER
(12)
CONVAIR XB-46 BOMBER
(13)
CONVAIR XF-81 ESCORT FIGHTER
(14)
CONVAIR XF-92 DELTA WING
(15)
DOUGLAS AD SKYRAIDER
(16)
DOUGLAS C-124 — GLOBEMASTER
(17)
DOUGLAS D-558 SKYSTREAK
(18)
DOUGLAS D-558-2 SKYROCKET
(19)
DOUGLAS DC-6A LIFTMASTER
(20)
DOUGLAS SUPER DC-3
(21)
GRUMMAN ALBATROSS
(22)
GRUMMAN F9F-2 PANTHER
(23)
LOCKHEED CONSTELLATION
(24)
LOCKHEED CONSTITUTION
(25)
LOCKHEED F-90 PENETRATION FIGHTER
(26)
LOCKHEED F94-A ALL WEATHER INTERCEPTOR
(27)
LOCKHEED P2V NEPTUNE BOMBER
(28)
LOCKHEED T-33 SHOOTING STAR
(29)
LOCKHEED 404 TRANSPORT
(30)
MARTIN AM-1 MAULER
(31)
MARTIN CAROLINE MARS
(32)
MARTIN P4M-1 MERCATOR *
(33)
MARTIN XB-51
(34)
NORTH AMERICAN AJ-1 ATTACK BOMBER
(35)
NORTH AMERICAN B-45 TORNADO JET BOMBER
(36)
NORTH AMERICAN F-86 SABRE
(37)
NORTH AMERICAN T-28 ADVANCED TRAINER (folded tail)
(38)
NORTHROP F-89 SCORPION
(39)
NORTHROP X-4
(40)
NORTHROP YRB-49
(41)
REPUBLIC F-84F THUNDERJET/REAR VIEW *
(42)
REPUBLIC F-84F THUNDERJET/SIDE VIEW
(43)
RYAN NAVION 205
Note 1: Numbers in parentheses (xx) indicate unnumbered cards presented in alphabetical order.
Note 2: An * after the title indicates that we need 600-dpi scans of the card front and back.
We Need Help!
---
We need your help to complete the F270-1B1 "Aircraft Recognition Cards B-Type 1" Image Guide. At this point all we need is a 600-dpi scan of the back of the Martin P4M-1 Mercator card and a 600-dpi scan of the front of the "Thunderjet"/REAR VIEW card. If you can help, please let us know. If you are able to help us, we will also acknowledge your contribution in the "Contributors" section below. If you have a Business, Business Card or a Website that you would like us to acknowledge, we'll include it. Please email your scan to updates@skytamer.com.
Contributors
---
Pete D'Luhosch — Pete is a retired IBM programmer/manager who lives in upstate New York. He graduated from Union College (Schenectady, New York) in 1963, with a degree in English Literature. Pete's 38-year IBM career, at their semiconductor development and manufacturing facility in East Fishkill, New York, spanned the time from punched cards and hard wired "unit record" machines being the norm, up to the time when computers were populated with chips containing millions of transistors that were "printed" on 12-inch silicon wafers.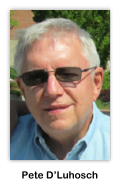 Pete's introduction to computers came on an IBM 1401 computer that was as big as a refrigerator and had an astonishing 4k of memory. Pete then learned IBM 360 programming and for many years worked on application programming at IBM East Fishkill. He eventually moved on to systems analysis and then held various management positions in support of chip manufacturing and statistical analysis. When he retired, Pete was a programmer/analyst in a staff department supporting the Director of the East Fishkill Semiconductor Laboratory.
Pete's interest in card collecting came, as many did, with baseball cards in the early '50s. The 1951 Bowman baseball card set is still his favorite. Sad to say, all Pete's cards disappeared while he was in college. He rekindled his love of cards in the late '70s, working on Topps baseball card sets with his kids, and attempting to re-create some of his sets from the '50s. When baseball cards became too expensive, Pete remembered another set he once collected: the 1952 Topps Wings set. On a whim, he bought a couple of them on eBay, just to see if they were still as cool as he remembered. Naturally, that led to years of trying to complete the set in the best condition he could find. Today, Pete's collecting interest lies almost exclusively with airplane cards from the World War II and Korean War periods. Some of Pete's card sets can be found on the SGC Registry.
Pete has written articles on the 1951 Bowman baseball card set for Sports Collectors Digest and articles on Topps Wings and Card-O Aeroplanes for The Wrapper. He has developed his own website that contains a lot of airplane and baseball card reference material. The website can be found at https://www.pjdenterprises.com.
Albert "Al" B. Kramer — A very special thanks to Albert B. Kramer, President of Roll-EZ Wheels, for loaning
us his entire collection of over 200 Non-Sports aviation trading card sets to scan for our Skytamer.com website. Without Al's generous help, the scope of the airplane trading cards on this website would be significantly less.
Al is a retired Air Racing pilot who raced during the 1980s in his famous "Cobra #22" Biplane Air Racer (N12FE). After his Air Racing career, Al went on to become Owner and President of San-Val Aviation located at the Van Nuys Airport. Al recently "retired" and turned his hobby of large scale model trains into "Roll-EZ Wheels". Roll-EZ Wheels specializes in the finest large scale model train wheels, and other exclusive products strictly for large scale model trains! Be sure to visit Al's Roll-EZ Wheels website.
Al's Non-Sports card collection consists of War Cards, Presidents, Indians, Cars, Boats, Ships, Planes, Rockets, Movie Stars, Dogs, Licence Plates, Flags of the World, Headlines, Cigarette, and Cereal cards. Al's collection includes the first-known example of the Carnation "Airplane Flash Cards" (F270-1A2) Douglas D558-2 "Red Skyrocket". Al obtained the Carnation "Red Skyrocket" card in a group of 12 different cards that he bought on eBay. He originally thought that the cards were a batch of Nabisco cards until he turned over the "Red Skyrocket" card and it instantly became Al's most prized Non-Sports card. Al believes that the "Red Skyrocket" was made as a sample for Carnation and somehow got into circulation. The Carnation "Red Skyrocket" (Douglas D-558-2) was an artist drawing, while the Douglas D-558-2 "Skyrocket" included in both the Carnation F270-1A2 & F270-1A21 (single line) and the F270-1B (two-line) normal circulation sets were color photos, rather than drawings. As a sidenote, the Douglas D-558-1 "Red Skystreak" was also an artist drawing, but went into general circulation and was included in the three other Carnation sets. All of the other cards in both of the Carnation sets appear to be photographs.
Al's large collection of Non-Sports trading card sets is valued at $100,000. Al's entire collection of Non-Sports cards is currently for sale at an asking price of $65,000 and is open to serious offers. For those of you that are interested, please contact Al via his Roll-EZ Wheels website.
John Shupek — John is retired Aeronautical/Aerospace Engineer that lives in Southern California. John's 36 year aerospace career/adventure started in the mid-1960s when he worked for Pratt & Whitney at their "FRDC" … Florida Research and Development Center, West Palm Beach, Florida. John was part of the P&W jet engine design team for the CIA/USAF's Lockheed A-12/SR-71A "Oxcart/Blackbird" engines (J58/JT11D-20). He also worked on the RL-10 rocket engine and the JTF-17A which was P&W's entry into the United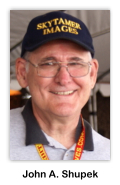 States' SST competition between Boeing and Lockheed. Several years later, John moved back to California and worked at the AiResearch Mfg. Company at LAX and Torrance. He originally worked on the thermal design of the HRE (Hypersonic Ramjet Engine) which was a supersonic combustion Mach 7 ramjet engine that was to be tested on the North American X-15. John did about three more years of jet engine design work before he disappeared for 13 years into the classified DOE "GCEP" (Gas Centrifuge Enrichment Plant) Atomic Energy program for the enrichment of U235. After the GCEP program was cancelled by the DOE in 1985, John was hired by Northrop Aircraft to do the thermal design for Northrop's entry into the ATF (Advanced Tactical Fighter) competition, the Northrop YF-23A "Black Widow II" stealth supercruise fighter. He also worked on the Northrop Grumman B-2A "Spirit" stealth bomber. After several years on a classified stealth missile program, John worked the remainder of his Aerospace career as one of Northrop Grumman's Program Directors on the United States Navy's F/A-18E/F "Super Hornet" jet fighter program.
During John's career at Northrop Grumman he served for five years as Northrop's "Vintage Aircraft Club" Commissioner and the Curator and Webmaster for the Western Museum of Flight in Hawthorne, California. Several years later, John was the volunteer webmaster (for about 3 years) for the Yanks Air Museum, Chino, California. He also served as President and webmaster for two different NPOs after his retirement. The Whittier Historical Society & Museum and Whittier Meals on Wheels.
John's love of aviation history and aviation photography lead to the establishment of this Skytamer.com website in 1998. The Skytamer.com site has continued to expand and will always grow and will never be completed. It's sort of analogous to a snowball rolling down a hill without any trees to stop it. In approximately 2002, John remembered that he had collected Topps "Wings" (ACC# R707-4) airplane trading cards while in High School. Somehow the cards had disappeared over the years. So at this point, he started to re-collect airplane trading cards via eBay and become an airplane card "Image Collector" rather than a "Card Collector" per se. After John scans an airplane card for the website, he has no further use for it and he puts it back into circulation via eBay. John's mission statement for the Skytamer.com is basically to restore and preserve high-quality card images/artwork associated with the various airplane card sets from the early 1900s to the present. These cards are wonderful historical "snapshots" into aviation history showing which aviation events and aircraft were important at that point in time. For the Skytamer.com website, basically if it is a trading card collection that features things that fly, but doesn't have feathers, it is eligible for consideration on the Skytamer.com website. John always welcomes inputs and high resolution scans (600-dpi) that can be used on this website. John can be reached via the "Contact Us" navigation button on the left.
References
---
D'Luhosch, Pete. "Aircraft Recognition Cards, Carnation Corn Flakes Airplane Cards". 600-dpi Color Scans from The Pete D'Luhosch Collection, 2016
Shupek, John. "Aircraft Recognition Cards, Carnation Corn Flakes Airplane Cards". Enhanced 600-dpi Color Scans from the Skytamer Archive, 2016
Kramer, Albert. "Aircraft Recognition Cards, Carnation Corn Flakes Airplane Cards". Enhanced 600-dpi Color Scans from the Al Kramer Collection, 2002
---
Copyright © 1998-2018 (Our 20th Year) Skytamer Images, Whittier, California
ALL RIGHTS RESERVED