Bellanca CH-300 "Pacemaker"
United States — six-seat enclosed cabin monoplane
---
Archive Photos
---
Bellanca CH-300 "Pacemaker" (CF-ATN) at the Canada Aviation Museum, Ottawa, Ontario, Canada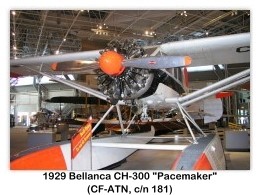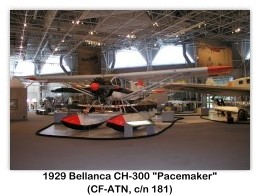 Overview
---
Bellanca CH-300 "Pacemaker"
Role: Civil utility aircraft
Manufacturer: Bellanca
First flight: 1929
Number built: approximately 35
Developed from: Bellanca CH-200
Variants: Bellanca CH-400
The Bellanca CH-300 Pacemaker was a six-seat utility aircraft built primarily in the United States in the 1920s and 1930s. It was a development of the Bellanca CH-200 fitted with a more powerful engine and, like the CH-200, soon became renowned for its long-distance endurance.
Design and Development
---
Bellanca further developed the earlier CH-200 to create the CH-300 Pacemaker. The CH-300 was a conventional, high-wing braced monoplane with fixed tailwheel undercarriage. Like other Bellanca aircraft of the period, it featured flying struts. While the CH-200 was powered by 220-hp Wright J-5 engines, the CH-300 series Pacemakers were powered by 300-hp Wright J-6s. Late in the series some CH-300s were fitted with 420-hp Pratt & Whitney Wasps, leading to the CH-400 Skyrocket series.
Operational History
---
Pacemakers were renowned for their long-distance capabilities as well as reliability and weight-lifting attributes, which contributed to their successful operation throughout the world. In 1929, George Haldeman completed the first nonstop flight, New York to Cuba in 12 hours, 56 minutes, flying an early CH-300 (c. 1,310 miles, 101.3 mph). In 1931, a Bellanca fitted with a Packard DR-980 diesel, piloted by Walter Lees and Frederick Brossy, set a record for staying aloft for 84 hours and 33 minutes without being refueled. This record was not broken until 55 years later.
In Alaska and the Canadian bush, Bellancas were very popular. Canadian-operated Bellancas were initially imported from the United States, but later six were built by Canadian Vickers in Montreal and delivered to the RCAF (added to the first order of 29 made in 1929), which used them mainly for aerial photography.
Record Attempts
---
On June 3, 1932, Stanislaus F. Hausner flying a Bellanca CH Pacemaker named "Rose Marie" and powered by a 300-hp Wright J-6, attempted a transatlantic flight from Floyd Bennett Field, New York to Warsaw, Poland. The attempt failed when he made a forced landing at sea; he was rescued by a British tanker eight days later.
A CH-300 named "Lituanica" (NR688E) gained international fame when it was used by Steponas Darius and Stasys Girenas in an attempt to fly non-stop from the New York City to Kaunas, Lithuania. Departing on July 15, 1933, they spent 37 hours in the air before crashing in bad weather on the German-Polish border. A replica of Lituanica is in the Lithuanian Technical Museum while the wreckage of the original is at the Vytautas the Great War Museum.
Survivors
---
Hawaiian Airlines owns the world's only CH-300 known to be in flying condition. The aircraft, which was acquired new in 1929 by Inter-Island Airways (which was renamed Hawaiian Airlines in 1941), was used for sightseeing flights over the island of Oahu for two years before being sold in 1933. Acquired from an aviation enthusiast in Oregon in early 2009, the aircraft was restored at the Port Townsend Aero Museum and was unveiled at the Honolulu International Airport on October 8, 2009.
One CH-300 "Pacemaker" is displayed at the Canada Aviation Museum (see above photos). This aircraft formerly served with Alaska Coastal Airlines. Another example is owned by the Virginia Aviation Museum, but this aircraft has been modified to CH-400 "Skyrocket" configuration and painted to resemble WB-2 Columbia, which made two pioneering transatlantic flights.
Variants
---
CH-300W
CH-300 with a Pratt & Whitney R-985 engine (1 built)
PM-300 Pacemaker Freighter
Cargo version (2 built)
Bellanca CH-300 Specifications
---
General Characteristics
Crew: one pilot
Capacity: 5 passengers
Length: 27 ft 9 in (8.5 m)
Wingspan:
Height: 8 ft 4 in (2.5 m)
Weights
Empty weight: 2,275 lb (1,032 kg)
Gross weight: 4,072 lb (1,847 kg)
Power Plant
No. of engines: one
Engine: Wright J-6 radial, 330-hp (246 kW)
Performance
Maximum speed: 165 mph (266 km/h)
Range: 675 miles (1,086 km)
References
---
Shupek, John. Photos via The Skytamer Archive, copyright © 2009 Skytamer Images. All Rights Reserved
Wikipedia, the free encyclopedia. Bellanca CH-300
---
Copyright © 1998 - Present, Skytamer Images, Whittier, California
ALL RIGHTS RESERVED