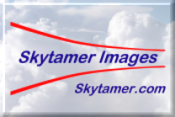 Bell UH-1N/HH-1N "Iroquois "Huey""
United States — Six-seat Utility Helicopter
---
Archive Photos 1,2,3
---
Bell UH-1N Iroquois "Huey" (BuNo 158276) on display (c.1988) at the 1988 MCAS El Toro Airshow, MCAS El Toro, California (Photo by John Shupek copyright © 2001 Skytamer Images)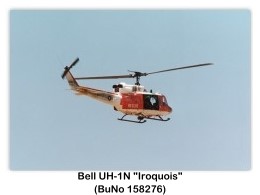 Bell UH-1N Iroquois "Huey" (BuNo 158544) on display (10/18/2003) at the 2003 MCAS Miramar Air Show, MCAS Miramar, San Diego, California (Photo by John Shupek copyright © 2003 Skytamer Images)
Bell HH-1N "Huey" (BuNo 158248, c/n 31419) on display (11/11/2011) at MCAS Yuma, Yuma, Arizona (Photo by AFIA, 11/11/2011)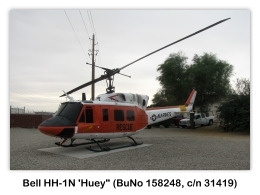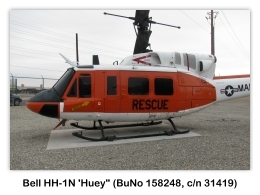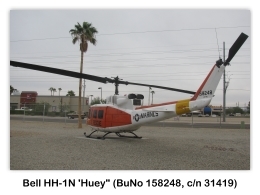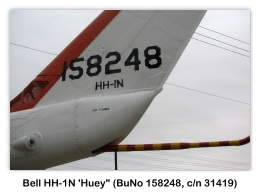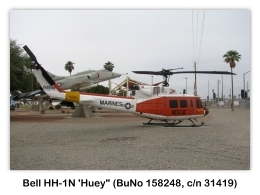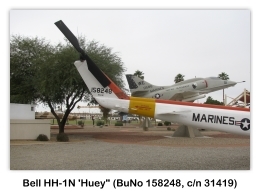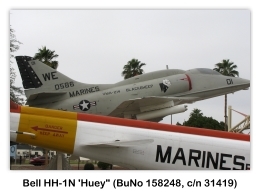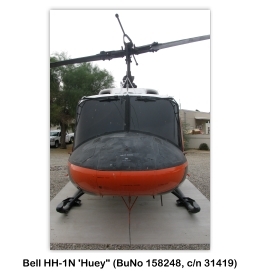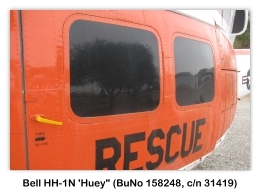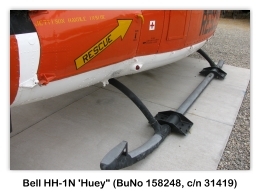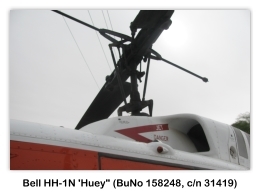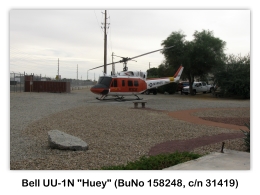 Bell HH-1N "Iroquois" (BuNo 158248, c/n 31419) on display (10/11/2012) at the MCAS Yuma, Yuma, Arizona (Photo by Peter S. Kuntz)
Overview 4
---
The Bell Helicopter UH-1 "Iroquois", commonly (or officially in the U.S. Marine Corps) known as the "Huey," is a multipurpose military helicopter, famous for its use in the Vietnam War. The Bell UH-1 was developed from 1955 US Army trials with the Bell Model 204. The initial designation of HU-1 (helicopter utility) led to its nickname, "Huey". The aircraft was first used by the military in 1959 and went into tri-service production in 1962 as the UH-1. The last were produced in 1976 with more than 16,000 made in total, of which about 7,000 saw use during the Vietnam War. In Vietnam, 2,202 "Huey" pilots were killed and approximately 2,500 aircraft were lost, roughly half to combat and the rest to operational accidents.
U.S. Army Bell UH-1D Iroquois
Role: Multipurpose utility helicopter
Manufacturer: Bell Helicopter
First flight: 22 October 1956 (XH-40)
Introduction: 1959
Primary users: United States Army, Japan Ground Self-Defense Force, Australian Army, Armed Forces of the Philippines
Number built: more than 16,000
Variants: UH-1N Twin Huey, AH-1 Cobra, Bell 204/205, Bell 212, Bell 214
Design and Development 4
---
Earlier helicopters had been powered by piston engines. By the early 1950s, however, turbine engines were being used in many fixed-wing aircraft and aircraft designers began to consider using them for rotary-wing use. Turbines, though expensive to build, were long-lived, durable, and extremely light for their power output in comparison to piston-powered engines.
The first Bell helicopter to use a turbine engine was a modified Model 47 (designated the XH-13F), first flown in October 1954. In 1955, anxious to obtain a powerful medical evacuation helicopter, the U.S. Army awarded Bell a contract to develop the next generation turbine-powered helicopter, designated the XH-40 (Bell company designation was the Model 204). The first XH-40 flew on 22 October 1956. Two more prototypes were built in 1957, and six YH-40 prototypes were tested in 1958.
Bell believed the YH-40 was ideal for troop transport and cargo carrying as well as the medevac role, a view soon adopted by the Army, who found the pre-production aircraft so much better in service than previous piston-powered helicopters they soon ordered more of them.
The Bell HU-1A (later redesignated the UH-1A) was the first turbine-equipped U.S. helicopter to go into production, and production models first entered service with the 101st Airborne Division at Fort Campbell, Kentucky, the 82nd Airborne Division and the 57th Medical Detachment. Although they were intended for evaluation only, the Army quickly pressed them into operational service "Hueys" with the 57th Medical Detachment arrived in Vietnam in March 1962.
The helicopter was originally designated the HU-1A, which is where it received its nickname "Huey", a reference so popular that Bell started putting the "Huey" name on the anti-torque pedals. The official U.S. Army designation "Iroquois" (Army helicopters are traditionally given Native American names) was almost never used in practice.
Aircraft Markings 4
---
Bell UH-1Hs used for ferrying VIP's into Panmunjom in the DMZ area between North and South Korea used three 12" wide Yellow stripes vertically over the fuselage. It signified unarmed aircraft carrying UNCMAC members.
U.S. Navy UH-1Ns serving as "organic to the ship" helicopters on LPH and LHA amphibious war vessels were painted dark grey with national insignia, much like the paint scheme carried on the Kaman SH-2 "Seasprite" throughout the 1980s. Each ship had one helicopter, and the ship's name was often carried on the cabin doors.
Operational History 4
---
Service in Vietnam
The Bell UH-1 has long become a symbol of US involvement in Southeast Asia in general and Vietnam in particular, and as a result of that conflict, has become one of the worlD's most recognized helicopters. In Vietnam primary missions included general support, air assault, cargo transport, aeromedical evacuation, search and rescue, electronic warfare, and later, ground attack. During the conflict, the craft was upgraded, notably to a larger version based on the Model 205. This version was initially designated the UH-1D and flew operationally from 1963.
Helicopters played an integral part in the U.S military's land and air operations. Here UH-1D's airlift members of the 2nd Battalion, 14th Infantry Regiment from the Filhol Rubber Plantation area to a new staging area, in 1966. During service in the Vietnam War, the UH-1 was used for various purposes and various terms for each task abounded. UH-1s tasked with a ground attack or armed escort role were outfitted with rocket launchers, grenade launchers, and machine guns. These gunship UH-1s were commonly referred to as "Hogs" if they carried rockets, and "Cobras" if they had guns. UH-1's tasked for troop transport were often called "Slicks" due to an absence of weapons pods. "Slicks" did have door gunners, but were generally employed in the troop transport and medevac roles. In the US Navy and USMC the gunships were referred to as "Sharks" and troop transport aircraft as "Dolphins".
Bell UH-1's also flew hunter-killer teams with observation helicopters, namely the Bell OH-58A "Kiowa" and the Hughes OH-6 "Cayuse". Towards the end of the conflict, the UH-1 was tested with TOW missiles, and two UH-1B helicopters equipped with the XM26 Armament Subsystem were deployed to help counter the 1972 Easter Invasion.
Bell UH-1 troop transports were designated by Blue teams, hence the nickname for troops carried in by these "Hueys" as the "Blues". The reconnaissance or observation teams were "White" teams. The attack ships were called "Red" teams. Over the duration of the conflict the tactics used by the military evolved and teams were mixed for more effective results." Purple" teams with one or two "Blue" slicks dropping off the troops, while a "Red" attack team provided protection until the troops could defend themselves. Another highly effective team was the "Pink Recon/Attack" team, which offered the capability of carrying out assaults upon areas where the enemy was known to be present but could not be pinpointed.
During the course of the war, the Bell UH-1 went through several upgrades. The UH-1A, UH-1B, and UH-1C models (short fuselage, Bell 204) and the UH-1D and UH-1H models (stretched-fuselage, Bell 205) each had improved performance and load-carrying capabilities. The UH-1B and UH-1C performed the gunship and some of the transport duties until 1967, when the new AH-1 "Cobra" arrived on the scene. The newer "Cobra", a purpose-built attack helicopter based on the Bell UH-1 was faster, sleeker, harder to hit, and could carry more ordnance. The increasing intensity and sophistication of NVA anti-aircraft defenses made continued use of gunships based on the Bell UH-1 impractical, and after Vietnam the "Cobra" was adopted as the Army's main attack helicopter. Devotees of the Bell UH-1 in the gunship role cite its ability to act as an impromptu dustoff if the need arose, as well as the superior observational capabilities of the larger "Huey" cockpit, which allowed return fire from door gunners to the rear and sides of the aircraft.
During the war 3,305 Bell UH-1's were destroyed. In total, 5,086 helicopters were destroyed out of 11,827 documented in service.
USAF
In October 1965, the USAF 20th Special Operations Squadron was formed at Tan Son Nhut Air Base in South Vietnam, equipped initially with Sikorsky CH-3C helicopters. By June 1967 the bell UH-1F and UH-1P were also added to the unit's inventory, and by the end of the year the entire unit had shifted from Tan Son Nhut to Nakhon Phanom Royal Thai Air Force Base. On 1 August 1968, the unit was redesignated the 20th Special Operations Squadron. The 20th's Bell UH-1's were known as the "Green Hornets", stemming from their color, a primarily green two-tone camouflage (green and tan) was carried, and radio call-sign "hornet". The main role of these helicopters were to insert and extract reconnaissance teams, provide cover for such operations, conduct psychological warfare, and other support roles for covert operations especially in Laos during the so-called Secret War.
El Salvador
During its civil war El Salvador received about 80 bell UH-1H and 24 bell UH-1M from the US, as part of the aid to fight the guerrillas between 1979 and 1992. These helicopters were heavily engaged in combat, supporting the army in fighting guerrillas throughout the country. As a result many were shot down. After the war only 20 bell UH-1H and 14 Bell UH-1M survived, most of them scrapped a few years later.
These helicopters were operated by El Salvador Air Force, being at its time the biggest and most experienced combat helicopter force in Central and South America, fighting during 10 years and being trained by US Army in tactics developed during the Vietnam war. Gunship Bell UH-1M helicopters used by El Salvador were modified to carry bombs instead of rocket pods. Bell UH-1H's were also used as improvised bombers.
During the battle of Nahr el-Bared camp in North Lebanon, the Lebanese army, lacking fixed-wing aircraft, modified the bell UH-1H allowing it to carry 500 lb (227 kg) Mk. 82 dumb bombs to strike militant positions. Each "Huey" was equipped on each side with special mounts engineered by the Lebanese army, to carry the high explosive bombs.
Current service
The US Army phased out the Bell UH-1 "Huey" with the introduction of the UH-60 "Black Hawk", although the Army UH-1 Residual Fleet has around 700 Bell UH-1's that were supposed to be retained until 2015. Army support for the craft was intended to end in 2004.
The US Marine Corps still relies on the Bell UH-1N variant and is beginning to introduce the latest variant, the UH-1Y "Venom".
The United States Air Force employs Bell UH-1N "Hueys" to fulfill its ICBM mission, providing a utility helicopter for transport between bases such as Francis E. Warren AFB and Malmstrom AFB to missile launch sites in Montana, Wyoming, Nebraska, and Colorado. Additionally, the Bell UH-1N is used by the 36th Rescue Flight (36 RQF) at Fairchild AFB, near Spokane, Washington for conducting Search-and-Rescue (SAR) and medical evacuation missions.
The Bell UH-1 "Huey" has been widely exported and remains in front line service in a number of countries.
Variants 4
---
U.S. Military Variants
XH-40: The initial Bell 204 prototype. Three prototypes were built, equipped with the Lycoming XT-53-L-1 engine of 700 shp.
YH-40: Six aircraft for evaluation, as XH-40 with 12-inch cabin stretch and other modifications.
Bell Model 533: One YH-40BF rebuilt as a flight test bed with turbofan engines and wings.
HU-1A: Initial Bell 204 production model, redesignated as the UH-1A in 1962. 182 built.
TH-1A: UH-1A with dual controls and blind-flying instruments, 14 conversions.
XH-1A: A single UH-1A was redesignated for grenade launcher testing in 1960.
HU-1B: Upgraded HU-1A, various external and rotor improvements. Redesignated UH-1B in 1962. 1014 built plus four prototypes designated YUH-1B.
NUH-1B: a single test aircraft, serial number 64-18261.
UH-1C: UH-1B with improved engine, modified blades and rotor-head for better performance in the gunship role. 767 built.
YUH-1D: Seven pre-production prototypes of the UH-1D.
UH-1D: Initial Bell 205 production model (long fuselage version of the 204). Designed as a troop carrier to replace the CH-34 then in US Army service. 2008 built many later converted to UH-1H standard.
HH-1D: Army crash rescue variant of UH-1D.
UH-1E: UH-1B/C for USMC with different avionics and equipment. 192 built.
NUH-1E: UH-1E configured for testing.
TH-1E: UH-1C configured for Marine Corps training. Twenty were built in 1965.
UH-1F: UH-1B/C for USAF with General Electric T-58-GE-3 engine of 1,325 shp. 120 built.
TH-1F: Instrument and Rescue Trainer based on the UH-1F for the USAF. 26 built.
UH-1H: Improved UH-1D with a Lycoming T-53-L-13 engine of 1,400 shp. 5435 built.
CUH-1H: Canadian Forces designation for the UH-1H utility transport helicopter. Redesignated CH-118. 10 built.
EH-1H: Twenty-two aircraft converted by installation of AN/ARQ-33 radio intercept and jamming equipment for Project Quick Fix.
HH-1H: SAR variant for the USAF with rescue hoist. 30 built.
JUH-1: Five UH-1H's converted to SOTAS battlefield surveillance configuration with belly-mounted airborne radar.
TH-1H: Recently modified UH-1H's for use as basic helicopter flight trainers by the USAF.
UH-1G: Unofficial name applied locally to at least one armed UH-1H by Cambodia.
UH-1J: An improved Japanese version of the UH-1H built under license in Japan by Fuji was locally given the designation UH-1J. Among improvements were an Allison T53-L-703 turboshaft engine providing 1,343 kW (1,800 shp), a vibration-reduction system, infrared countermeasures, and a night-vision-goggle (NVG) compatible cockpit.
HH-1K: Purpose built SAR variant of the Model 204 for the US Navy with USN avionics and equipment. 27 built.
TH-1L: Helicopter flight trainer based on the HH-1K for the USN. Forty-five were built.
UH-1L: Utility variant of the TH-1L. Eight were built.
UH-1M: Gunship specific UH-1C upgrade with Lycoming T-53-L-13 engine of 1,400 shp.
UH-1N: Initial Bell 212 production model, the Bell "Twin Pac" twin-engined Huey.
UH-1P: UH-1F variant for USAF for special operations use and attack operations used solely by the USAF 20th Special Operations Squadron, "the Green Hornets".
EH-1U: No more than 2 UH-1H aircraft modified for Multiple Target Electronic Warfare System (MULTEWS).
UH-1V: Aeromedical evacuation, rescue version for the US Army.
EH-1X: Ten Electronic warfare UH-1H's converted under "Quick Fix IIA".
UH-1Y: Upgraded variant developed from existing upgraded late model UH-1Ns, with additional emphasis on commonality with the AH-1Z.
Note: In U.S. service the G, J, Q, R, S, T, W and Z model designations are used by the AH-1. The UH-1 and AH-1 are considered members of the same H-1 series. The military does not use I (India) or O (Oscar) for aircraft designations to avoid confusion with "one" and "zero" respectively.
Other Military Variants
Bell 204: Bell Helicopters company designation, covering aircraft from the XH-40, YH-40 prototypes to the UH-1A, UH-1B, UH-1C, UH-1E, UH-1F, HH-1K, UH-1L, UH-1P and UH-1M production aircraft.
Agusta-Bell AB 204: Military utility transport helicopter. Built under license in Italy by Agusta.
Agusta-Bell AB 204AS: Anti-submarine warfare, anti-shipping version of the AB 204 helicopter.
Fuji-Bell 204B-2: Military utility transport helicopter. Built under license in Japan by Fuji Heavy Industries. Used by the Japan Ground Self-Defense Force under the name Hiyodori.
Bell 205: Bell Helicopters company designation of the UH-1D and UH-1H helicopters.
Bell 205A-1: Military utility transport helicopter version, initial version based on the UH-1H.
Bell 205A-1A: As 205A-1, but with armament hardpoints and military avionics. Produced specifically for Israeli contract.
Agusta-Bell 205: Military utility transport helicopter. Built under license in Italy by Agusta.
AIDC UH-1H: Military utility transport helicopter. Built under license in Taiwan by Aerospace Industrial Development Corporation.
Dornier UH-1D: Military utility transport helicopter. Built under license in Germany by Dornier Flugzeugwerke.
Fuji-Bell 205A-1: Military utility transport helicopter. Built under licence in Japan by Fuji. Used by the Japanese Ground Self Defence Force under the designation HU-1H.
Bell Huey II: A modified and re-engined UH-1H, significantly upgrading its performance, and its cost-effectiveness. Currently offered by Bell to all current military users of the type.
UH-1/T700 Ultra Huey: Upgraded commercial version, fitted with a 1,400-kW (1900-shp) General Electric T700-GE-701C turboshaft engine.
List of UH-1 Iroquois Operators 4
---
Afghanistan
Albania
Argentina
Australia
Austria
Bahrain
Bangladesh
Belize
Bolivia
Bosnia and Herzegovina
Brazil
Brunei
Burma
Cambodia
Canada
Chile
Colombia
Costa Rica
Dominican Republic
El Salvador
Ecuador
Ethiopia
Germany
Greece
Georgia
Guatemala
Honduras
Indonesia
Iran
Iraq
Israel
Italy
Jamaica
Japan
Jordan
Kuwait
Lebanon
Macedonia
Mexico
Morocco
Netherlands
New Zealand
Norway
Oman
Pakistan
Panama
Paraguay
Papua New Guinea
Peru
Philippines
Republic of China (Taiwan)
Rhodesia
Saudi Arabia
Senegal
Singapore
Serbia
Somalia
South Korea
South Vietnam
Spain
Sweden
Tanzania
Thailand
Tunisia
Turkey
Uganda
United Arab Emirates
United States
Uruguay
Venezuela
Vietnam
Yemen
Zambia
Zimbabwe
Specifications (UH-1D) 4
---
General characteristics
Crew: 1-4
Capacity: 3,880 lb including 14 troops, or 6 stretchers, or equivalent cargo
Length: 57 ft 1 in with rotors (17.4 m)
Fuselage width: 8 ft 7 in (2.6 m)
Rotor diameter: 48 ft 0 in (14.6 m)
Height: 14 ft 5 in (4.4 m)
Empty weight: 5,215 lb (2,365 kg)
Loaded weight: 9,040 lb (4,100 kg)
Max takeoff weight: 9,500 lb (4,310 kg)
Powerplant: 1 × Lycoming T53-L-11 turboshaft, 1,100 shp (820 kW)
Performance
Maximum speed: 135 mph (220 km/h)
Cruise speed: 125 mph (205 km/h)
Range: 315 mi (510 km)
Service ceiling: 19,390 ft (Dependent on environmental factors such as weight, outside temp., etc) (5,910 m)
Rate of climb: 1,755 ft/min (8.9 m/s)
Power/mass: 0.15 hp/lb (0.25 kW/kg)
Armament (Variable, but may include a combination of:)
2 × 7.62 mm M60 machine gun, or 2 × 7.62 mm GAU-17/A machine gun
2 × 7-round or 19-round 2.75 in (70 mm) rocket pods
2 × 7.62 mm Rheinmetall MG3 (German Army and German Luftwaffe)
References
---
Photos: John Shupek, Copyright © 2001,2003 Skytamer Images. All Rights Reserved
Photos: A Friend In Arizona (AFIA), 11/11/2001.
Photos: Peter S. Kuntz, 10/11/2012.
Wikepedia, UH-1 Iroquois
---
Copyright © 1998-2016 Skytamer Images, Whittier, California
ALL RIGHTS RESERVED