Aviadesign A-16 "Sport Falcon"
Single-engine two-seat tandem high-wing monoplane sport aircraft
---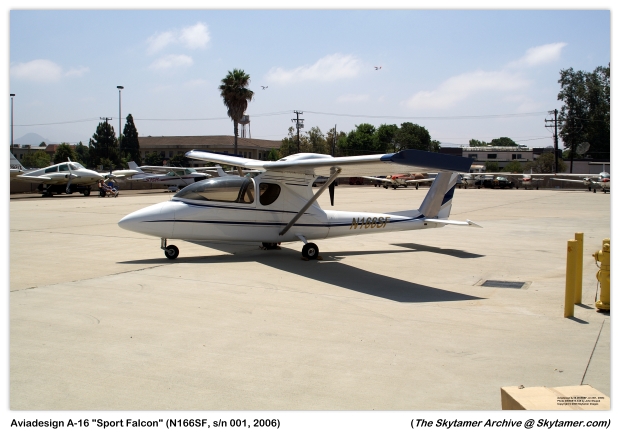 Archive Photos 1
---
Aviadesign A-16 "Sport Falcon" (N166SF, s/n 001, 2006) on display 8/19/2006 at the Camarillo Air Show, Camarillo, CA (John Shupek photo copyright © 2006 Skytamer Images)
Overview 2
---
Aviadesign A-16 Sport Falcon
Role: Light-sport aircraft
National origin: United States
Manufacturer: Aviadesign
First flight: 2006
Introduction: 2007
Status: Production completed
Unit cost: US$95,000 (projected price, assembled 2011)
The Aviadesign A-16 "Sport Falcon" is an American light-sport aircraft that was designed by Aviadesign, a certified aircraft modification company based in Camarillo, California. The A-16 was announced at Sun 'n Fun April 2006 and introduced at the LSA Expo held in Sebring, Florida in 2007. The aircraft was to be supplied as a complete ready-to-fly-aircraft.
Jane's Information Group reports that two prototypes were completed by 2006, but it is not clear if any other examples ever flew before the company went out of business.
Design and Development 2
---
The aircraft was designed to comply with the US light-sport aircraft rules. It features a strut-braced high-wing, a two-seats-in-tandem enclosed cockpit under a bubble canopy, fixed tricycle landing gear and a single engine in pusher configuration.
The aircraft is made with a welded steel tubing airframe. Its 29 ft (8.8 m) span wing employs a single strut per side. The standard engine for production examples was intended to be the 100 hp (75 kW) Rotax 912ULS four-stroke powerplant. Entry to the cockpit is via an airstair door.
Operational History 2
---
In March 2010 reviewer Dan Johnson reported on a test flight in the prototype:
"the interior is spacious and comfortable, more so than many other LSAs; handling is predictable with no bad traits I could uncover; the airplane is well equipped and expects to have a price somewhere in the $110,000 range, though this decision is still being reviewed; visibility is enormous, with the pilot sitting about 4 feet in front of the wing; even the aft seat has good room, very good visibility, and full controls - it turns out my smoothest landings were from the rear."
Specifications (A-16) 2
---
General Characteristics
Crew: one
Capacity: one passenger
Length: 27 ft (8.2 m)
Wingspan:
Wing area: 130 sq ft (12 m2)
Empty weight: 739 lb (335 kg)
Gross weight: 1,232 lb (559 kg)
Fuel capacity: 80 liters (18 imp gal; 21 US gal)
Powerplant: 1 × Rotax 912ULS four cylinder, liquid and air-cooled, four stroke aircraft engine, 101 hp (75 kW)
Propellers: 3-bladed Prince Aircraft composite
Performance
Maximum speed: 137 mph; 119 kn (220 km/h)
Cruising speed: 121 mph; 105 kn (195 km/h)
Stall speed: 45 mph; 39 kn (72 km/h)
Range: 450 mi (391 nmi; 724 km)
G limits: +4/-2g
Rate of climb: 980 ft/min (5 m/s)
Wing loading: 9.55 lb/sq ft (46.6 kg/m2)
References
---
Shupek, John. Photos, copyright © 2006 Skytamer Images. ALL RIGHTS RESERVED
History, specifications and performance data: Wikipedia, Aviadesign A-16 Sport Falcon
---