Aerotek Pitts S-2A "Special"
Two-seat aerobatic biplane
---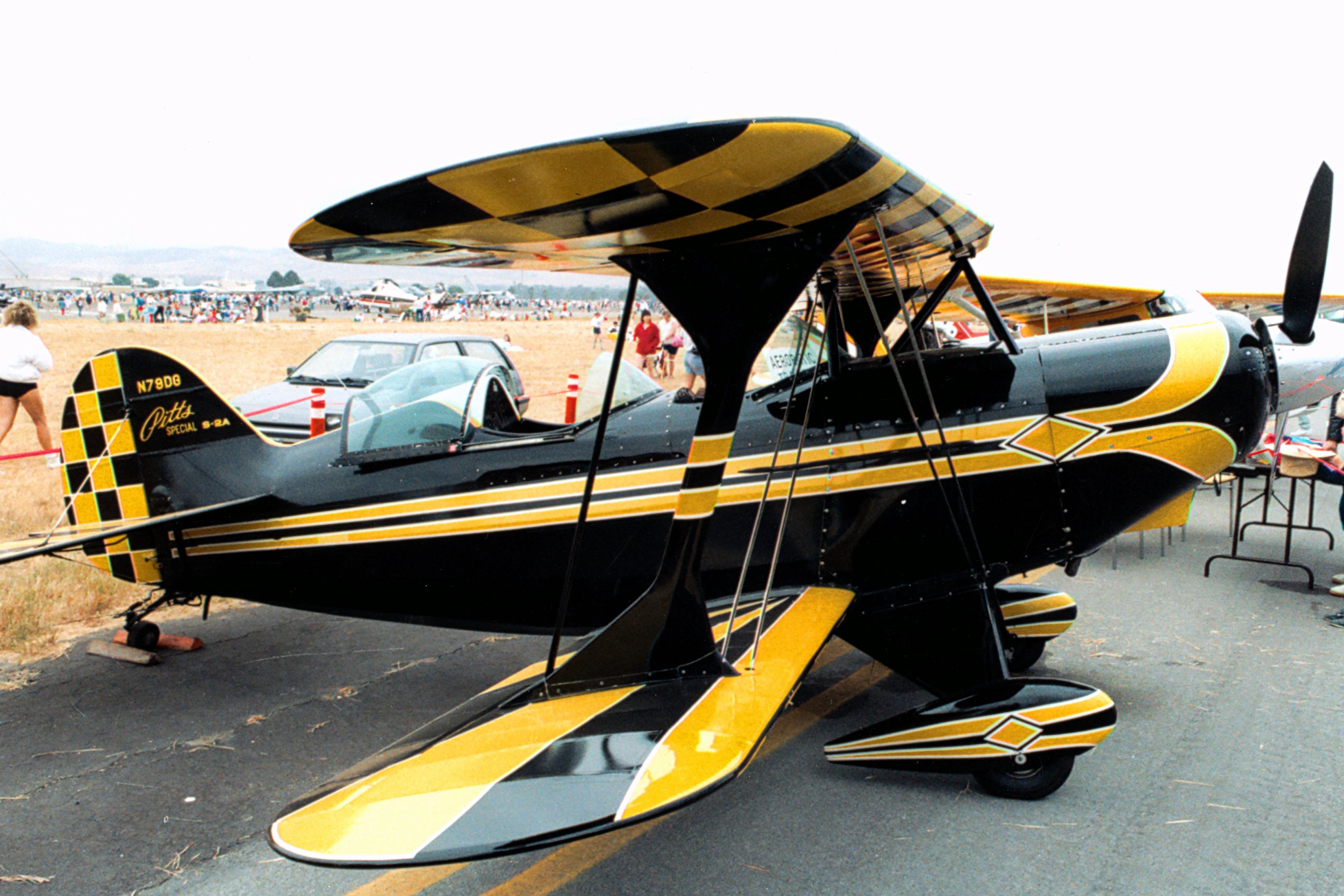 Archive Photos 1
---
1978 Aerotek Pitts S-2A "Special" (N79DG, s/n 2184)
Overview 2
---
Pitts S-1S
Role: Aerobatic biplane
National origin: United States
Manufacturer: Aviat (current)
Designer: Curtis Pitts
First flight: September 1944
The Pitts Special (company designations S1 and S2) is a series of light aerobatic biplane designed by Curtis Pitts. It has accumulated many competition wins since its first flight in 1944. The Pitts biplanes dominated world aerobatic competition in the 1960s and 1970s and, even today, remains a potent competition aircraft in the lower categories.
Design and Development 2
---
Curtis Pitts began the design of a single-seat aerobatic biplane in 1943-1944. The design has been refined continuously since the prototype's first flight in September 1944, however, the current Pitts S2 still remains quite close to the original in concept and in design.
Several of the aircraft that Curtis Pitts built had a picture of a skunk on them and were called "Stinkers". After she bought it, aerobatic performer Betty Skelton called the second aircraft that Curtis built, "Lil' Stinker". The prototype S-2, which was the first two-seat Pitts, was "Big Stinker", the prototype Model 11 (later called S1-11B) was "Super Stinker", and the prototype Model 12 was the "Macho Stinker".
In 1962 Curtis Pitts set up Pitts Enterprises to sell plans of the S-1C to homebuilders.
Operational History 2
---
All single-seat (S-1) and two-seat (S-2) Pitts Specials are variations on the basic design from 1944.
The aircraft was popularized by Betty Skelton, Caro Bayley and other air show performers, which led to the offering of plans in 1962.
Pitts produced limited numbers of aircraft during the 1940s and 1950s. It is widely accepted that the Pitts Special is the standard by which all other aerobatic aircraft are judged. After a number of home-built aircraft were produced from rough hand-drawn plans produced by Pitts, more professionally drawn plans went on sale in 1962. While many home-built aircraft were built in the 1960s, earning the S-1 a reputation as an excellent aerobatic aircraft, Pitts worked on the design of a two-seat aerobatic trainer version, the S-2, which first flew in 1967 and gained its type certificate in 1971. Factory-built aircraft produced by the Aerotek company at Afton, Wyoming were joined in production by the single-seat S-1S in 1973.
The design's popularity grew significantly following Bob Herendeen's participation on the USA Aerobatic Team in a Pitts Special in the World Aerobatic Competition in Moscow, Russia in 1966.
In 1972, the US National Aerobatic Team won the World Championships flying only Pitts biplanes.
In 1977 Curtis Pitts sold his interests in the Pitts S-1 & S-2 to Doyle Child. Child later sold the rights in 1981 to Frank Christenson, who continued production at the Afton plant under the guise of Christen Industries. The rights for home-built versions of the Pitts were sold in 1994 to Steen Aero Lab, with the Afton factory and production rights being transferred to Aviat.
Curtis Pitts died in 2005 at age 89. At the time of his death, he was working with Steen on the prototype of the new Pitts Model 14, a brand-new, two-seat biplane designed for unlimited aerobatics powered by the 400 horsepower Vedeneyev M14P radial engine. The rights to the Pitts name is currently owned by Aviat which also owns the similar model to the Pitts in the Christen Eagle.
Current Versions 2
---
Certified versions of the compact Pitts are now produced by Aviat in Afton, Wyoming. It is available as an S-1 single-seater with up to 200 hp (150 kW) flat-4 Lycoming engine and a 17 ft 4 in (5.28 m) wingspan, or as an S-2 two-seater variant featuring a 260 hp (194 kW) flat-6 Lycoming and a 20 ft (6.1 m) wingspan. Pitts Specials have been equipped with engines of up to 450 hp (338 kW).
The Pitts held sway over the aerobatic world championships until the rise of the monoplane, though it remains very competitive in all levels of competition and remains a favorite of air show performers worldwide. The first monoplane to topple the Pitts from the top of unlimited aerobatic competition was the Russian-built and designed Yak-50.
Today, the single-seat Pitts S-1S plans are available from Aviat Aircraft. The S-1C and derivative S-1SS plans and kits are supplied by Steen Aero Lab in Palm Bay, Florida. The S-1 continues to provide extremely high performance at a relatively low cost. Many hundreds of homebuilders have successfully completed and flown the Pitts since plans became available in 1960.
Variants
---
S-1: Basic single-seat Pitts aerobatic biplane with a flat M6 aerofoil section and lower wing ailerons only, fitted with a variety of engines. Two were built, the first named "Special" and the second "Li'l Stinker".
S-1C: Amateur-built S-1 single-seat aircraft, flat bottom wing with ailerons on lower wing only, designed for 100-180 hp (75-134 kW) engines. First flown in 1960, the S-1 is currently available as a plans-built aircraft from Steen Aero Lab.
S-1D: Amateur-built S-1C with ailerons on all four wings, generally similar to S-1S.
S-1E: Amateur-built S-1C using factory-produced kits. Uses symmetrical airfoil.
S-1F: Outside derivative homebuilt, with the Falcon wing. Square tips, 25% more aileron span. In the UK, this model is fitted with a 200 hp (149 kW) Monty Barrett engine, and a lightweight Hoffmann VP propeller.
S-1S: Aerotek-built certified S-1C for competition aerobatics, round aerofoil section, four ailerons and powered by a 180 hp (134 kW) Lycoming AEIO-360-B4A; 61 built. This model is also available from Aviat Aircraft as a plans-built aircraft.
S1-SS: Similar to the certified S1-S "Roundwing". 180-200+ hp (134-149 kW), single-seat, homebuilt, symmetrical wing, four symmetrical "Super-Stinker" style ailerons, 300 degree/s roll rate, fixed pitch propeller. This model is available in plans and components form from Steen Aero Lab.
S-1T: Aerotek-built S-1C with a 200 hp (149 kW) Lycoming AEIO-360-A1E and minor changes; 64 built. Four-aileron, single-seat, factory-built, symmetrical wing, symmetrical ailerons, constant speed two-blade or three-blade Hartzell propeller. The top wing was moved forward compared to the S-1S for weight and balance. This model is in production in 2008 from Aviat Aircraft as an "on-demand" manufacture product.
S-1-11B: Known as Model 11 "Super Stinker", 300+ hp (220 kW) Lycoming, four-aileron, single-seat, experimental-plans or factory-built and factory component parts, symmetric airfoil, three-blade constant speed prop, rolls better than 300 degree/s, climbs better than 3,000 ft/min (15.3 m/s).
S-2: Scaled up S-1 with tandem two-seat fuselage and powered by a 200 hp (149 kW) Lycoming AEIO-360-B4A piston engine.
S-2A: 3 First flown in 1967, the S-2A is a two-seat version of the Pitts Special. It is similar to the single-seat S-1 in basic configuration and construction, but slightly larger in overall dimensions, with no attempt at commonality or components. The increased size and power, coupled with aerodynamic changes, give the two-seater improved aerobatic and landing characteristics, and make it extremely stable and rough air conditions. Control responses are better then on the S-1. The ailerons are aerodynamically balanced for higher rate of roll at low speeds, and full vertical rolls can be made with ease. The different wing sections used on the S-2A provide inverted performance equal to conventional flight and facilitate outside loops. Structure stressed to 9"g" positive, 4-5"g" negative.
The S-2A is FAA type certified in the Normal and Aerobatic categories. It is a production airplane, not intended for the homebuilder, and plans are not available. Production was at a rate of two aircraft per month in 1974.
Five S-2As, each fitted with a 200-hp Lycoming engine, were supplied in early 1973 to the British aerobatic team financed by the Rotham Tobacco Company. During displays, the front cockpit of each aircraft is covered by a removable panel. Five similar aircraft have been supplied to the Carling Black Label Aerobatic Team which operates from Toronto, Canada. Both of these teams are organized by Kelly Aeroplane Ltd of the UK, this British company having sales rights for production of S-1S and S-2A aircraft throughout the world. In addition, Kelly Aeroplane is a sole agent for sales of these aircraft in Europe. S-2As have been exported to Australia, Brazil, Sweden and Venezuela, and a total of 68 of these aircraft have been built by February 1974.
S-2B: Aerotek-built S-2A with a 260 hp (194 kW) Lycoming AEIO-540-D4A5 engine, and upper wing auxiliary fuel tank, the landing gear and upper wings were moved forward six inches; 196 built. The aircraft is out of production but is supported by Aviat Aircraft.
S-2C: Four aileron, two-seat, factory-built, symmetric airfoil, 260 hp (194 kW) Lycoming driving constant speed three-blade propeller, current production model. This was an evolution of the S-2B model, with improved ailerons and rudder, flat bottom fuselage, lower profile bungee gear, better inverted handling and certified for +6 -5g. It is in production in 2008 by Aviat Aircraft.
S-2E: Amateur-built S-2A from factory-produced kits.
S-2S: Aerotek-built S-2B with a single cockpit and a twin tank fuel system. The fuselage is shortened by 14 inches (35 cm) forward of the cockpit to allow the installation of the heavier 260 hp (194 kW) Lycoming AEIO-540-D4A5. The wingspan is 20 ft, 0 inches (6.10 m); 17 built. This model is currently out of production, but supported by Aviat Aircraft.
S-2SE: Amateur-built S-2S from factory-produced kits.
Modifications 2
---
Samson: The "Big Pitts", it had a 450 hp Pratt & Whitney R-985, originally designed for Jess Bristow and was used as an airshow airplane.
Military Operators 2
---
Chile
Jordan: Royal Jordanian Falcons aerobatic team (4 × S-2A)
Venezuela
Civil Operators 2
---
Pitts Specials Formation Aerobatic Team
Specifications and Performance Data (S-2A) 3
---
Type
Two-seat aerobatic biplane.
Wings
Braced biplane type, with single faired interplane strut each side and N-type cabane.
Wing section NACA 6400 series on upper wing, 00 series on bottom wings.
Wooden structure, with fabric covering.
Aerodynamically-balanced ailerons on both upper and lower wings.
Fuselage
Welded steel tube structure, covered with fabric.
Tail Unit
Wire-braced welded steel tube structure.
Fixed surfaces metal-covered, control surfaces fabric-covered.
Landing Gear
Non-retractable tailwheel type.
Rubber-cord shock-absorption.
Steerable tailwheel.
Fairings on main wheels.
Power Plant
The Pitts S-2 uses one 180-hp Lycoming IO-360-B4A four-cylinder horizontally-opposed air-cooled engine.
The Pitts S-2A has one 200-hp Lycoming IO-360-AIA engine in S-2A, driving a Hartzell type HC-C2YK-4/C7666A-2 two-blade metal constant-speed propeller with spinner.
Fuel tank in fuselage, immediately aft of firewall, capacity 24 U.S. gallons (90.5 L).
Oil capacity 2 U. S. gallons (7.5 L).
Inverted fuel and oil systems standard.
Accommodation
Two seats in tandem open cockpits with dual controls.
Space for 20 lbs (9 kg) baggage aft of rear cockpit when flown in non-aerobatic category.
Systems
Electrical systems powered by 12V 40A alternator and non-spill 12V battery.
Dimensions, External
Wing span, upper: 20 ft 0 in (6.10 m)
Wing chord (constant, both): 3 ft 4 in (1.02 m)
Length overall: 17 ft 9 in (5.41 m)
Height overall: 6 ft 4½ in (1.94 m)
Areas
Wings, gross: 125 ft2 (11.6 m2)
Weights and Loading (200-hp engine)
Weight empty: 1,000 lbs (453 kg)
Max T-O weight: Aerobatic - 1,500 lbs (680 kg); Normal - 1,575 lbs (714 kg)
Max wing loading: Aerobatic - 12.0 lbs/ft2 (58.6 kg/m2); Normal - 12.6 lb/ft2 (61.5 kg/m2)
Max power loading: Aerobatic - 7.5 lb/hp (3.40 kg/hp); Normal - 7.87 lb/hp (3.57 kg/hp)
Performance (200-hp engine at max T-O weight)
Max never-exceed speed: 203 mph (326 km/h, 176 knots)
Max level speed at S/L: 157 mph (253 km/h, 136 knots)
Max cruising speed at S/L: 143 mph (230 km/h, 124 knots)
Stalling speed: Aerobatic - 58 mph (94 km/h, 51 knots); Normal - 59 mph (95 km/h, 51.5 knots)
Max rate of climb at S/L: Aerobatic - 1,900 ft/min (579 m/min); Normal - 1,800 ft/min (549 m/min)
Service ceiling: Aerobatic - 20,100 ft (6,125 m); Normal - 16,000 ft (4,875 m)
T-O run to 50 ft (15 m): Aerobatic - 1,150 ft (351 m)
Range with max fuel: Aerobatic - 343 miles (552 km; 297 nm)
References
---
Shupek, John. "Aerotek Pitts S-2A Special," The Skytamer Archive, Copyright © 1994 Skytamer Images. All Rights Reserved
Wikipedia, the free encyclopedia. Pitts Special
Taylor, John W.R., Jane's All The World's Aircraft 1974-75. Jane's Yearbooks, ISBN 0-531-02747-3, 1974
---