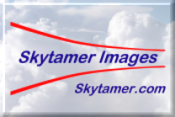 Tucson — The 390th Memorial Museum
Arizona Aviation Museum Guide
---
The 390th Memorial Museum
6000 East Valencia Road
Tucson, Arizona 85706
Phone: (520) 574-0287
Located on the grounds of the
Pima Air and Space Museum
The 390th Memorial Museum is located in Tucson, Arizona on the grounds of the third largest aviation museum in the United States, the Pima Air and Space Museum. The 390th Museum contains the beautifully restored B-17G "I'll Be Around," a General James H. Doolittle exhibit, an 11×23 foot mural of "Top Cover for the J Group," probably the most recognized painting of World War II, an Honor Wall, A Gallery of Crews, art and aircraft models, and many items of memorabilia and artifacts. The Joseph A. Moller Library, a part of the Museum, contains over 90,000 pages of 390th combat history, over 10,000 photographs and is a research center for the Air Campaign of Central Europe.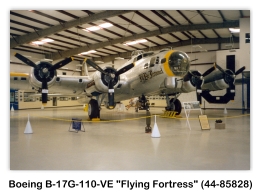 Boeing B-17G Flying Fortress
Republic P-47 (homebuilt half scale replica)
Special Thanks
---
A very special thanks to A Friend in Arizona (AFIA) for providing us with photos of the aircraft at this location.
Help Needed
---
We need quality photos of the aircraft at this location. If you can help, please let us know via the "Contact Us" link.
References
---
390th Memorial, website
Wikipedia, , Arizona
Google Earth, Satellite Image
AFIA (A Friend in Arizona), Aircraft Photos
Skytamer Images, Aircraft Thumbnail Images © Skytamer.com
---
Copyright © 2014 Skytamer Images, Whittier, California
All rights reserved