1939 "Defence Series" & "Defence Series Two"
Allen's Confectionary, Ltd., Australia
---
Series Title: Defence Series & Defence Series Two
Issued by: Allen's Confectionary, Ltd.
Issued with: Irish Moss Gum Jubes, Butter Menthol Cough Drops, Cure-'Em Quick, and Steam Rollers (18-cards total for each product/9-cards per set)
Country: Australia
Total Number of Cards: 72 (36-cards per set)
Card Numbering: Defence Series (1 to 36) & Defence Series Two (37 to 72)
Type of Card: Package insert card
Card Dimensions: 65.70 × 40.30 mm
Circa: 1939
Checklist: Download Checklist
Allen's Confectionary, Ltd. [1,2,3]
---
Allen's is currently an Australian brand of confectionery produced by Nestlé. Allen's was founded by Alfred Weaver Allen [1] (1870-1925), a Melbourne confectioner. Originally employed by MacRobertson's, he commenced confectionery production in the 1890s at his Fitzroy confectionery shop. By 1909, Allen's was the third largest confectionery business in Melbourne, after those of MacRobertson and Abel Hoadley. It was launched as a public company in 1922 and erected a vast factory to the design of prominent Melbourne architect Joseph Plottel in South Melbourne on the banks of the Yarra River, where its animated neon sign was a local landmark up to its demise in the 1980s. Allen's abandoned chocolate production after World War II, however it became Australia's largest confectionery company. Allen's was purchased by the UK-based Rothmans Holdings in 1985, and later sold to Nestlé. Allen's is the top brand in sugar confectionery in Australia. [2]
During the 1920s through the early 1940s, Allen's Confectionary, Ltd. was also known for their trading cards. Allen's issued trading cards as inserts packaged with their various confectionary products. Subjects included Bradman's Records (1931); Butterflies and Moths (1920), Cricketers (4 sets 1933-38); Footballers (3 sets, 1933-1939); Kings & Queens of England (1937); Medals (1938); Soldiers of the Empire (1938); Sports & Flags of Nations (1936); Wrestlers (1926); and Film Stars (1934). [3] They also issued at least 5 series of aviation/military related trading card sets, including:
1939 "Defence Series" and "Defence Series Two" Overview [3,4]
---
During 1939, Allen's Confectionary, Ltd. issued two 36-card sets of "Defence Series" package insert military trading cards. Each of the two 36-card sets was issued with four distinct Back designs (shown below) promoting the following four Allen's Confectionary Ltd. products: (1) Butter Menthol Cough Drops, (2) Irish Moss Gum Jubes,(3) Steam Rollers, and (4) Cure-'Em Quick.
At first glance, one might assume that there were four different sets, each containing 36 cards. However, that was not the case. In a very clever marketing scheme, Allen's Confectionary Ltd. issued four subsets of nine cards each for each of the two sets. For example: Card #1 had a "Butter Menthol Cough Drops" Back; Card #5 had an "Irish Moss Gum Jubes" Back; Card #10 had a "Steam Rollers" Back; and Card #28 had a "Cure-'Em Quick" card Back. The cards Backs were not issued in a sequential pattern as was the case for their 1943 "Fighting Planes Series". Instead they issued the card Backs in a random order. This process was used for both the 1938 "Defence Series" and the "defence Series Two" 36-card sets. This particular marketing ploy forced the customer/collector to purchase all four of the above-mentioned Allen's Confectionary Ltd. products in order to complete the two "Defence Series" 36-card sets. It was the marketing equivalent of "Killing four birds with one stone."
Unlike most of the card sets issued during the pre-World War II era, these two 36-card sets were not limited to military hardware and equipment, but they also covered civilian preparations for the upcoming conflict. Since the set was produced in Australia, there is a slight hint of favoritism towards Australian events.
The fronts of the cards are rather simplistic. Each card contains a color artwork printed and centered on thin eggshell white card stock, without any borderlines or text with a relatively large eggshell white margin.
The Backs of the cards are also rather straight forward. They are printed with black ink on thin eggshell white card stock, the card Backs (shown below) are divided into upper and lower sections, each framed by a thin black-borderline rectangle. The top section of the card Back contains the company's name (Allen's) plus advertising copy for each of the four Allen's products represented in the series. The bottom section of the card Back includes: (1) the series name, (2) the card number, (3) the card title, and (4) a brief descriptive text of the subject aircraft. Reference examples of all four card Backs are shown below. The "Defence Series Two" card Backs (37 to 72) includes the series qualifier "Series Two." notation above the card title. Examples of the card fronts and card Back variations for both the sets are shown below. The cards are "cigarette card" size and measure 65.70 × 40.30 mm.
1939 Allen's "Defence Series" and "Defence Series Two" Image-Guide [3,4]
---
The following 1939 "Defence Series" and "Defence Series Two" 36-card sets by Allen's Confectionary, Ltd., Australia, Image-Guide shows computer enhanced images of the fronts and Backs of the 72 cards in the two Allen's sets. Behind each thumbnail image is a 600-dpi computer enhanced card image that you may access. In addition, directly beneath the Image Guide, in tabular form, are links to the original scans used for the two 36-card series.
Defence Series
Cards 1 to 36
---
Defence Series Two
Cards 37 to 72
---
1939 "Defence Series" & "Defence Series Two" Checklist [3]
---
We have provided two versions of the 1939 "Defence Series" & "Defence Series Two" 36-card sets issued by Allen's Confectionary, Ltd., Australia. An 8½ × 11 inch PDF version, and the web version shown below. Click on the PDF graphic below to access the PDF version.
1939 "Defence Series" & "Defence Series Two"
Allen's Confectionary, Ltd., Australia
CHECKLIST
№
x
"Defence Series" Card Titles
1
Heavy Field Gun.
2
An Attack with Flame Throwers.
3
The Hawker "Fury" M.K. Two Single-Seat Fighter Biplane.
4
Vosper No. 102.
5
The Avro 626 Training Biplane.
6
Observation Balloon.
7
The Short "Sunderland" Long Range Reconnaissance Flying Boat.
8
Heavy Gun on Rail Mounting.
9
Troop Carrier.
10
The Vickers "Wellesley" Long Range Bomber Monoplane.
11
H.M.S. "Halcyon."
12
Torpedo.
13
H.M.S. "Adventure."
14
Searchlight.
15
Tanks.
16
Seaplane.
17
Flying Boats.
18
H.M.S. "Nelson."
19
The Battle of Jutland.
20
The Gloster "Gladiator" Single-Seat Multi-Gun Fighter.
21
Autogiros.
22
H.M.S. "Porpoise."
23
The Supermarine "Spitfire" Single-Seat Fighter Monoplane.
24
Howitzers.
25
H.M.S. "Mohawk."
26
Heavy Field Gun on Rail Mounting.
27
H.M.S. "Furious."
28
Aerial Torpedo.
29
Balloon Apron.
30
H.M.S. "Hood."
31
Pill Box.
32
H.M.S. "Birmingham."
33
The Armstrong Whitworth "Whitley" Heavy Bomber.
34
The Avro "Anson" Coastal Reconnaissance Monoplane.
35
The Airspeed "Queen Wasp"
36
Gibraltar.
№
x
"Defence Series Two" Card Titles
37
Power-Operated Gun Turrets.
38
Air-Raid Lessons in Shelter Class-Rooms.
39
R.A.F. Fighters over "Dead City."
40
Heavy Gun in Action.
41
VAD's in Realistic Tests.
42
"A Long Drink."
43
9.2 in. Guns in Action at Penlee, Cornwall.
44
Boating at Aldershot.
45
Invaders, Beware!
46
The "Nelson's" Anti-Aircraft Defenders.
47
"Resting."
48
A Star Turn in Britain's War Machinery.
49
Greyhounds of the Fleet.
50
One of "London's Own" Air Defenders.
51
Amazing New Instruments.
52
Spectacular Training.
53
Training Officers for the Royal Navy.
54
Firefighting by the R.A.F.
55
Salute to Invaders.
56
An Argument for Peace.
57
Line of 3.7s in the Assembly Shop at Nottingham.
58
Dropping Bombs over "Hell's Mouth"
59
The New Bren Gun
60
Speed and Power.
61
A Useful Recruit for National Service.
62
The New 6 in. Howitzer
63
The New Light Tank.
64
Sound Locator.
65
Rival War Craft of Two Elements.
66
The Navy Makes a Big Splash!
67
A Realistic Display.
68
Defending London.
69
Anti-Gas Realism.
70
London's First Gas Dug-Out.
71
New Breathing Apparatus.
72
How Tank Gunners Train Indoors.
We Need Help!
---
We need your help to complete the 1939 "Defence Series Two" Image Guide. As noted above in yellow, we need 600-dpi scans of the fronts and Backs of several cards to complete this webpage. We currently have 600-dpi scans of the fronts and Backs of all the cards in the initial "Defence Series". However, we need 600-dpi scans of the fronts and Backs of cards #41, #50, #51, #53, #54, #55, #66, and #72 in the "Defence Series Two" set. If you can help, please let us know. If you are able to help us, we will also acknowledge your contribution at the end of this page. If you have a Business, Business Card or a Website that you would like us to acknowledge, we'll include it. Please email via the "Contact Us" navigation button at the left.
Special Thanks!
---
We would like to extend a very special thanks of appreciation to Neville Fletcher of Goolwa, South Australia, for helping us to with this collection. Without Neville's help, this documentation of Allen's two "Defence Series" 36-card sets would be a blank page. Neville was gracious enough to share this and several other Australian non-sport card sets with Skytamer Images. Neville provided us with all of the 600-dpi scans of the fronts and Backs both 32-card sets. Neville also provided documentation needed to establish the checklists for the two "Defense Series" 36-card sets. If you need any cards, be sure to check out his eBay store "Collectable Cards and Philatelic".
Contributors
---
Neville Fletcher — Neville is from Goolwa, South Australia and is a collector of mostly early Australian Tobacco related Trade Cards and Stamps. Neville operates the following eBay store "Collectable Cards and Philatelic."
John Shupek — John is retired Aeronautical/Aerospace Engineer that lives in Southern California. John's 36 year aerospace career/adventure started in the mid-1960s when he worked for Pratt & Whitney at their "FRDC" … Florida Research and Development Center, West Palm Beach, Florida. John was part of the P&W jet engine design team for the CIA/USAF's Lockheed A-12/SR-71A "Oxcart/Blackbird" engines (J58/JT11D-20). He also worked on the RL-10 rocket engine and the JTF-17A which was P&W's entry into the United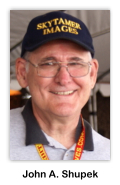 States' SST competition between Boeing and Lockheed. Several years later, John moved Back to California and worked at the AiResearch Mfg. Company at LAX and Torrance. He originally worked on the thermal design of the HRE (Hypersonic Ramjet Engine) which was a supersonic combustion Mach 7 ramjet engine that was to be tested on the North American X-15. John did about three more years of jet engine design work before he disappeared for 13 years into the classified DOE "GCEP" (Gas Centrifuge Enrichment Plant) Atomic Energy program for the enrichment of U235. After the GCEP program was cancelled by the DOE in 1985, John was hired by Northrop Aircraft to do the thermal design for Northrop's entry into the ATF (Advanced Tactical Fighter) competition, the Northrop YF-23A "Black Widow II" stealth supercruise fighter. He also worked on the Northrop Grumman B-2A "Spirit" stealth bomber. After several years on a classified stealth missile program, John worked the remainder of his Aerospace career as one of Northrop Grumman's Program Directors on the United States Navy's F/A-18E/F "Super Hornet" jet fighter program.
During John's career at Northrop Grumman he served for five years as Northrop's "Vintage Aircraft Club" Commissioner and the Curator and Webmaster for the Western Museum of Flight in Hawthorne, California. Several years later, John was the volunteer webmaster (for about 3 years) for the Yanks Air Museum, Chino, California. He also served as President and webmaster for two different NPO's after his retirement. The Whittier Historical Society & Museum and Whittier Meals on Wheels.
John's love of aviation history and aviation photography lead to the establishment of this Skytamer.com website in 1998. The Skytamer.com site has continued to expand and will always grow and will never be completed. It's sort of analogous to a snowball rolling down a hill without any trees to stop it. In approximately 2002, John remembered that he had collected Topps "Wings" (ACC# R707-4) airplane trading cards while in High School. Somehow the cards had disappeared over the years. So at this point, he started to re-collect airplane trading cards via eBay and become an airplane card "Image Collector" rather than a "Card Collector" per se. After John scans an airplane card for the website, he has no further use for it and he puts it Back into circulation via eBay. John's mission statement for the Skytamer.com is basically to restore and preserve high-quality card images/artwork associated with the various airplane card sets from the early 1900s to the present. These cards are wonderful historical "snapshots" into aviation history showing which aviation events and aircraft were important at that point in time. For the Skytamer.com website, basically if it is a trading card collection that features things that fly, but doesn't have feathers, it is eligible for consideration on the Skytamer.com website. John always welcomes inputs and high resolution scans (600-dpi) that can be used on this website. John can be reached via the "Contact Us" navigation button on the left.
References
---
Wikipedia, Allen's Confectionery
Australian Dictionary of Biography, A.W. Allen
Fletcher, Neville. "Re: 1939 Allen's Defence Series and Defence Series Two." Multiple messages to Skytamer Images. 1 October 2015. E-mail.
Shupek, John A. "1939 Defence Series and Defence Series Two, Allen's Confectionary, Ltd.." The Skytamer Archive (600-dpi Image Scans). Skytamer Images, Whittier, CA, 2015. Digital Image Database.
---
Copyright © 1998-2018 (Our 20th Year) Skytamer Images, Whittier, California
ALL RIGHTS RESERVED