1940-1941 "ZOOM Airplane Pictures, Series 3" (R177-3)
Gum Products, Inc., USA
---
Series Title: ZOOM Airplane Pictures, Series 3
American Card Catalog Number: R177-3
Issued by: Gum Products, Inc., Cambridge, MA
Issued with: Zoom Bubble Gum
Country: USA
Number of Cards: 500 total (100 each: Red, Blue, Orange, Green & Yellow)
Card Numbering: 101 to 200
Type of Card: Gum Insert
Card Dimensions: 3.125 × 2.458 inches (nominal)
Circa: 1940-1941
Checklist: Download Checklist
"ZOOM Airplane Pictures " Series Overview
---
The "ZOOM Airplane Pictures" card sets issued with "Zoom Bubble Gum" by Gum Products, Inc. of Cambridge, Massachusetts during 1940 to 1941, is undoubtedly one of the most challenging series of airplane cards sets for collectors to acquire. Overall there are 175 images and 775 cards associated with the "ZOOM Airplane Pictures" series. The "ZOOM Airplane Pictures" series is divided into three distinct subsets.
ZOOM Airplane Pictures, Series 1 — Total of 75 cards, white borders, skip-numbered from 1 to 100
ZOOM Airplane Pictures, Series 2 — Total of 200 cards with 50 card images skip-numbered from 1 to 100: 50 blue border cards, 50 green border cards, 50 orange border cards & 50 yellow border cards. Same aircraft images as used in Series 1.
ZOOM Airplane Pictures, Series 3 — Total of 500 cards with 100 new card images sequentially numbered from 101 to 200: 100 red border cards, 100 blue border cards, 100 green border cards, 100 orange border cards & 100 yellow border cards.
1940-1941 "ZOOM Airplane Pictures, Series 3" (R177-3) Overview
---
The "ZOOM Airplane Pictures, Series 3" contains a new series of 100 different aircraft images. The cards are sequentially numbered from 101 to 200. This series also uses the same color borders as in the second series, but also adds a red border series. The border colors associated with the series are therefore; Yellow, Green, Orange, Blue, and Red. "ZOOM Airplane Pictures, Series 3 " does not contain cards with white borders. The cards measure 3.125 × 2.458 inches (nominal), and are assigned the American Cards Catalog reference number R177-3
One can easily see that the best way to collect the "ZOOM Airplane Pictures" series is by card number only. Collecting all 775 cards would be a monumental task, but not impossible. The "ZOOM Airplane Pictures" series cards periodically pop-up for auction on eBay. However, it is quite rare to find the higher grade cards. The ZOOM Airplane Pictures, Series 2 (R177-2) and ZOOM Airplane Pictures, Series 3 (R177-3) colored cards are periodically seen on eBay. The colored cards for the two series, particularly the higher grade cards, are very sought after by collectors.
The fronts of the 1940-1941 "ZOOM Airplane Pictures, Series 3" cards feature sepia photographs of military and civil aircraft from the 1930s through 1941. Directly beneath the sepia photo is a brief descriptive text of the aircraft. Beneath that on the lower left-hand corner is the "ZOOM" card. Some, but not all of the cards also contain a photo credit line on the lower right-hand corner of the card. The Backs of the cards are blank.
The following reference cards show the fronts and Back of typical R177-3 red, orange, blue, yellow, and green bordered cards. Click on the card images to reveal full-size computer enhanced 600-dpi images of the card.
1940-1941 Gum Products, Inc., Cambridge, MA "ZOOM Airplane Pictures, Series 3" (R177-3) Image-Guide [1,2,3]
---
The following 1940-1941 "ZOOM Airplane Pictures, Series 3" (R177-3) Image-Guide shows computer enhanced images of the fronts and Backs of the 100 card images used in the set. Instead of showing all 500 R177-3 cards, we've presented a mixture of Red, Blue, Orange, Green & Yellow cards. Behind each thumbnail image is a 600-dpi computer enhanced card image that you may access. In addition, directly beneath the Image Guide, in tabular form, are links to the original scans used for this series.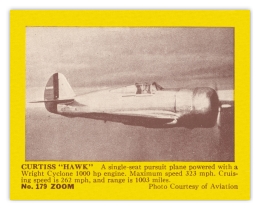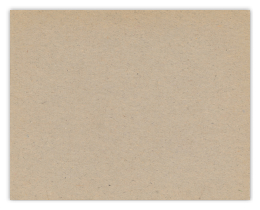 1940-1941 "ZOOM Airplane Pictures, Series 3" (R177-3) Checklist
---
We have provided two versions of the 1940-1941 "ZOOM Airplane Pictures, Series 3" (R177-3) 500 total (100 each: Red, Blue, Orange, Green & Yellow)-card set issued by Gum Products, Inc., Cambridge, MA, USA. An 8½ × 11 inch PDF version, and the web version shown below. Click on the PDF graphic below to access the PDF version.
1940-1941 "ZOOM Airplane Pictures, Series 3" (R177-3)
Gum Products, Inc., Cambridge, MA, 500 total (100 each: Red, Blue, Orange, Green & Yellow)-Cards, USA
CHECKLIST
№
x
Card Title
101
Curtiss SNC-1
102
Curtiss-Wright
103
Curtiss XSB2C-1
104
Consolidated B-24
105
Boulton Paul Defiant
106
Douglas B-19
107
Ryan Dragonfly
108
Vultee Vanguard 48C
109
Vickers Supermarine Stanraer
110
Vultee Valiant 54
111
Lockheed Lodestar Model 18
112*
Lockheed Model 12
113
Fairchild M-62A
114
Fleetwings XBT-12
115*
Piper Cub Trainer
116
North American Yale NA-64
117*
Noorduyn Norseman IV
118
Grumman Goblin G23
119
Grumman JRF-2
120
Douglas SBD-1
121*
British "Sunderland"
122*
British "Hurricane"
123
British "Hereford"
124*
British "Blenheim"
125
Curtiss SNC-1
126
Bristol-Beaufort
127
Campbell D-96
128
Aeronca
129
Twin Beechcraft
130
Seversky-2XP
131*
Abrams
132
Sikorsky S-43
133
Seversky SEV-3M
134
Gwinn Aircar
135
Miles Master
136
North American NA66
137
Hammond YA
138
Kellet Autogiro
139
Grumman OA-9
140
Duramold Model 46
141*
Kinner Playboy
142
Bell "Airaboneta"
143
Blackburn Botha I
144
Canadian Norseman
145
Cessna Airmaster
146
Barkley-Grow
147
Howard
148
Curtiss SOC-1
149
Curtiss-Wright Condor
150
Douglas 8A-5
151
The Caribou
152
British Gloster "Gauntlet"
153
Percival Q-6
154
Ryan PT-20
155*
Howard
156
Vultee Valiant
157*
Consolidated Model 31
158
Boulton Paul Defiant
159
Beechcraft
160
Ensign
161
Hawker Hurricane
162
Ryan XPT-16
163
Republic XP-47B
164
Stearman X-100
165
Douglas DC-5
166
Vought Sikorsky S-42
167
Beechcraft D17R
168
Martin Clipper
169
Vickers-Armstrong's Wellington
170
Bristol Bombay
171
Hall Aluminum
172
Short Sunderland
173
Handley Page Hampden
174
Bristol Blenheim
175*
Kinner Envoy
176
North American
177
Grumman Widgeon
178
Stinson Reliant
179
Curtiss, "Hawk"
180
Ryan S-T-M
181*
Beechcraft 18
182*
Aeronca
183*
Argonaut
184
Applegate Amphibian
185*
Beechcraft 18A
186
Beechcraft F17D
187*
Martin Maryland
188*
Short B-3
189*
Fleetwings Seabird
190
Fleetwings XBT-12
191*
Beechcraft E17B
192
Bell Airacuda
193
Vultee V-12
194
North American NA-25
195
Bellanca "Flash"
196
Vought-Sikorsky S-40
197
Waco F-7
198
Bellanca Skyrocket
199
Fairchild F-24
200
Bellanca Cruisair
ZOOM Bubble Gum Wrapper (Four-Engine Bomber)
ZOOM Bubble Gum Wrapper with 1¢ (Fighter)
ZOOM Bubble Gum Wrapper no 1¢ (Fighter)
*
We need 600-dpi scans of these cards. Your help would be appreciated.
We Need Your Help!
---
We need your help to complete the R177-3 "ZOOM Airplane Pictures, Series 3" Image Guide. As noted above, we need 600-dpi scans of the fronts of the following 19 cards (any color will do): Nos. 112, 115, 117, 121, 122, 124, 131, 141, 155, 157, 175, 181, 182, 183, 185, 187, 188, 189, & 191. Currently for this page we had to work with very low grade images, and in some cases completely retype the descriptive text beneath the airplane photos. As you can probably notice, the images for these cards are not up to par, as with the other airplane card images. With your help, we're looking forward to providing 600-dpi scans for all the card fronts in the R177-3 set. If you can help, please let us know. If you are able to help us, we will also acknowledge your contribution at the end of this page. If you have a Business, Business Card or a Website that you would like us to acknowledge, we'll include it. Please email us via the "Contact Us" navigation button at the left.
"ZOOM Airplane Pictures" Series Wrappers
---
There appears to be at least three wrappers variations associated with the "ZOOM Airplane Pictures" series. The first has a red, white and blue center with six airplanes "Zooming " in the top panel. It does not have a copyright date printed on it and was probably used for the first series of 75 cards.
The second wrapper has a different design in the center, which is orange with green accents. It bears a copyright date of 1941 and has two different mail offers printed on the top and bottom panels. The top offer is for a 12-page album containing photographs of "72 of the finest and best airplanes in the world " (25 "Zoom " wrappers plus 10 cents). The promotion on the bottom pane offered a choice of any two large (9½" × 12½") airplane pictures, plus a surprise, also for 25 "Zoom " wrappers and 10 cents. Because this second wrapper advertises a "New Series, " collectors believe it was used to market the 101-200 sequence of cards. "
The third wrapper is a variation of the 1941 wrapper show above, without the price information. This variation also has an offer expiration date of Dec. 31, 1942 rather than the 1941 expiration date shown on the Wrapper 2 design. All of the other features of the wrapper appear to be the same as the Wrapper 2 design.
Contributors
---
John Shupek — John is retired Aeronautical/Aerospace Engineer that lives in Southern California. John's 36 year aerospace career/adventure started in the mid-1960s when he worked for Pratt & Whitney at their "FRDC" … Florida Research and Development Center, West Palm Beach, Florida. John was part of the P&W jet engine design team for the CIA/USAF's Lockheed A-12/SR-71A "Oxcart/Blackbird" engines (J58/JT11D-20). He also worked on the RL-10 rocket engine and the JTF-17A which was P&W's entry into the United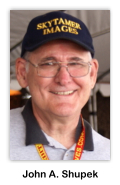 States' SST competition between Boeing and Lockheed. Several years later, John moved Back to California and worked at the AiResearch Mfg. Company at LAX and Torrance. He originally worked on the thermal design of the HRE (Hypersonic Ramjet Engine) which was a supersonic combustion Mach 7 ramjet engine that was to be tested on the North American X-15. John did about three more years of jet engine design work before he disappeared for 13 years into the classified DOE "GCEP" (Gas Centrifuge Enrichment Plant) Atomic Energy program for the enrichment of U235. After the GCEP program was cancelled by the DOE in 1985, John was hired by Northrop Aircraft to do the thermal design for Northrop's entry into the ATF (Advanced Tactical Fighter) competition, the Northrop YF-23A "Black Widow II" stealth supercruise fighter. He also worked on the Northrop Grumman B-2A "Spirit" stealth bomber. After several years on a classified stealth missile program, John worked the remainder of his Aerospace career as one of Northrop Grumman's Program Directors on the United States Navy's F/A-18E/F "Super Hornet" jet fighter program.
During John's career at Northrop Grumman he served for five years as Northrop's "Vintage Aircraft Club" Commissioner and the Curator and Webmaster for the Western Museum of Flight in Hawthorne, California. Several years later, John was the volunteer webmaster (for about 3 years) for the Yanks Air Museum, Chino, California. He also served as President and webmaster for two different NPO's after his retirement. The Whittier Historical Society & Museum and Whittier Meals on Wheels.
John's love of aviation history and aviation photography lead to the establishment of this Skytamer.com website in 1998. The Skytamer.com site has continued to expand and will always grow and will never be completed. It's sort of analogous to a snowball rolling down a hill without any trees to stop it. In approximately 2002, John remembered that he had collected Topps "Wings" (ACC# R707-4) airplane trading cards while in High School. Somehow the cards had disappeared over the years. So at this point, he started to re-collect airplane trading cards via eBay and become an airplane card "Image Collector" rather than a "Card Collector" per se. After John scans an airplane card for the website, he has no further use for it and he puts it Back into circulation via eBay. John's mission statement for the Skytamer.com is basically to restore and preserve high-quality card images/artwork associated with the various airplane card sets from the early 1900s to the present. These cards are wonderful historical "snapshots" into aviation history showing which aviation events and aircraft were important at that point in time. For the Skytamer.com website, basically if it is a trading card collection that features things that fly, but doesn't have feathers, it is eligible for consideration on the Skytamer.com website. John always welcomes inputs and high resolution scans (600-dpi) that can be used on this website. John can be reached via the "Contact Us" navigation button on the left.
Albert "Al" B. Kramer — A very special thanks to Albert B. Kramer, President of Roll-EZ Wheels, for loaning
us his entire collection of over 200 Non-Sports aviation trading card sets to scan for our Skytamer.com website. Without Al's generous help, the scope of the airplane trading cards on this website would be significantly less.
Al is a retired Air Racing pilot who raced during the 1980's in his famous "Cobra #22" Biplane Air Racer (N12FE). After his Air Racing career, Al went on to become Owner and President of San-Val Aviation located at the Van Nuys Airport. Al recently "retired" and turned his hobby of large scale model trains into "Roll-EZ Wheels". Roll-EZ Wheels specializes in the finest large scale model train wheels, and other exclusive products strictly for large scale model trains! Be sure to visit Al's Roll-EZ Wheels website.
Al's Non-Sports card collection consists of War Cards, Presidents, Indians, Cars, Boats, Ships, Planes, Rockets, Movie Stars, Dogs, Licence Plates, Flags of the World, Headlines, Cigarette, and Cereal cards. Al's collection includes the only-known example of the Carnation "Aircraft Recognition Cards" (F270-1a) Douglas D558-2 "Red Skyrocket". Al obtained the Carnation "Red Skyrocket" card in a group of 12 different cards that he bought on eBay. He originally thought that the cards were a batch of Nabisco cards until he turned over the "Red Skyrocket" card and it instantly became Al's most prized Non-Sports card. Al believes that the "Red Skyrocket" was made as a sample for Carnation and somehow got into circulation. The Carnation "Red Skyrocket" (Douglas D-558-2) was an artist drawing, while the Douglas D-558-2 "Skyrocket" included in both the Carnation F270-1a (single line) and the F270-1b (two-line) normal circulation sets were color photos, rather than drawings. As a sidenote, the Douglas D-558-1 "Red Skystreak" was also an artist drawing, but went into general circulation and was included in both the F270-1a and F270-1b Carnation sets. All of the other cards in both of the Carnation sets appear to be photographs.
Bob Dros — Bob was born on a Dutch island that had a small airfield and a gunnery range for naval aircraft. Bob experienced his first signs of aviation addiction at age of 7, when he was seeing and hearing "Spitfires" that flew overhead from the nearby airstrip as target tugs. Bob's childhood memories include seeing and hearing the low flying Dutch naval "Avengers", "Harpoons", "Neptunes" and "Sea Furies" target practicing just five miles from his island village. Bob started off his airplane
trading card collection by collecting the wonderful five series of Croydon aircraft cigarette cards, and the Van Dijk's Gouda's Roem albums "History of Aviation" and "World Aviation" and
Dutch aircraft gum cards. Much later, Bob started to include other Dutch sets, and airplane card sets from nearby Germany, England, and France. During 2000, Bob started collecting as many airplane sets as he could in order to create an "Encyclopedia of the World's Aviation Trade Cards" which is scheduled for publication in 2015.
Bob's interests also include music. His first group in 1962 was "The Typhoons". Starting in 1974, Bob played drums in one of Holland's best known blues bands "Barrelhouse". During 1978 "Barrelhouse" invited the American blues guitarist Albert Collins to Holland and toured and recorded with him. "Barrelhouse" also worked with B.B. King on his European tours. During 2014, "Barrelhouse" did a 40th Anniversary Tour in Europe.
Bob studied psychology from 1968-1975, got his degree and worked for two years, but his love of music pulled him Back into the music world.
During 1986, Bob started his own business … Bel Air Models. At first, Bel-Air Models specialized in miniature musical instruments, like electric guitars, drums and classical instruments. However, Bob's lifelong love affair with aviation later changed the focus of Bel-Air Models completely to model aircraft types. Bel-Air Models specializes in odd types of model aircraft, which are not available on the regular model aircraft market, such as the wonderful airliner designs from the Inter-War years. Bel-Air Models mostly takes commissions from specialist collectors and constructs the models by hand from solid Perspex or Plexiglas. So far, Bel-Air Models has done more than 150 aircraft types, many of them twice, three times and even 25 times, dependent on their popularity.
In Bob's spare time, he writes short articles about model history for a periodic of a group of enthusiast flying model airplane owners.
References
---
Shupek, John A. "ZOOM Airplane Pictures, Series 3 (R177-3) by Gum Products, Inc., Cambridge, MA." The Skytamer Archive (600-dpi Image Scans). Skytamer Images, Whittier, CA, 2015. Digital Image Database.
Kramer, Albert B. "ZOOM Airplane Pictures, Series 3 (R177-3) Gum Products, Inc., Cambridge, MA." Personal Collection of Aircraft Trade Cards (600-dpi Image Scans).
Dros, Bob. "ZOOM Airplane Pictures, Series 3 (R177-3) Gum Products, Inc., Cambridge, MA." Personal Collection of Aircraft Trade Cards (600-dpi Image Scans).
---
Copyright © 1998-2018 (Our 20th Year) Skytamer Images, Whittier, California
ALL RIGHTS RESERVED