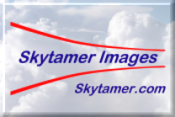 Naval Aircraft Factory N3N-3 "Yellow Peril"
USN single-engine two-seat biplane trainer
---
Archive Photos 1,2
---
Naval Aircraft Factory N3N-3 Yellow Peril (BuNo 2951/32) on display (9/23/2003) at the Kalamazoo Aviation History Museum, Portage, Michigan (Photo by John Shupek copyright © 2003 Skytamer Images)
Naval Aircraft Factory N3N-3 Yellow Peril (BuNo 3022/44) on display (2/16/2004) at the National Air and Space Museum Steven F. Udvar-Hazy Center, Chantilly, Virginia (Photo by Jim Hough, 2/16/2004)
Overview ³
---
National origin: United States
Manufacturer: Naval Aircraft Factory
First flight: August 1935
Introduction: 1936
Retired: 1961
Primary user: U.S. Navy
Number built: 997
The N3N was a United States two tandem-seat, open cockpit, primary training biplane aircraft built by the Naval Aircraft Factory (N.A.F.) in Philadelphia, Pennsylvania during the 1930's.
Development and Design ³
---
Built to replace the Consolidated NY-2 and NY-3, the N3N was successfully tested as both a conventional airplane and a seaplane. The seaplane used a single float under the fuselage and floats under the outer tips of the lower wing. The conventional airplane used a fixed landing gear. The prototype XN3N-1 was powered by a radial Wright designed Wright J-5 engine. An order for 179 production aircraft was received. Near the end of the first production run the engine was replaced with the Wright R-760-2 Whirlwind radial.
Operational History ³
---
The N.A.F. delivered 997 N3N aircraft beginning in 1935. They included 180 N3N-1s and 816 N3N-3s. Four N3N-3s were delivered to the United States Coast Guard in 1941. Production ended in January 1942 but the type remained in use through the rest of World War II. The N3N was the last biplane in US military service - the last (used by the U.S. Naval Academy for aviation familiarization) were retired in 1961. The N3N was also unique in that it was an aircraft designed and manufactured by an aviation firm wholly owned and operated by the U.S. government (the Navy, in this case) as opposed to private industry. For this, the Navy bought the rights and the tooling for the Wright R-760 series engine and produced their own engines. These Navy built engines were installed on Navy built airframes.
Variants ³
---
XN3N-1: First prototype aircraft, Bureau of Aeronautics number 9991.

N3N-1: Two-seat primary trainer biplane, powered by a 220-hp (164-kW) Wright J-5 radial piston engine. 179 were built.

XN3N-2: One prototype only (Bureau number 0265) powered by a 240-hp (179-kW) Wright R-760-96 radial piston engine.

XN3N-3: One production N3N-1 (0020) was converted into a 'dash three' prototype.

N3N-3: Two-seat primary trainer biplane, powered by a 235-hp (175-kW) wright R-760-2 Whirlwind 7 radial piston engine. 816 built.
Operators ³
---
United States: United States Coast Guard

United States: United States Navy/United States Marine Corps

Paraguay: Paraguayan Naval Aviation (Two N3N-3's received by Lend-Lease Program)
Specifications (N3N-3) 4
---
General Characteristics

Manufacturer: Naval Aircraft Factory, Philadelphia, Pennsylvania.
Type: Primary trainer.
Accommodation: Pilot and instructor in tandem.
Communications: Communications were done by the instructor through a speaking tube to the after-seated student. Communications Back were agreed-upon gestures.

Power Plant:

1 × Wright R-760-2, 235 hp (175 kW)

Dimensions

Wingspan: 34 ft 0 in (10.36 m)
Length: 25 ft 6 in (7.77 m)
Height: 10 ft 10 in (3.3 m)
Wing area: 305 ft² (28.3 m²)

Weights

Empty weight: 2,090 lb (948 kg)
Gross weight: 2,792 lb (1,266 kg)

Performance

Maximum speed at sea level: 126 mph (203 km/h)
Cruising speed: 90 mph (244.84 km/h)
Initial climb rate: 800 ft/min (243.84 m/min)
Service ceiling: 15,200 ft (4,635 m)
Range: 470 st. miles (756 km)

Serial Numbers

XN3N-1: BuNo 9991
N3N-1: BuNo 0017-0019; 0021-0101; 0644-0723; 0952-0966
XN3N-2: BuNo 0265
XN3N-2: BuNo 0020
N3N-3: BuNo 1759-1808; 1908-2007; 2573-3072; 4352-4517
References
---
Photos, John Shupek, Copyright © 2003 Skytamer Images. ALL RIGHTS RESERVED
Photos, Jim Hough, 2004
Wikipedia, N3N Canary
Swanborough, Peter and Bowers, Peter M., "Naval Aircraft Factory N3N," United States Navy Aircraft since 1911, Annapolis, Naval Institute Press, 1968, ISBN 0-87021-792-5, pp 375-377.
---
| Home | Archive Subscriber Support | Guestbook | Contact Us | Legal Notice | Aviation Links |
Copyright © 2012 Skytamer Images, Whittier, California
ALL RIGHTS RESERVED