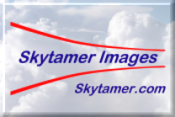 Blériot XI
France — Single-seat monoplane, first aeroplane to cross the English Channel
---
Archive Photos
---
Blériot XI (164) c.1994 at the Royal Air Force Museum London, Hendon Aerodrome, London, England
1911 Blériot XI (N99923, c/n 3856) at the Old Rhinebeck Aerodrome, Rhinebeck, NY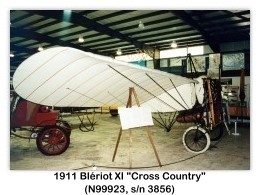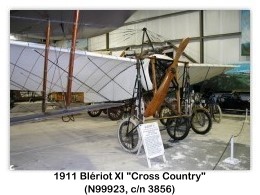 1909 Blériot XI (N60094, c/n 56) at the Old Rhinebeck Aerodrome, Rhinebeck, NY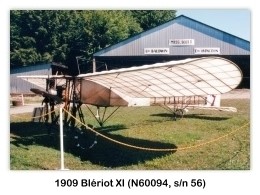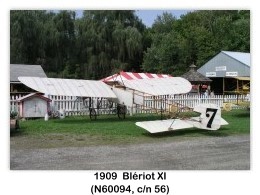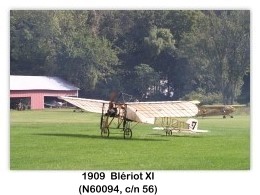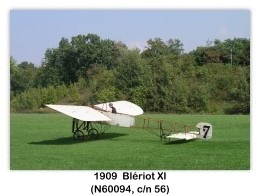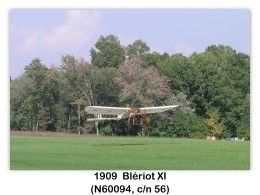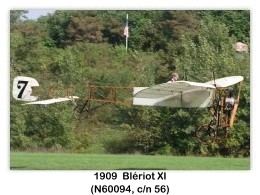 1910 Blériot XI at the Henry Ford Museum, Dearborn, MI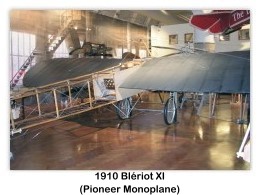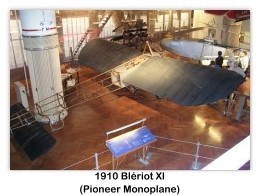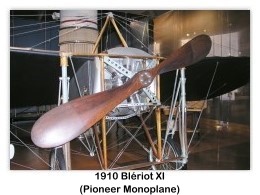 Overview
---
Blériot XI
Role: Civil tourer/trainer/military
Manufacturer: Louis Blériot
Designed by: Louis Blériot and Raymond Saulnier
First flight: 23 January 1909
Designed by Louis Blériot and Raymond Saulnier (of Morane-Saulnier), the Blériot XI was a light and sleek monoplane constructed of oak and poplar. The flying surfaces were covered with cloth. The original XI was designed and built in 1908 and made its public debut at a Paris airshow in December of that year. The aircraft's original configuration included a R.E.P. engine spinning a four blade metal paddle type propeller which proved to be unsatisfactory. In the Spring of 1909 Blériot decided to use a basically simple 25 horsepower (19 kW) Anzani 3 cylinder W-configuration engine (a central vertical cylinder with the other two at 60° on either side and in the same plane) and a two blade Chauviere wooden propeller with much better results. Blériot could be assured of the Anzani 3W engine running continuously for an hour. The Blériot XI also had some ground-breaking technologies such as castering landing gear, allowing for crosswind landings. Wing warping (instead of ailerons) controlled the plane's roll. The tail section of the Blériot XI included a horizontal stabilizer with an elevator, and a rudder, but no vertical stabilizer. Unintentionally, Blériot added lateral stability to the plane by leaving the aft section of the fuselage uncovered. This created enough drag to add stability to the aircraft's flight characteristics.
The Channel Crossing
---
The plane gained immortality on July 25, 1909 when Louis Blériot successfully crossed the English Channel from Calais to Dover in 36.5 minutes and using an Anzani engine designed by the Italian engineer Alessandro Anzani. For several days bad weather grounded Blériot and his opponents Hubert Latham who flew an Antoinette monoplane and Count de Lambert who brought two Wright Biplanes. That morning, Blériot awoke, albeit in a bad mood, reportedly due to previously scorching his foot on an engine exhaust, to conditions fair enough to fly in. When Blériot took off, Latham's camp was still quiet; Latham had overslept. Fighting fog and bad weather, Blériot did not even have a compass to guide his crossing. It is said that the Anzani engine made the flight only with the aid of a brief rain shower to cool it off. Letting the aircraft guide itself, Blériot eventually saw the grey line of the English coast. Approaching closer and closer he spotted a French reporter waving the French flag marking the landing spot. Blériot made a very rough "pancake" landing during which the landing gear collapsed, but he walked away, winning the £1000 prize awarded by the Daily Mail.
Further Development
---
After the successful crossing of the channel, there was a great demand for the Blériot XI. Blériot began to turn his attention from flying to the aircraft manufacturing business. By September 1909 Blériot had received orders for 101 aircraft. Later versions of the Blériot XI used various engines including more powerful Gnome rotary engines and updated Anzani engines. Blériot marketed the aircraft in four categories: trainers, sport or touring models, military aircraft, and racing or exhibition machines. Some notable models in the "Type Onze" series:
Blériot XI (mod): This model was used to established a new European endurance record of 36 minutes 55 seconds on 13 July 1909, it also won a cross-country prize.
Blériot XI Militaire: Military single-seater, powered by a 50-hp Gnome engine.
Blériot XI Artillerie: Very similar to the Militaire version.
Blériot XI-2: Standard tandem 2-seat touring, reconnaissance, training model, powered by a 70-hp (52-kW) Gnome 7B rotary piston engine.
Blériot XI-2 bis "côté-&cgrave;-côté": Larger, 2-seat model, with side-by-side seating.
Blériot XI-2 Hydroaeroplane: Mounted on floats with a larger wing area.
Blériot XI-2 Artillerie: Military 2-seat model, powered by a 70-hp (52-kW) Gnome rotary piston engine.
Blériot XI-2 Génie: Military version, designed for easy transport, it could be broken down/reassembled in 25 minutes.
Blériot XI-2 BG: Two-seat high-wing parasol model.
Blériot XI-3: Tandem 3-seat model, powered by a twin-row 14-cylinder, 140-hp Gnome Double Lambda rotary engine.
Bleriot XI E1: Single-seat training version.
Bleriot XI R1: Rouleur or ground training aircraft, fitted with clipped wings.
Military Use
---
The first Bleriot XIs entered military service in Italy and France in 1910 and a year later some of those were used in action by Italy in North Africa and in Mexico. The Royal Flying Corps received its first Blériot in 1912. During the early stages of World War I, eight French, six British and six Italian squadrons operated various military versions of the aircraft, mainly in observation duties but also as trainers, and in case of single-seaters, as light bombers with a bomb load of up to 25 kg.
Famous Blériot Monoplane Pilots
---
Adolphe Pégoud
First man to demonstrate the full aerobatic potential of the aeroplane, flying a loop with it in 1913. Together with John Domenjoz and Edmond Perreyon he successfully assembled what is thought of as the first air show.
Harriet Quimby
First licensed female pilot in the United States. First female to solo the English Channel.
Earle Ovington
First air-mail pilot in the United States.
Alfred Leblanc
Broke the flight airspeed record in 1910 while flying the Blériot XI. His speed was calculated at 68.20 mph (109.8 km/h).
Jorge Chavez
French-Peruvian aviator who flew through the Alps in 1910. The flight resulted in a fatal crash.
John Domenjoz
Performed aerobatics in South - Central & North America in 1914-1918. His Bleriot-XI is shown at the National Air & Space Museum, Washington.

Rene Simon
In February 1911, the Mexican government engaged Rene Simon, a member of an aerial circus touring the south-western United States, to reconnoiter rebel positions near the border city of Juarez.
Tryggve Gran
Norwegian aviator, first to cross the North Sea from Scotland to Norway in 1914.
Military Operators
---
Argentina
Australia: Australian Flying Corps, Central Flying School AFC at Point Cook, Victoria
Belgium: Bolivia 13 de abril de 1913
Bulgaria
Chile
Denmark
France
Greece
Guatemala
Italy
Japan
Mexico
Norway: One only Tryggve Gran's
New Zealand: Two aircraft only.
Romania
Russia
Serbia
Sweden
Switzerland
Ottoman Empire
United Kingdom: Royal Flying Corps, No. 2 Squadron RFC, No. 3 Squadron RFC, No. 4 Squadron RFC, No. 5 Squadron RFC, No. 6 Squadron RFC, No. 9 Squadron RFC, No. 10 Squadron RFC, No. 16 Squadron RFC, No. 23 Squadron RFC, No. 24 Squadron RFC
Uruguay
Survivors
---
A flyable 1909-built Blériot XI, with British civil registration G-AANG, is on display at the Shuttleworth Collection, Old Warden, England. It is the world's oldest airworthy airplane.
Another restored and flyable Bleriot XI, with US civil registration N60094, exists at the Old Rhinebeck Aerodrome, believed to be only three weeks newer than the Shuttleworth example by date of manufacture. The ORA example was originally built at the Bleriot factory in France, marked with factory serial number 56.
Specifications (Blériot XI)
---
General Characteristics
Crew: one, pilot
Length: 7.62 m (25 ft 0 in)
Wingspan: 7.79 m (25 ft 7 in)
Height: 2.69 m (8 ft 10 in)
Wing area: 14 m² (150 ft²)
Empty weight: 230 kg (507 lb)
Powerplant: 1 × Anzani 3-cylinder fan-type, or 120º cylinder angle "true radial"., 16-19 kW (22-25 hp)
Propeller: Chauvière Intégrale
Diameter: 2.08 m (6 ft 10 in)
Thrust: 105 kg @ 1,450 rpm (231.5 lb @ 1,450 rpm)
Performance
Maximum speed: 75.6 km/h (41 knots, 47 mph)
References
---
Shupek, John. Photos via The Skytamer Archive, copyright © 1994, 1998, 2000, 2004 John Shupek & Skytamer Images. All Rights Reserved
Wikipedia. Blériot XI, 4 December 2009
---
Copyright © 1998-2017 Skytamer Images, Whittier, California
ALL RIGHTS RESERVED