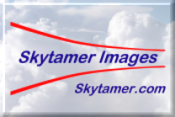 Bell XP-59A "Airacomet"
United States — USAAF Single-seat Jet Fighter
---
Archive Photos
---
1942 Bell XP-59A "Aircomet" (AF 42-108784) c.2004 at the National Air & Space Museum, Washington, DC (Photo by Jim Hough)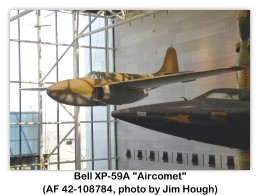 Overview
---
The Bell P-59A "Airacomet" was the first United States jet fighter aircraft, designed and built during World War II. The USAAF was not impressed by its performance and cancelled the contract when fewer than half of the aircraft ordered had been produced. Although no P-59's went into combat, it paved the way for another design generation of U.S. turbojet-powered aircraft and was the first turbojet fighter to have its turbojet engine and inlet nacelles integrated within the main fuselage.
Role: Fighter
Manufacturer: Bell Aircraft
Designed by: Harland M. Poyer
First flight: 1 October 1942
Primary users: United States Army Air Force, United States Navy, Royal Air Force
Number built: 66
Operational Service
---
The 13 service test YP-59A's had a more powerful engine than its predecessor, but the improvement in performance was negligible with only a five mph increase in top speed. One of these aircraft, the third YP-59A (s/n: 42-22611) was supplied to the RAF in exchange for a Gloster Meteor. British pilots found that the aircraft compared very unfavorably with the jets that they were already flying. (The YP-59A also compared unfavorably to the propeller-driven P-51 Mustang.) Two YP-59A Airacomets (42-108778 and 42-100779) were also delivered to the U.S. Navy where they were evaluated as the YF2L-1 but quickly found completely unsuitable for carrier operations.
Faced with their own ongoing difficulties, eventually, Bell completed 50 production Airacomets, 20 P-59A's and 30 P-59B's. Each was armed with one 37 mm M4 cannon and 44 rounds of ammunition and three .50 cal. machine guns and 200 rounds per gun. The P-59B's were assigned to the 412th Fighter Group to familiarize AAF pilots with the handling and performance characteristics of jet aircraft. While the P-59 was not a great success, the type did give the USAAF experience with the operation of jet aircraft in preparation for the more advanced types that would shortly become available.
Variants
---
XP-59: Unrelated piston engine powered pusher propeller design developed from the Bell XP-52. Not built.
XP-59A: Prototype of the jet engine powered version, 3 built.
YP-59A: Series of test aircraft, 13 built.
YF2L-1: Two YP-59A delivered to the US Navy for carrier evaluation.
P-59A: First production version, 20 built.
P-59B: Improved P-59A. 80 aircraft ordered but only 30 built, 50 canceled.
Operators
---
United Kingdom: Royal Air Force received one in exchange for a Gloster Meteor I
United States: United States Army Air Force; 412th Fighter Group; 445th Fighter Squadron; United States Navy
Survivors
---
XP-59A: The original prototype XP-59A is on display the Milestones of Flight Gallery at the National Air and Space Museum in Washington, DC.
YP-59: YP-59 is undergoing restoration to flying condition at the Planes of Fame Museum in Chino, California. The aircraft was acquired in 1991.
P-59A: P-59A (44-22614) is on display at the March Field Air Museum in Riverside, California.
P-59B: P-59B (42-2633) is on display at Edwards Air Force Base.
P-59B: (44-2650) is on display at the National Museum of the United States Air Force at Wright-Patterson Air Force Base near Dayton, Ohio. It was obtained from Kirtland Air Force Base in New Mexico in February 1956.
Specifications (P-59A)
---
General characteristics
Crew: 1
Length: 38 ft 2 in (11.63 m)
Wingspan: 45 ft 6 in (13.87 m)
Height: 12 ft 4 in (3.76 m)
Wing area: 386 ft² (35.9 m²)
Empty weight: 7,940 lb (3,600 kg)
Max takeoff weight: 12,700 lb (5,760 kg)
Powerplant: 2 × General Electric I-A turbojets, 2,000 lbf (8.9 kN) each
Performance
Maximum speed: 413 mph (664 km/h)
Range: 240 mi (386 km)
Service ceiling: 46,200 ft (14,080 m)
Rate of climb: 3,200 ft/min (16,26 m/s)
Armament
1 × 37 mm cannon
3 × .50 cal (12.7 mm) machine guns
References
---
Photos: Jim Hough
Wikepedia. P-59 Airacomet
Gunston, Bill. "Jane's Fighting Aircraft of World War II", Cresent Books, New York, 1995, ISBN 0-517-67964-7
---
Copyright © 1998-2016 Skytamer Images, Whittier, California
ALL RIGHTS RESERVED