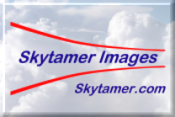 Bell OH-13E "Sioux"
United States — three-seat general utility helicopter
---
Archive Photos
---
Bell H-13E Sioux (AF 51-14157) U.S. Army Helicopter at the USA Yanks Air Museum, chino, California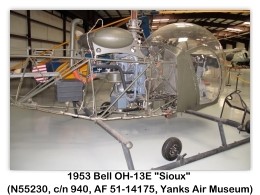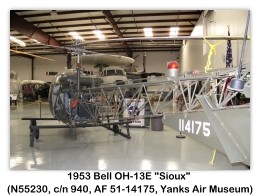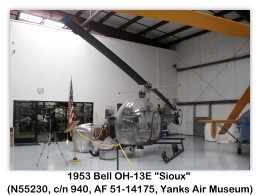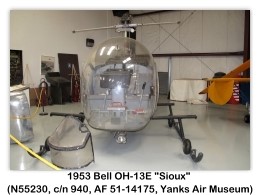 Overview
---
The H-13 Sioux was a two-bladed, single engine, light helicopter built by Bell Helicopter. Westland Aircraft manufactured the Sioux under license for the British military as the Sioux AH.1 and HT.2.
Role: Light observation helicopter
National origin: United States
Manufacturer: Bell Aircraft / Bell Helicopter
First flight: 8 December 1945 (Bell 47 prototype)
Status: Retired
Primary users: United States Army, United States Air Force, United States Navy, British Army
Developed from: Bell 47
Variants: H-13J Sioux, Bell 207 Sioux Scout, XH-13F
Development
---
In 1947, the United States Army Air Forces (later United States Air Force) ordered the improved Bell Model 47A. Most were designated YR-13 and three winterized versions were designated YR-13A. The United States Army first ordered Bell 47's in 1948 under the designation H-13. These would later receive the name "Sioux".
Initially, the United States Navy procured several Bell 47's, designated HTL-1, between 1947 and 1958. The United States Coast Guard evaluated this model, and procured two HTL-1s for multi-mission support in the New York Harbor. The most common US Navy version of the 47 was designated the HTL-4, and dispenses with the fabric covering on the tail boom. The US Coast Guard procured three HTL-5s in 1952 (similar to the HTL-4 but powered by a Franklin O-335-5 engine) and used these until 1960. The Coast Guard procured two of Bell's Model 47G and designated them HUL-1G in 1959.
The H-13 was used as observation helicopter early in the Vietnam War, before being replaced by the OH-6 "Cayuse."
The Sioux was ordered by the British Army to meet specification H.240, the first contract was for 200 helicopters. The first 50 helicopters of the contract were built by Agusta at Gallerate in Italy followed by 150 built by Westland Aircraft at Yeovil. The first Westland Sioux made its first flight on 9 March 1965.
Design
---
The Sioux is a three seat observation and basic training helicopter. The Bell 47G design was introduced in 1953. This design can be recognized by the full bubble canopy, exposed welded-tube tail boom, saddle fuel tanks, and skid landing gear.
The H-13 and its military variants were often equipped with medical evacuation panniers, one to each skid, with an acrylic glass shield to protect the patient from wind.
A single 260 hp Lycoming VO-435 piston engine was fitted to the 47G variant. The fuel were fed from two high level mounted external tanks. A two bladed single rotor with short inertial stabilizing minor blades was used on the Sioux.
Variants
---
Civil Variants
Bell 47 — Pre-production version, powered by a 133-kW (178-hp) Franklin piston engine.
Bell 47A — Improved version of the Bell 47, powered by a 117-kW (157-hp) Franklin O-335-1 piston engine.
Bell 47B — Equivalent to the military YR-13/HTL-1, powered by the Franklin O-335-1 piston engine.
Bell 47B-3 — Agricultural/utility version with open crew positions.
Bell 47C — Bell 47D; First to appear with a moulded 'goldfish bowl' canopy.
Bell 47D-1 — Introduced in 1949, it had an open tube-work tailboom reminiscent of the Bell Model 30, ship number 3, and a three-seat configuration.
Bell 47E — Powered by a 149-kW (200-hp) Franklin 6V4-200-C32 engine.
Bell 47F — Combines a 149 kW Franklin engine with the three-seat configuration of the 47D-1 and introduced the saddle-bag fuel tank configuration.
Bell 47G-2 — Powered by the Lycoming VO-435 engine. Produced under license by Westland Aircraft as the Westland Sioux, for the UK military.
Bell 47G-2A — Powered by a 179 kW version of the VO-435.
Bell 47G-2A-1 — Wider cabin, improved rotor blades and increased fuel capacity.
Bell 47G-3 — Powered by a supercharged 168 kW Franklin 6VS-335-A.
Bell 47G-3B — Powered by a turbocharged 209 kW Avco Lycoming TVO-435.
Bell 47G-4 — Three-seat helicopter powered by an Avco Lycoming VO-540 engine.
Bell 47G-5 — A three-seat, utility version. A two-seat agricultural version was later known as the Ag-5. The 47G-5 was the last model to be produced by Bell.
Bell 47H-1 — A three-seat version with an enclosed cabin and fuselage.
Bell 47J Ranger — A four-seat version powered by an Avco Lycoming VO-435 engine.
Military Variants
YR-13/HTL-1: 28 Bell 47A helicopters procured by the United States Army Air Forces for evaluation. The YR-13 was powered by a 117 kW Franklin O-335-1 piston engine. 10 of the aircraft were evaluated by the U.S. Navy as trainers.
YR-13A: 3 YR-13 aircraft winterized for cold-weather testing in Alaska.
HTL-2: US Navy equivalent of the commercial Model 47D. 12 built.
HTL-3: US Navy equivalent of the commercial Model 47E, powered by a 149-kW (200-hp) Franklin 6V4-200-C32 engine. Nine built.
H-13B: 65 aircraft ordered in 1948 by the U.S. Army. All Army versions were later named Sioux.
H-13C: 15 H-13B aircraft converted to carry external stretchers in 1952.
H-13D: Army two-seat version with skid landing gear, stretcher carriers, and Franklin O-335-5 engine.
OH-13E: H-13D configuration with three-seat aircraft with dual controls.
XH-13F/Bell 201: Modified Bell 47G powered by a Continental XT51-T-3 (Turbomeca Artouste) turboshaft. The first Bell helicopter powered by a turbine engine.
OH-13G: Introduced a small elevator on the tailboom.
UH-13J: Two Bell 47J-1 Rangers acquired by the U.S. Air Force for VIP transport of the U.S. President. Originally designated as H-13J.
OH-13H/UH-13H: Equipped with a 186 kW Lycoming VO-435 engine. UH-13Bs were used by the U.S. Air Force.
OH-13K: Two converted H-14H's with a larger diameter rotor and a 168 kW Franklin 6VS-335 engine for test evaluation.
TH-13L: Originally designated as the Navy HTL-4.
HTL-5: Utilized a Lycoming O-335-5 engine.
TH-13M: Incorporated a small movable elevator. Originally designated as the Navy HTL-6.
HH-13Q: Originally the HUL-1G, it was used by the U.S. Coast Guard for search and rescue.
UH-13R: Powered by an Allison YT63-A-3 turboshaft engine. Original US Navy designation HUL-1M.
OH-13S: Three-seat observation helicopter to replace the OH-13H.
TH-13T: Two-seat instrument trainer for the U.S. Army based on the 47G-3B-1.
Sioux AH.1: General purpose helicopter for the British Army, 50 built by Agusta (Agusta-Bell 47G-3B1) and 252 built by Westland (Westland-Bell 47G-3B1).
Sioux HT.2: Training helicopter for the Royal Air Force, 15 built by Westland.
Licensed Versions
---
Agusta Bell 47G — Built 1964, Italy
Agusta A.115 — 1971 Italian prototype of a Bell 47J with an unclad, tubular tail boom, and powered by a Turboméca Astazou II turboshaft engine
Meridionali/Agusta EMA 124 — Italian prototype with redesigned forward fuselage. Not produced.
Kawasaki KH-4 — Japanese production version with redesigned, lengthened cabin, and redesigned control system.
Conversions
Carson Super C-4
El Tomcat Mk.II — Bell 47G-2 modified extensively for agricultural spraying by Continental Copters Inc. First flew in April 1959. Followed by further improved versions.
Operators
---
Australian Army Aviation: No. 16 Army Light Aircraft Squadron, No. 183 Squadron, No. 162 Flight, No. 171 Flight, No. 182 Flight, Royal Australian Air Force, No. 16 Air Observation Post Flight RAAF
Austria: Austrian Air Force
Brazil: Brazilian Air Force
Canada
Chile
Republic of China
Colombia
Cuba
Denmark: Royal Danish Air Force, (722th squadron) in cooperation with Geus
Dominican Republic
Ecuador
France
Germany
Greece
Guatemala
Iceland: Icelandic Coast Guard
Indonesia
India
Israel
Italy
Jamaica
Japan
Libya
Madagascar
Malaysia
Malta
Mexico
New Zealand: Royal New Zealand Air Force, No. 3 Squadron RNZAF
Pakistan
Paraguay
Peru
Philippines: Philippine Air Force
Senegal
South Yemen
Spain
Sri Lanka
Sweden
Thailand
Turkey
United Kingdom: British Army Army Air Corps, Royal Air Force, Central Flying School, Royal Marines, 3 Commando Brigade
United States: United States Army, United States Air Force, United States Navy, United States Marine Corps, United States Coast Guard
Uruguay
Venezuela
Yugoslavia
Zaire
Zambia
Specifications (Model 47D-1 / OH-13E) 3
---
General Characteristics
Type: Three-seat General Utility /Helicopter
Powerplant: One vertically-mounted 178-hp Franklin 6V4-178-B32 six-cylinder horizontally opposed fan-cooled engine with clutch, drive shaft and rotor assembly in an integral unit in a steel-tube framework with the engine supported in rubber mounts at the top and bottom and attached to the welded framework of the forward fuselage.
Dimensions
Diameter of Main Rotor: 35 ft. 1.5 in. (10.72 m)
Overall Length (main rotor fore-and-aft): 41 ft. 4¾ in. (12.62 m)
Length of Fuselage (tail rotor vertical): 27 ft. 4 in. (8.33 m)
Width (over torsion bar): 8 ft. 4 in. (2.54 m)
Height: 9 ft. 2 in. (2.79 m)
Diameter of Tail Rotor: 5 ft. 8 in. (1.72 m)
Weights and Loadings
Standard 3-seat configuration, including seats, canopy enclosure indoors, single controls)
Weight Empty: 1,380 lbs. (626 kg)
Crew (three): 510 lbs. (231 kg)
Fuel and Oil: 188.6 lbs (85.6 kg)
Weight Loaded: 2,078.6 lbs (943.6 kg)
Disk Loading: 2.3 lbs/ft² (11.22 kg/m²)
Power Loading: 12.3 lbs/hp (5.58 kg/hp)
Performance
(At normal loaded weight of 1,900 lbs. (863 kg), in still air under NACA standard atmospheric conditions)
Maximum Cruising Speed at Sea Level: 92 mph (147 kph)
Operating Speed (75% power): 80 mph (128 kph
Maximum Rate of Climb at Sea Level: 1,025 fpm (313 mpm)
Climb to 5000 feet (1,525 m): 6 minutes
Service Ceiling: 13,000 f (3,965 m)
Absolute Ceiling: 14,500 ft (4,420 m)
Hovering Ceiling (in ground effect): 8,500 feet (2,590 m)
Range (35% power): 214 miles (345 km) or 2.3 hours
Max. endurance (60% power) 2.8 hours
Popular Culture
---
The Bell 47 appeared, and played key roles, in film and television productions. It has been associated with both the M*A*S*H film, and the M*A*S*H television series, and the Whirlybirds TV series (1957-1959).
Notes
---
In the military of the United States, the Bell 47 carried several designations prior to 1962.
R-13 was the first designation by the United States Army Air Forces, while the Navy designated their training version as HTL.
In 1948, the United States Air Force changed the designation to H-13 which was also adopted by the Army, adding the name Sioux.
The Navy and Coast Guard designated utility models as HUL.
In 1962, under a joint designation system created by the Department of Defense, the designations for all of the helicopters were changed to a mission symbol followed by the vehicle type designator creating a two-letter prefix (OH, UH, XH, etc.), but the Bell 47 retained its original series number, 13 and the Army's popular name.
To denote different models, a letter suffix was appended to the designation.
References
---
Photos: John Shupek, Copyright © 2009 Skytamer Images. All Rights Reserved
Wikepedia. H-13 Sioux
Bridgman, Leonard, "Bell: The Bell Model 47 Helicopter." Jane's All The World's Aircraft 1950-51". Sampson Low Marston & Company Limited, London, 1950. pp. 202c.
---
Copyright © 1998-2016 Skytamer Images, Whittier, California
ALL RIGHTS RESERVED