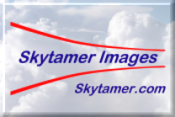 Bede BD-5A "Micro"
United States — Single-seat Lightweight Homebuilt Monoplane
---
Archive Photos
---
Bede BD-5A Micro c.1990 at the March Field Aviation Museum, Riverside, CA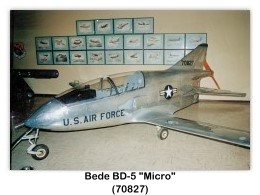 Bede BD-5 Micro (N500BD) 2.2003 at the EAA AirVenture Museum, Oshkosh, WI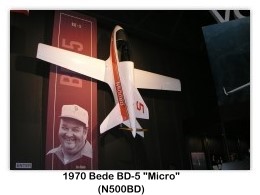 Bede (Bede Aircraft, Inc.)
---
As a successor to the former Bede Aviation Corporation, Mr. James R. Bede formed Bede Aircraft Inc, to continue development of plans and kits of parts for construction of his Bede BD-4 two/four-seat light aircraft Since then he has devoted further efforts to the development of sport aircraft for the homebuilder, and has designed and built the prototype of a lightweight monoplane known as the Bede BD-5 Micro.
Bede BD-5A Micro
---
Design of this unusual single-seat sporting monoplane began in February 1967, and construction of the prototype was started in December 1970. First flight of the Bede BD-5 Micro was made on 12 September 1971. Two versions are available.
The Bede BD-5A Micro with a short-span wing, and the Bede BD-5B Micro with a wing of greater span. As a result of early flight tests the original "butterfly" tail unit was replaced by a conventional fin and rudder, with an all-moving horizontal "stabilator" on the lower portion of the rear fuselage.
Bede Aircraft reported that by the end of January 1973 it had received more than 4,000 orders for plans and kits of the Bede BD-5 Micro.
Specifications (BD-5A)
---
Type:
Single-seat lightweight homebuilt monoplane.
Wings:
Cantilever low-wing monoplane.
Wing section NACA 642-212 at root, 643-218 at tip.
Dihedral 5°.
Incidence 1°.
Sweepback 0°.
Light alloy structure.
Plain ailerons and trailing-edge flaps of light alloy construction.
No trim tabs.
Fuselage:
Light alloy.
Aft end of fuselage terminates as a deep knife-edge section to provide directional stability.
Tail Unit:
Conventional cantilever light alloy structure, comprising fin, rudder and all-moving tailplane.
Trim tab and anti-servo tab, on starboard side.
Landing Gear:
Manually-retractable tricycle type.
Nosewheel retracts aft, main wheels inward.
Shock absorption of main gear by glassfiber cantilever struts.
Main-wheel and nosewheel tires size 2-80-4.
Disc brakes.
Power Plant:
One 40, 55 or 70 hp, Hirth two-cylinder air-cooled two-stroke engine, mounted in aft fuselage.
Sensenich two-blade fixed-pitch wooden pusher propeller.
Fuel in two inboard wing tanks, each of 14 US gallons (53 liters) capacity.
Total fuel capacity 28 US gallons (106 L).
Refueling point in rear fuselage.
Special air intakes.
Accommodation:
Single seat under upward-opening transparent canopy.
Cockpit heated and ventilated.
System:
Electrical power supplied by 12V DC battery.
Dimensions, external
Wing Span: 14 ft 4 in (4.37 m)
Wing Aspect Ratio: 6:4
Length overall: 13 ft 3.5 in (4.05 m)
Height overall: 4 ft 2.5 in (1.28 m)
Tailplane span: 7 ft 4 in (2.24 m)
Propeller diameter: 2 ft 9 in - 3 ft 8 in (0.84 m - 1.12 m)
Areas:
Wings, gross: 32.2 ft² (3.0 m²)
Ailerons, total: 1.8 ft² (0.17 m²)
Trailing-edge flaps, total: 3.5 ft² (0.33 m²)
Fin: 5 ft² (0.46 m²)
Rudder: 1.66 ft² (0.15 m²)
Tailplane, including tab: 10.5 ft² (0.98 m²)
Weights and Loadings (40 hp engine):
Weight empty: 315 lbs (143 kg)
Max T-O weight: 620 lbs (281 kg)
Max wing loading: 19.25 lb/ft² (94.0 kg/m²)
Max power loading: 15.5 lb/hp (7.03 kg/hp)
BD-5A Performance (estimated at max T-O weight.
Max Level Speed at S/L with 40-hp: 170 knots (196 mph; 315 kph)
Max Level Speed at S/L with 70-hp: 209 knots (241 mph; 387 kph)
Cruising speed, 75% power at S/L with 40-hp: 150 knots (hundred 73 mph; 278 kph)
Cruising speed, 75% power at S/L with 70-hp: 189 knots (218 mph; 350 kph)
Cruising speed, 75% power at 7,500 ft (2,285 m) with 40-hp: 162 knots (187 mph 301 kph)
Cruising speed, 75% power at 7,500 ft (2,285 m) with 70-hp: 206 knots (237 mph; 381 kph)
Stalling speed wheels and flaps up with 40 or 70-hp: 64 knots (74 mph; 119 kph)
Stalling speed wheels and flaps down with 40 or 70-hp: 56 knots (64.5 mph; 104 kph)
Max rate of climb at S/L with 40-hp: 760 ft/min (232 m/min)
Max rate of climb at S/L with 70-hp: 1,890 ft/min (576 m/min)
Max rate of climb at 7,500 ft (2,285 m) with 40-hp: 440 ft/min (134 m/min)
Max rate of climb at 7,500 ft (2,285 m) with 70-hp: 1,390 ft/min (424 m/min)
Service ceiling with 40-hp: 14,000 feet (4,265 m)
Service ceiling with 70-hp: 24,500 feet (7,470 m)
T-O run with 40-hp: 1000 feet (305 m)
T-O run with 70-hp: 820 feet (250 m)
Landing run with 40 or 70-hp: 770 feet (235 m)
Range, 75% power at 7,500 ft (2,285 m) with 40-hp: 690 nm (794 miles; 1,278 km)
Range, 75% power at 7,500 ft (2,285 m) with 70-hp: 425 nm (489 miles) 787 km)
References
---
Photos: John Shupek, Copyright © 2009 Skytamer Images. All Rights Reserved
History: Wikipedia. Bede BD-5 Micro, 21 April 2016
Specifications: Taylor, John W.R., "Bede: Bede BD-5 Micro." Jane's All The World's Aircraft 1973-74". 1973. ISBN 07-032021-7, pp. 243-245
---
Copyright © 1998-2016 Skytamer Images, Whittier, California
ALL RIGHTS RESERVED