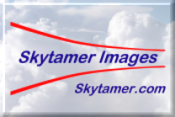 Beachey-Eaton (Curtiss) Little Looper
Single-seat Sporting Biplane
---
Archive Photos
---
[Beachey "Little Looper" (reproduction) c.1993 at the San Diego Aerospace Museum, San Diego, CA]
History
---
The San Diego Aerospace Museum refers to Lincoln Beachey as the "greatest of the birdmen." Lincoln Beachey demonstrated an intuitive sense of maneuver and the ability to compensate for the design imperfections inherent in the aircraft of his day. Beachey's hair-raising ability to fly in and out of small fields like the Coronado Polo Grounds in San Diego, California, and to zip under telephone wires and the branches of trees especially endeared him to his audiences.
Beachey provided one of the most memorable thrills to a crowd of 150,000 when he flew over the edge of Niagara Falls, dove steeply into the mists below, pulled up just over the whirlpools that seemed about to swallow his plane, tore on downstream and under an obstructing bridge. He finally landed, dripping wet, but safe. He was also a noted race car driver. Lincoln Beachey was killed on March 14, 1915, while flying before a crowd in San Francisco, California.
The San Diego Aerospace Museum's "Little Looper" is a reproduction built by Dudek, Cleveland, Ohio, and donated to the San Diego Aerospace Museum by E. D. Hud Weeks and Howard V. Gregory of Des Moines, Iowa.
Specifications and Performance Data
---
General Configuration
Manufacturer: Lincoln Beachey and Warren Eaton using a Curtiss type biplane design.
Type: Sporting biplane
Crew: 1
Serial number: Number 2
Year built: 1947 (reproduction)
Registration number: N5599N
Power Plant:
One 84-hp nine-cylinder LeRhône rotary engine.
Dimensions:
Span: 25 ft 1 in
Length: 18 ft 4 in
Height: 8 ft 0 in
Weights:
Weight, empty: 750 lbs
Weight, gross: 890 lbs
Performance:
Max speed: 84 mph
Endurance: 45 minutes
References
---
Shupek, John. Photos via The Skytamer Archive, copyright © 2009 Skytamer Images. All Rights Reserved
Welsh, George B., San Diego Aerospace Museum - The Collection. San Diego: San Diego Aerospace Museum, 1991, p.20
---
Copyright © 1998-2018 (Our 20th Year) Skytamer Images, Whittier, California
ALL RIGHTS RESERVED