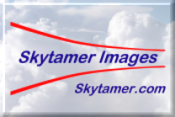 American Champion 7GCBC "Citabria High Country Explorer"
Two-seat Light Cabin Monoplane
---
Archive Photos ¹
---
American Champion Aircraft 7GCBC "High Country Explorer" (N78SE, s/n 1382-2005, 2005) on display 8/27/2005 at the Camarillo Air Show, Camarillo, CA (John Shupek photo copyright © 2005 Skytamer Images)
Overview ²
---
The "High Country Explorer", a variant of the 7GCBC, is the first certified aircraft to offer the new Superior Vantage engine. With a jump to 180 Horsepower (from 160), the airplane has exceptional performance. Deriving various design choices from the 8GCBC Scout, an 'in-between' airplane has been created. The cowling is taken from the Scout by adding the side louvers and ground adjustable cowl flap. Following this cue, the Scout airbox was added to offer dual inlets when carburetor heat is used.
To allow for a larger diameter propeller, the High Country comes standard with the Aluminum Gear and 800 × 6 tires. The lighter gear is both taller and lighter, helping to offset the extra weight of the Superior O-360 over the standard Lycoming O-320. This is both a feature and a limit, as the 800 × 6 is the smallest tire permitted. Thus, it is not compatible with the current wheel pants. However, for those who want larger tires, tundra tires are compatible and any of the active STCs out there can be used just as a standard 7GCBC would.
Lastly, the Superior Vantage permissibly runs on premium automotive fuel. No reformulated or alcohol blends are permitted. As always, Aviation Grade 100LL is the preferred fuel.
Additional Standard Equipment
Instruments: none
Electrical: none
Aluminum Gear Legs
800 × 6 Tires
8GCBC style Ground Adjustable Cowl Flap
8GCBC style Dual Carburetor Heat Airbox
Micro Aerodynamics Vortex Generators
Specifications (7GCBC High Country Explorer) ²
---
General Characteristics

Powerplant: Superior Vantage O-360-A3A2
Horse Power @ RPM: 180 @ 2,700 rpm
Recommended Engine TBO: 2,000 hours
Propeller: Sensenich 76EM8S8-0-58
Propeller Diameter: 76 in.
Length: 22.1 ft.
Height: 7.7 ft.
Wingspan: 34.5 ft.
Wing Area: 171.9 sq. ft.
Wing Loading: 11.34 psf
Power Loading: 10.8 lbs/hp
Seats: 2, Tandem
Cabin Length: 8 ft. 10 in.
Cabin Width: 2 ft. 6 in.
Cabin Height: 3 ft. 11 in.
Empty Weight (typical): 1,300 lbs.
Maximum Gross Weight - Normal Category: 1,950 lbs.
Useful Load - Normal Category: 650 lbs.
Payload with Full Fuel - Normal Category: 440 lbs.
Maximum Gross Weight - Acrobatic Operation: 1,800 lbs.
Useful Load - Acrobatic Operation: 500 lbs.
Payload with Full Fuel - Acrobatic Operation: 290 lbs.
Fuel Capacity: 36 gal. (35 gal. Usable)
Oil Capacity: 8 quarts
Baggage Capacity: 100 lbs. (10.4 cubic feet)

Performance

Acrobatic Limit Loading: +5"g", -2"g"
Takeoff Distance, Ground Roll: 504 ft.
Takeoff Distance Over 50-ft Obstacle: 872 ft.
Maximum Demonstrated Crosswind Component: 17 kts.
Rate of Climb, Sea Level: 1,366 fpm
Maximum Level Speed, Sea Level: 142 mph
Cruise Speed / Endurance with 45 Minute Reserve @ 75% Power: 132 mph/2.45 hours
Fuel Consumption @ Altitude: 11 gph @ 7500 ft.
Service Ceiling: 15,500 ft.
Landing Distance over 50-ft. Obstacle: 866 ft.
Landing Distance, Ground Roll: 293 ft.

Limited and Recommended Airspeeds

VX (Best Angle): 61 mph
VY (Best Rate): 83 mph
VA (Design Maneuvering): 120 mph
VF (Maximum Flap Speed): 90 mph
VNO (Maximum Structural Cruising): 120 mph
VNE (Never Exceed): 162 mph
VR (Rotation, 14° flaps): 50 mph
VS1 (Stall, Clean): 52 mph
VS0 (Stall, Full Flaps): 49 mph
References
---
Shupek, John. "American Champion 7GCBC Citabria High Country Explorer," The Skytamer Archive, Copyright © 2005 Skytamer Images. All Rights Reserved
American Champion Aircraft, American Champion 7GCBC High Country Explorer
---
Copyright © 1998-2017 Skytamer Images, Whittier, California
All rights reserved