United States Navy Aircraft Mission Design Series (Pre-1962)
---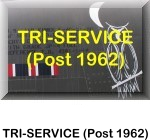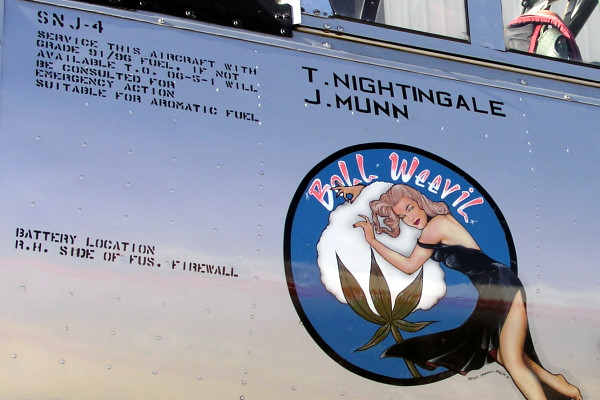 North American SNJ-4 "Texan" (World War II)
US Naval Aircraft Designations1
---
Except for the short period from 1917 to 1922, the U.S. Navy identified its aircraft up to 1962 by specific designation systems that conveyed a considerable amount of information concerning the origin and nature of the aircraft in simple and standardized form.
1911-1914 System1
---
Naval aircraft were originally identified by a letter to designate the manufacturer, followed by a number to show sequence of procurement, such as A-1 for the first Curtiss, A-2 for the second, etc. The second source, the Wright Brothers, was designated B. A deficiency in this system became apparent as soon as different types of aeroplanes were obtained from the same manufacturer. Curtiss was then given on another letter, C, to distinguish its flying-boats from its convertible landplanes-pontoon seaplanes. The first system involved only five letters to identify manufacturers, such as follows: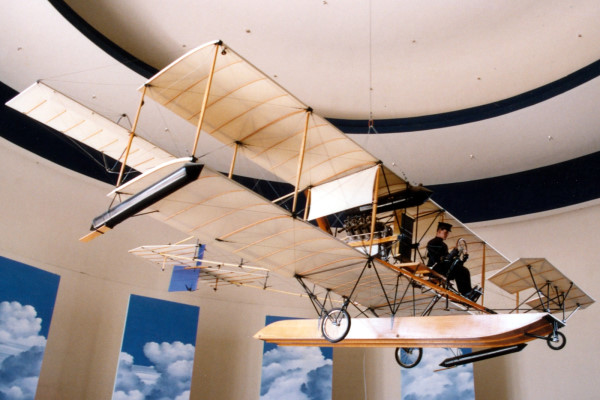 Curtiss A-1 "Triad"
1911-1914 System
A
Curtiss
Land and Hydro
B
Wright
Land and Hydro
C
Curtiss
Flying Boat
D
Burgess & Curtis
Hydroplane
E
Curtiss
Amphibian
1914-1916 System1
---
On March 27, 1914, a new system was adopted and all aircraft then on hand were redesignated. The aircraft were identified as to type and sub-type and by sequence of procurement within each sub-type regardless of manufacturer in a manner similar to ship designations. The following designations were used:
Burgress-Dunne AH-10
Heavier than Air - Hydro Aeroplane
( US Navy Photo )
Aircraft Types or Classes
A
Heavier than Air
B
Free Balloons
C
Dirigibles
D
Kite Balloons
Aeroplane Sub-Types
AH
Hydro Aeroplane
AB
Flying Boat
AX
Amphibian
Published accounts of the system indicate that it applied to only the Navy's first 75 aeroplanes and was abandoned when a sequential serial number system, starting at 51, was adopted early in 1917. However, identification of later aircraft in official records indicate that it was carried on unofficially for short while. In the case of the AH-67 (properly A-67) the AH was used as a type designation and the 67 was a new serial number indicating the 67th naval aeroplane procured to that time rather than the 67th AH type.
1917-1922 System1
---
No standard system was used during these years until March 29, 1922. Aeroplanes were procured and operated under their manufacturers' names and model designations, as Curtiss HS-2L Flying Boat, Sopwith Baby seaplane and F-5L. The latter, an improved version of the Curtiss H-16 flying-boat developed in England as the F.5 and procured in the United States with a Liberty engine (hence the letter L), was produced by several manufacturers with no distinction made between them.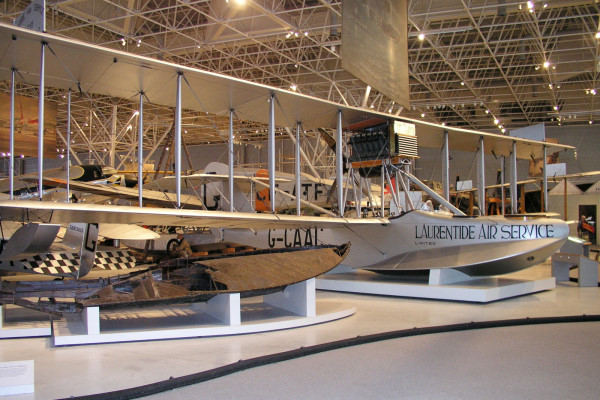 Curtiss HS-2L Flying Boat
1922-1962 System1
---
On March 20, 1922, following the reorganization of naval aviation under the Bureau of Aeronautics, a systematic aircraft designation system was adopted. This recognized two classes of aircraft: aeroplanes, identified by the letter V, and airships, identified by the letter Z. These letters were used for administrative purposes and did not appear in the actual aeroplane designation although the Z was used in the rigid airship designations. The aeroplanes themselves were further identified as to manufacturer, type and model sequence by letters and numbers. We will not address airship designations in this section. The system was also used by the US Marines, which are part of the Navy, and was used by the USCG starting in 1935. Of the 1935 the Coast Guard which is under the jurisdiction of the Treasury Department in peacetime but uses naval organization and equipment, had not used specified system of designation. Individual aircraft were identified by serial number, sometimes proceeded by initials identifying a specific design, as FLB-52 for Flying Life Boat. The 52 was Coast Guard serial number. The system was not applied to all aeroplanes operated by the Navy. Civilian aircraft taken into service during World War II, mostly transport types, were operated under their civil model numbers, such as B-314 for the Boeing Model 314. Captured enemy aircraft under test were flown under their original designations but with Navy serial numbers, as were a few isolated U.S. Army models such as the Bell YP-59A.
In spite of being in use since 1922, the designation was not painted on naval aeroplanes until 1928, when it was applied in 3-inch figures to the rudder. Early in 1925 the Navy had started the practice of painting the manufacturer's name across the top of the rudder. This short-lived practice overlapped the adoption of the letter-number system and for a short period the name and designation were both carried on some aeroplanes. Selden was a naval aeroplane redesignated. This was done when the designation system in use was discontinued, as T-for-Transport, being changed to R, and when the Curtiss F11C-2 was redesignation BFC-2 upon adoption of the BF designation for bomber-fighter. In a few cases the basic mission of the aeroplane was simply changed, as the Curtiss F8C-1 being reassigned to observation duties as OC-1. Oddly, an entirely new design, the Curtiss Helldiver dive-bomber, was given the designation XF8C-2. There was an F8C-4 production version, but the F8C-5 was more properly redesignated O2C-1 after delivery. Aeroplanes were not redesignated when assigned new duties because of obsolescence. Observation types relegated to utility tasks (J) and training (N) retained their original O-designations.
At first, the identification emphasis was on the manufacturer, then the type of aircraft. As originally adopted in 1922, the letter identify the manufacturer was placed first, then he aircraft type letter and finally the model number. The designation MO-1 identified the airplane as the Martin (M) and the first observation type (O) procured from Martin under the new system. The -1 indicated the initial configuration of that particular model. A recognizable change in the basic model would have become MO-2. A scout model procured from Martin was MS-1. An entirely new observation model from Martin, however became M2O-1 the number 2 identifying the second O-model from the same manufacturer. This system grew as more detailed identification became desirable, and eventually contained six separate parts as detailed below, before being replaced by a common system for all US armed services aircraft in 1962.
A major change was made on March 10, 1923, when it became desirable to identify the aeroplane initially by type, so the type designation was placed first. Aircraft in service with the old arrangement retained it, however, as did aircraft of the same model procured under follow-up orders after the system was changed. A notable exception was the Martin SC-1, which was the Curtiss CS-1 built under license by Martin but using the original Curtiss designation turned around to reflect the new practice. While the letter sequence was reversed, the sequence of models was retained. The original Curtiss Navy racer design was the CR-1. Under the revised system, the second model was R2C-1. When a new Curtiss transport appeared in 1928, it was designated RC-1 with no conflict since the R-for-Racer had been dropped by that time. The naval aeroplane designation system was used from March 10, 1923, to September 18, 1962, and is discussed in detail below. The various portions are numbered in their sequence of adoption rather than by their sequence in the designation, thus: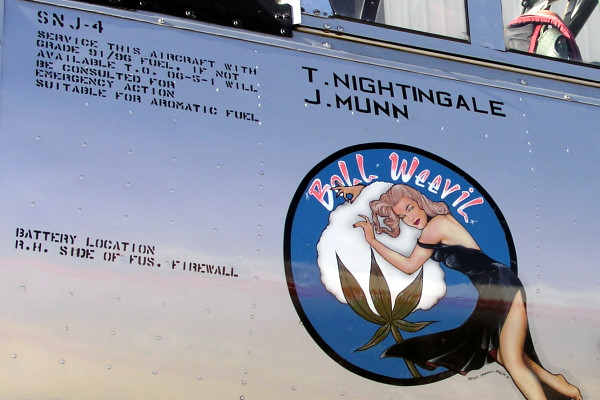 North American SNJ-4 "Texan" (World War II)
Aircraft Types or Classes
5
1
4
2
3
6
SN
J
- 4
X
F
4
B
- 1
SB
2
C
- 4
C
H
O
2
S
- 1
F
9
F
- 6
P
1 = Type or Class
4 = Manufacturer Type Sequence
2 = Manufacturer
5 = Status or Class Prefix
3 = Aircraft Configuration Sequence
6 = Special Purpose Suffix
(1) Type or Class Designation
1
---
Originally, only single letters were used to identify the aeroplane series but dual letters were adopted in March 1934 to identify special dual-purpose types, as BF for Bomber-Fighter, PB for Patrol Bomber, etc. Some rather fine distinctions were made to emphasize the primary mission of the aeroplane, for example SO forScout-Observation and OS for Observation-Scout. In one case only, three letters were used - for the experimental Hall Patrol Torpedo Bomber, XPTBH-2, of 1938. Type designation letters assigned to all U.S. Navy, Marine and Coast Guard aeroplanes from 1922 to 1962 are listed below, with dates from initial assignment to the end of procurement of that type or its retirement from service. Assignment of two-letter designations was discontinued in 1946, but some aircraft carrying them retained them until the designation change of 1962. Letters in use to 1962 are indicated by an arrow in the right hand "year" column.
Grumman F8F-2 "Bearcat"
Type or Class Designation "F" indicates "Fighter"
(1) Type or Class Designations
Letter
Class
Example
Year
A
Ambulance
AE-1
1943
A
Attack (formerly BT)
AD-1
1946 →
B
Bomber
BT-1
1931-1943
BF
Bomber-fighter
BF2C-1
1934-1937
BT
Bomber-torpedo
BT2D-1
1942-1945
DS
Anti-submarine Drone
DSN-1
1959 →
F
Fighter
F4F-3
1922 →
G
Transport, single-engine
GB-1
1939-1941
G
Flight refueling tanker
GV-1
1958 →
H
Helicopter (used in combination)
HO2S-1
1943 →
H
Hospital (to A, 1943)
XHL-1
1929-1931, 1942
J
Transport
XJA-1
1928-1931
J
Utility
J2F-1
1931 →
JR
Utility Transport
JRF-5
1935 →
L
Glider (used in combination)
LNS-1
1941-1945
M
Marine expeditionary
EM-2
1922-1923
N
Trainer
N2S-1
1922-1960
O
Observation
O2U-1
1922 →
OS
Observation-scout
OS2U-1
1935-1945
P
Patrol
PB-1
1923 →
P
Pursuit
WP-1
1923
PB
Patrol Bomber
PBY-5
1935 →
PTB
Patrol torpedo-bomber
XPTBH-2
1937
R
Racer
R3C-2
1922-1928
R
Transport
RR-5
1931 →
RO
Rotorcycle
ROE-1
1954-1959
S
Anti-submarine
S2F-1
1951 →
S
Scout
SU-2
1922-1946
SB
Scout-bomber
SBD-3
1934-1946
SN
Scout-trainer
SNJ-2
1939 →
SO
Scout-observation
SOC-1
1934-1946
T
Torpedo
DT-2
1922-1935
T
Trainer
T2V-1
1948 →
T
Transport
TA-1
1927-1930
TB
Torpedo-bomber
TBM-3
1935-1946
TD
Target drone
TD2C-1
1942-1946
TS
Torpedo-scout
XTSF-1
1943
U
Utility
UF-1
1955 →
U
Unpiloted drone
UC-1K
1946-1955
W
Electronic Search
W2F-1
1952 →
(2) Manufacturer's Designation1
---
A single letter was commonly used to identify the manufacturer. In the earliest applications this was logically the first letter of the manufacturer's name, as C-for-Curtiss. In only one case was multiple lettering used to identify a U.S. manufacturer, the DW-for-Dayton-Wright, which was a scout version of the Douglas DT-2 under the designation of SDW-1. Dual identification letters were also used for some of the European designs deterred for test in 1922-1923. The letters assigned to all suppliers of U.S. Navy aircraft under the 1922 to 1962 system are listed below with dates from initial assignment to the end of procurement from that manufacturer, retirement of his models from service, or change in the company. Not all of these were used on actual aircraft. Letters in use for one manufacturer from time of adoption to the change of 1962 are indicated by an arrow following the initial date.
Eastern FM-2 "Wildcat"
Manufacturer's Designation "M" indicates General Motors Corporation (Eastern Aircraft Division)
(2) Manufacturers' Identification Letters
Letter
Manufacturer
Year
A
Aeromarine Plane and Motor Company
1922
A
Allied Aviation Corporation (glider only)
1941-1943
A
Atlantic Aircraft Corporation (American Fokker)
1927-1930
A
Brewster Aeronautical Corporation
1935-1943
A
General Aviation Corporation (ex-Atlantic)
1930-1932
A
Noorduyn Aviation, Ltd. (Canada)
1946
B
Beech Aircraft Company
1937-1945
B
Boeing Aircraft Company
1923-1959
B
Edward G. Budd Manufacturing Company
1942-1944
B
Aerial Engineering Corporation (Booth, or Bee Line)
1922
BS
Blackburn Aeroplane & Motor Company (England)
1922
C
Cessna Aircraft Corporation (also E)
1943
C
Culver Aircraft Corporation
1943-1946
C
Curtiss Aeroplane & Motor Company
1922-1946
C
de Havilland Aircraft of Canada, Ltd.
1955-1956
CH
Caspar-Werke G.m.b.H. (Germany)
1922
D
Douglas Aircraft Corporation
1922 →
D
McDonnell Aircraft Corporation (to H)
1942-1946
D
Radioplane Corporation (drones)
1943 →
D
Frankfort Sailplane Company (target drones)
1945-1946
DH
de Havilland Aircraft Co., Ltd. (England)
1927-1931
DW
Dayton-Wright Airplane Company
1923
E
Bellanca Aircraft Corporation
1931-1937
E
Cessna Aircraft Corporation (formerly C)
1951 →
E
Detroit Aircraft Corporation (to Great Lakes)
1928
E
Edo Aircraft Corporation
1943-1946
E
G. Elias & Brothers, Inc.
1922-1924
E
Gould Aeronautical Corporation (gliders)
1942-1945
E
Hiller Aircraft Corporation (helicopters)
1948 →
E
Piper Aircraft Corporation (aeroplanes) (also O, P)
1941-1945
E
Pratt-Read (gliders)
1942-1945
F
Fairchild Aircraft, Ltd. (Canada)
1942-1945
F
Royal Dutch Aircraft Manufacturing Works (Fokker)
1922
F
Grumman Aircraft Engineering Corporation
1931 →
G
Gallaudet Aircraft Corporation
1922
G
Bell Aircraft Corporation (for Bell-built Great Lakes)
1935-1936
G
Eberhart Aeroplane & Motor Company
1927-1928
G
Globe Aircraft Corporation (target drones)
1946-1959
G
Goodyear Aircraft Corporation
1942 →
G
Great Lakes Aircraft Corporation (ex-Detroit)
1929-1935
G
A.G.A. Aviation Corporation (gliders)
1942
H
Hall-Aluminum Aircraft Corporation (into Consolidated, 1940)
1928-1940
H
Howard Aircraft Company
1941-1944
H
Huff, Daland & Company (became Keystone, K, 1927)
1922-1927
H
Stearman-Hammond Aircraft Corporation
1937-1938
H
Snead and Company (gliders)
1942
H
McDonnell Aircraft Corporation (formerly D)
1946 →
HP
Handley Page, Ltd. (England)
1922
J
Berliner-Joyce Aircraft Corporation
1929-1935
J
General Aviation Corporation (ex-Atlantic)
1935
J
North American Aviation Corporation (successor to General)
1937 →
JL
Junkers-Larsen Aircraft Corporation
1922
K
Fairchild Aircraft Corporation (Kreider-Reisner)
1937-1942
K
Kaiser Cargo, Inc. (Fleetwings Division)
1943-1945
K
Kaman Aircraft Corporation (Helicopters)
1950 →
K
Keystone Aircraft Corporation (ex-Huff, Daland)
1927-1930
K
Kinner Airplane and Motor Corporation
1935-1936
K
Kreider-Reisner Aircraft Company, Inc. (Fairchild)
1935
K
Martin, J.V.
1922-1924
K
Nash-Kelvinator Corporation
1942
L
Bell Aircraft Corporation (helicopters since 1946)
1939 →
L
Columbia Aircraft Corporation
1945
L
Grover Loening, Inc.
1932-1933
L
Langley Aviation Corporation
1942-1943
L
Loening Aeronautical Engineering Corporation (into Keystone)
1922-1932
L
L.W.F. Engineering Corporation
1922
M
Glenn L. Martin Company
1922 →
M
General Motors Corporation (Eastern Aircraft Division)
1942-1945
M
McCulloch Motors Corporation
1953-1954
N
Gyrodyne Company of America, Inc. (drones, rotocycles)
1960
N
Naval Aircraft Factory
1922-1945
O
Lockheed Aircraft Corporation (Plant B)
1931-1950
O
Piper Aircraft Corporation (also E, P)
1960
O
Viking Flying Boat Corporation
1929-1936
P
Piasecki Helicopter Corporation (ex-P-V Engineering)
1946-1960
P
Piper Aircraft Corporation (gliders)
1942-1943
P
Pitcairn Autogyro Company
1931-1932
P
P-V Engineering Forum (became Piasecki, Vertol)
1944 →
P
Vertol Aircraft Corporation (ex-Piasecki, P-V; to Boeing 1960)
1956 →
P
Spartan Aircraft Company
1940-1941
PL
George Parnall & Company (England)
1922
Q
Bristol Aeronautical Corporation (glider)
1941-1943
Q
Fairchild Engine and Airplane Corporation
1928 →
Q
Stinson Aircraft Corporation (into Convair, 1942)
1934-1936
Q
Chas. Ward Hall, Inc.
1926
R
Aeronca Aircraft Corporation (Army TG-5 glider)
1942
R
American Aviation Corporation (glider)
1942
R
Brunswick-Balke-Collender Corporation
1942-1943
R
Ford Motor Company
1927-1932
R
Interstate Aircraft & Engineering Corporation (drones)
1942 →
R
Maxson-Brewster Corporation
1939-1940
R
Radioplane Division, Northrop Corporation (target drones)
1943 →
R
Ryan Aeronautical Company
1941-1946
RO
Officine Ferroviarie Meridionali Romeo (Italian-built Fokker C-V)
1933
S
Schweitzer Aircraft Corporation (gliders)
1941
S
Sikorsky Aviation Corporation (helicopters since 1943)
1928 →
S
Stearman Aircraft Company (became Boeing-Wichita, 1939)
1934-1945
S
Stout Engineering Laboratories
1922
S
Sperry Gyroscope (target drones)
1950
S
Supermarine (Spitfire as FS-1)
1943
T
New Standard Aircraft Corporation
1930-1934
T
The Northrop Corporation (became Douglas-El Segundo)
1933-1937
T
Taylorcraft Aviation Corporation (Army TG-6 glider)
1942
T
Northrop Aircraft, Inc. (Army P-61 as F2T-1)
1944
T
Tempo Aircraft Corporation
1956
T
Timm Aircraft Corporation
1941-1943
T
Thomas-Morse Aircraft Corporation
1922
U
Chance Vought Corporation (now Ling-Temco-Vought)
1922 →
V
Lockheed Aircraft Corp. (Vega, Plant A)
1942 →
V
Canadian Vickers, Ltd.
1942-1945
V
Vultee Aircraft, Inc. (into Consolidated as Convair, Y, 1942)
1941
VK
Vickers, Ltd. (England)
1922
W
Waco Aircraft Corporation (gliders since 1942)
1934-1945
W
Wright Aeronautical Corporation
1922-1926
W
Canadian Car & Foundry Co., Ltd.
1942-1945
X
Cox-Klemin Aircraft Corporation
1922-1924
Y
Consolidated Aircraft Corporation (to Convair, 1942)
1926 →
Z
Pennsylvania Aircraft Syndicate
1933-1934
(3) Aircraft Configuration Sequence1
---
The initial configuration of naval aeroplane was identified by the number 1 separated from the basic designation by a dash. Minor changes were identified by sequential numbers: -2, -3, etc. In most cases there were much greater changes between experimental prototype, as XSB2C-1, and its first production version, the SB2C-1, then there was between the SB2C-1 and the improved SB2C-3 (the XSB2C-2 was a seaplane version). However it was generally recognized that there were significant differences between prototype and initial production models.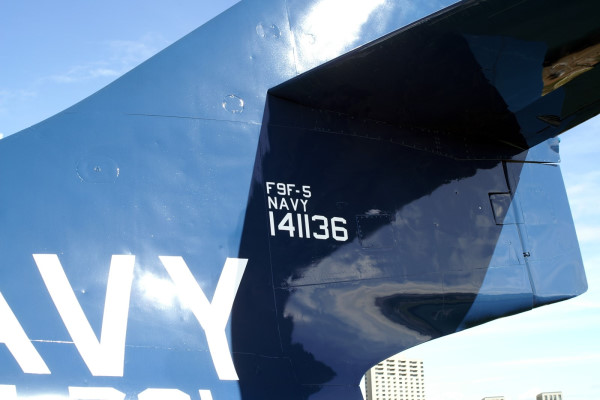 Grumman F9F-5 "Panther"
Aircraft Configuration Sequence "5" indicates the 5th configuration of the basic F9F
(4) Manufacturer Type Sequence Number1
---
This number reflects the procurement sequence of different models of a similar type procured from the same manufacturer, as FF-1 for Grumman's first fighter (no number used in this case), F2F-1 for the second Grumman fighter, F3F-1 for th third, etc. The Grumman fighter series is a great example of the use of this sequence.
Grumman F9F-5 "Panther"
Manufacturer Type Sequence Number "9" indicates the 9th Grumman "Fighter".
(4) Manufacturer Type Sequence Number
Example of Grumman Fighter Series
Grumman
FF-1
Grumman
F2F-1
Grumman
F3F-1
Grumman
XF4F-1
Wildcat
Grumman
F5F-1
Skyrocket
Grumman
F6F-1
Hellcat
Grumman
F7F-1
Tigercat
Grumman
F8F-1
Bearcat
Grumman
F9F-1
Panther
Grumman
F9F-6
Cougar
Grumman
XF10F-1
Jaguar
Grumman
F11F-1
Tiger
(5) Status or Class Prefix1
---
Prefix letters to indicate the special status of an individual aircraft were not added to the basic designation until 1927. At that time the letter X, as already used by the Army Air Corps, was adopted to identify experimental prototypes or, in some cases, standard models withdrawn from normal service and modified for experimental purposes. In some cases prototype aircraft that had not originally carried the X-prefix when first flown were given it after it was adopted, as in the case of the Boeing FB-5 prototype of 1926 becoming XFB-5 in 1927. For a short period following World War II the letter N as a prefix indicated a first line combat aircraft assigned to a reserve training squadron. At the time of the Korean War to letter Y was added to indicate a prototype aircraft in other than straight experimental status, indicating service test status. Extensive use of prefixes was made after adoption of the unified 1962 system. During World War II, gliders and helicopters were identified as to class by prefix letters in conjunction with otherwise standard designations, e.g. HO2S-1 for Sikorsky's second observation helicopter (H) and LNS-1 Schweitzer's first training glider (L). Although these glider and helicopter letters, as well as others used to identify target drones, were prefixes to the designation, they were widely regarded as part of the two-letter type designation like SB or OS.
Schweizer LNS-1 "Training Glider"
Status or Class Prefix "L" indicates the a "Training Glider".
(5) Status or Class Prefix
Letter
Status or Class Prefix
Example
H

Observation Helicopter.

Sikorsky HO2S-1
L

Training Glider.

Schweitzer LNS-1
N

First line combat aircraft assigned to a reserve training squadron.

X

Experimental prototypes, or in some cases, standard models which run from normal service and modified for experimental purposes.

Boeing XFB-5
Y

Prototype aircraft in other than straight experimental status, roughly equivalent to the Army/Air Force letter Y indicating service test status.
(6) Special Purpose Suffix1
---
Suffix letters were used sparingly in the between war years. During World War I and shortlt thereafter they were used as part of the manufacturer's designation to indicate various series of a basic model, special configuration, etc.. The H in N-9H and JN-4H. did not indicate sequential development of those models but variants fitted with the American-built Hispano-Suiza, or Hisso, engine. The letter L in connection with the HS-1L flying-boat similarly identified the Liberty engine version. The Vought VE-7 was normally unarmed; the VE-7G was fitted with guns and the VE-7SF was converted into a single-seater with flotation gear. The first suffix used under the new 1922 system was the letters C to indicate a modification of a standard aeroplane to withstand catapulting when such work was necessary, such as UO-1C for those seaplane versions based on battleships and launched by catapult. Surprisingly, there was no distinction made between land- and seaplane versions of the same Aeroplane. Later, limited use was made of suffix letters A and B following the complete designation to indicate a minor alteration not considered sufficient to change the dash number of the Aeroplane, e.g. F4B-1A for a standard F4B-1 converted to a two-seater for the Assistant Secretary of the Navy and TBD-1A for a standard TBD-1 tested as a seaplane. The earlier NY-1B had been an NY-1 trainer fitted with longer and NY-2 wings.
Suffix letters with special means came into wide use during and after World War II to identify aeroplanes used for other than their designated mission, use of special equipment, etc. Occasionally multiple use of the same letter was somewhat confusing. For example, by World War II the letter A identified in normally unarmed aeroplane fitted with armament (J2F-2A); a machine not normally based on aircraft carriers fitted with an arresting gear (SOC-3A); former Army aircraft, basically similar to standard Navy aircraft, transferred to the Navy (F4B-4A, formerly Army P-12); an amphibious version of a flying-boat (PBY-5A). Other examples of duplicate use are shown below. During World War II separate use was made of some suffix letters to indicate similar of Navy-designed airplanes to the original Army versions, as PBJ-1J for the Navy equivalent to the North American B-25J, used in numbers by the Navy. This was rare, however. The nomenclature applying to some of the following suffixes changed from year to year while the meaning remained essentially the same, such as "Special Search" and then "Special Radar" for a TBM-3D equipped with search radar. In some cases, changes or improvements in equipment produced a second sub-variant of the same type, identified by a number two followed the suffix, as in TBM-3S2 and F3D-2T2.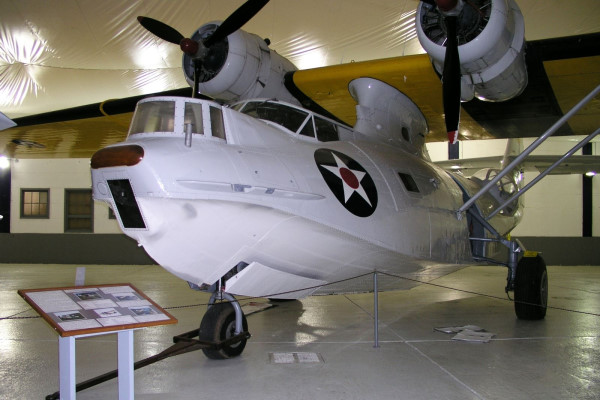 Consolidated PBY-5A "Catalina"
Special Purpose Suffix "A" indicates the a "Amphibious version".
(6) Special Purpose Sufix
Suffix
Meaning
Example
A
Miscellaneous modification
OL-9A
A
Armament on normally unarmed aeroplane
J2F-2A
A
Arrester gear on normally none-carrier aircraft
SOC-3A
A
Built for Army or obtained from Army
SBD-3A to A-24
F4B-4A from P-12
A
Amphibious version
PBY-5A
A
Land-based version of carrier aircraft
F4F-3A
B
Miscellaneous modification
NY-1B
B
Special armament
F8F-1B
B
British version (lend-lease)
JRF-6B
C
Arrester gear added
SNJ-5C
C
Reinforced for catapulting
UO-1C
C
Cannon armament
SB2C-1C
C
Navy equivalent of Army C-series aircraft
SBN-2C = AT-7C
CP
Trimetrogen camera
TBM-1CP
D
Drop tanks
F4U-1D
D
Drone control
JD-1D
D
Navy equivalent of Army de-series aircraft
PBJ-1D = B-25D
D
Special search
TBM-3D
D
Special radar
TBM-3D
E
Electronic equipment
SB2C-4E
F
Flagship conversion
PB2Y-5F
F
Special power plant
P2V-5F
G
Search and rescue (later Coast Guard)
PBM-5G
G
Coast Guard version
PB-1G
G
Gun on normally unarmed aircraft
UO-1G
G
Navy equivalent of Army G-series aircraft
PBJ-1G = B-25G
H
Hospital conversion
PB2Y-3H
H
Navy equivalent of Army H-series aircraft
PBJ-1H = B-25H
J
Special weather equipment
TBF-1J
J
Navy equivalent of Army J-series aircraft
PBJ-1J = B-25J
K
Drone conversion
F6F-5K
L
Winterized
TBF-1L
L
Searchlight carrier
P2V-5L
M
Missile launcher
F7U-3M
N
Night fighter
F6F-5N
N
All-whether operation
AD-4N
NA
Night version stripped for day attack
AD-4NA
NL
Night, winterized
AD-4NL
P
Photographic
F7F-3P
Q
Electronic countermeasures
AD-3Q
R
Support transport
R4D-6R
R
Transport conversion
PBM-3R
S
Anti-submarine
P5M-2S
T
Two-seat trainer version
F9F-8T
U
Utility
TBM-3U
W
Special search
AF-2W
W
Early warning
AD-5W
Z
Administrative version
R4D-5Z
1962 United States Tri-Service Aircraft Designation System
---
On the 18 September 1962, the United States Department of Defense introduced a unified designation system for the aircraft of the United States armed forces. Prior to this date, each service used their own nomenclature system. The 1962 system was based on the one used by the U.S. Air Force between 1948 and 1962. Since it was introduced the 1962 system has been modified and updated; in 1997 a revised form of the system was released. Almost all aircraft operated by the USAF, United States Navy (USN), United States Coast Guard (USCG) and United States Marine Corps (USMC)) and the United States Army are assigned a designation under this system. Experimental aircraft operated by manufacturers or National Aeronautics and Space Administration (NASA) are also often assigned numbers in the X-series.
References
---
United States Navy Aircraft since 1911, Gordon Swanborough, Peter M. Bowers, Naval Institute Press, ISBN 0 87021 792 5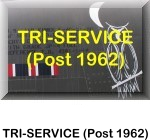 ---
| Home | Archive Subscriber Support | Guestbook | Contact Us | Legal Notice | Aviation Links |
Copyright © 2010 Skytamer Images, Whittier, California
ALL RIGHTS RESERVED